Tom Brady & Gisele's Advice For Getting Kids To Love A Plant-Based Diet
mbg Contributor
By Leigh Weingus
mbg Contributor
Leigh Weingus is a New York City based freelance journalist writing about health, wellness, feminism, entertainment, personal finance, and more. She received her bachelor's in English and Communication from the University of California, Davis.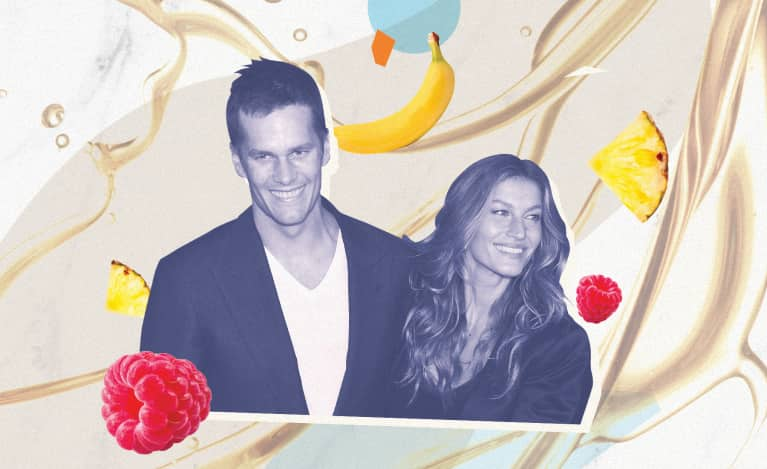 It's no secret that Patriots quarterback Tom Brady and his wife, retired supermodel Gisele Bündchen, have figured out exactly how to eat for optimal energy and overall nutrition. Eighty percent of the couple's diet is made up of fresh organic vegetables with whole grains like rice, quinoa, and millet thrown in from time to time, along with grass-fed steak, chicken, and the occasional wild salmon filet.
"No white sugar. No white flour. No MSG. I'll use raw olive oil, but I never cook with olive oil," Brady and Bündchen's private chef Allen Campbell revealed back in 2016. "I only cook with coconut oil. Fats like canola oil turn into trans fats. ... I use Himalayan pink salt as the sodium. I never use iodized salt."
While an ultra-healthy diet like this makes sense for people like Brady and Bündchen, who have had to prioritize their health for the sake of their careers, most parents know that getting their children to eat a plant-based, refined-sugar-free diet isn't exactly easy. Here's how Brady and Bündchen have gotten their kids, Vivian Lake Brady, Benjamin Brady, and John Edward Thomas Moynahan, to love a plant-based diet.
They've made the environmental impact of an unhealthy diet clear.
When it comes to reducing her carbon footprint, Bündchen works hard to instill a sense of responsibility in her children, which is why she lets them know how much better a plant-based diet is for the environment. "My friend Paul Hawken taught me that eating a plant-rich diet will have a hugely positive impact on global warming," she told People.com.
They've redefined "ice cream."
Who says ice cream needs to be packed with sugar and dairy? In the Brady/Bündchen household, ice cream comes in the form of a mouthwatering acai bowl. Bündchen says her kids' favorite combination is an acai, berry, and banana smoothie.
They eat delicious, all-natural desserts.
When it comes to dessert, Vivian, Benjamin, and John Edward aren't just limited to acai bowls: According to Campbell, they eat other natural sweets as well. "I make fruit rolls from bananas, pineapple, and spirulina," Campbell explained. "Spirulina is an algae. It's a super fruit. I dehydrate it. I dehydrate a lot of things. I have three dehydrators in the kitchen. I also make raw granola and raw chocolate chip cookies."
Eating well makes them feel good.
At the end of the day, the main reason Brady and Bündchen's kids eat so well is that it fills them with energy and allows them to be active. "We all love it. It's not only good for our health and makes us feel good, but it is also good for the planet," explains Bündchen.