Why Whole Foods' Newest Beer Is Made Out Of Old Bread
mbg Sustainability Editor
By Emma Loewe
mbg Sustainability Editor
Emma Loewe is the Sustainability Editor at mindbodygreen and the author of "The Spirit Almanac: A Modern Guide To Ancient Self Care."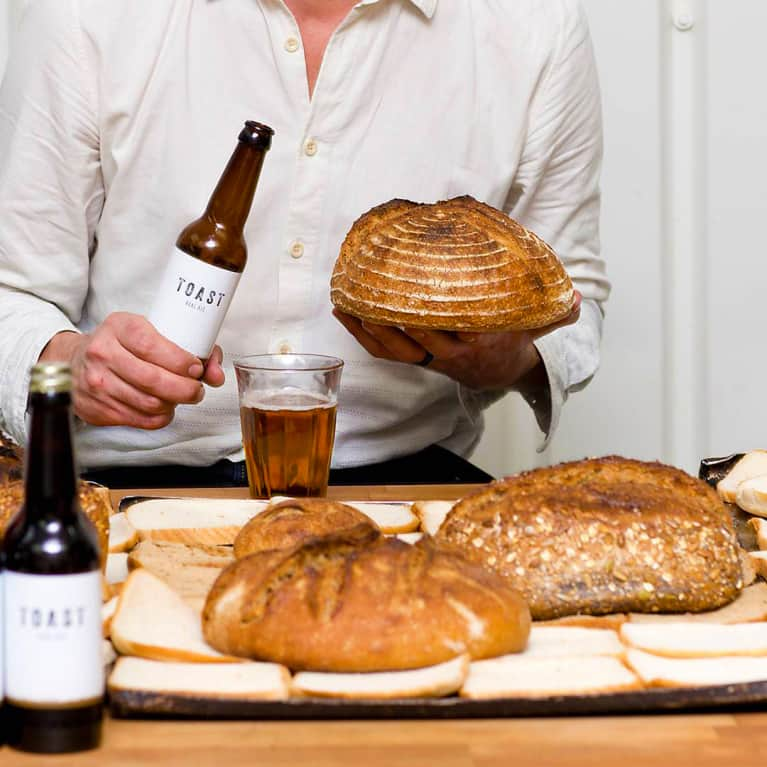 It sits in an unassuming white can dotted with yellow specs that mimic the bubbles brewing inside. At first pass, Toast Ale looks like any other artisanal brew you'd find on the shelves of Whole Foods or Trader Joe's. But a flip of the tap reveals a product that's unsurpassed in its commitment to fighting food waste. Every can of the pale ale contains a slice of surplus bread that would have otherwise been tossed.
These days, flour is cheap and bread is plentiful. A bit too plentiful. Sandwich shops and bakeries often throw away a large portion of loaves (up to 17 percent by some estimates) without batting an eye, and households around the world toss 24 million slices every day. Our motives for trashing are plentiful: Our bread is a bit stale, its end pieces don't taste as good, its sell-by date has passed. Though seemingly well-intentioned, these reasons have contributed to a real problem.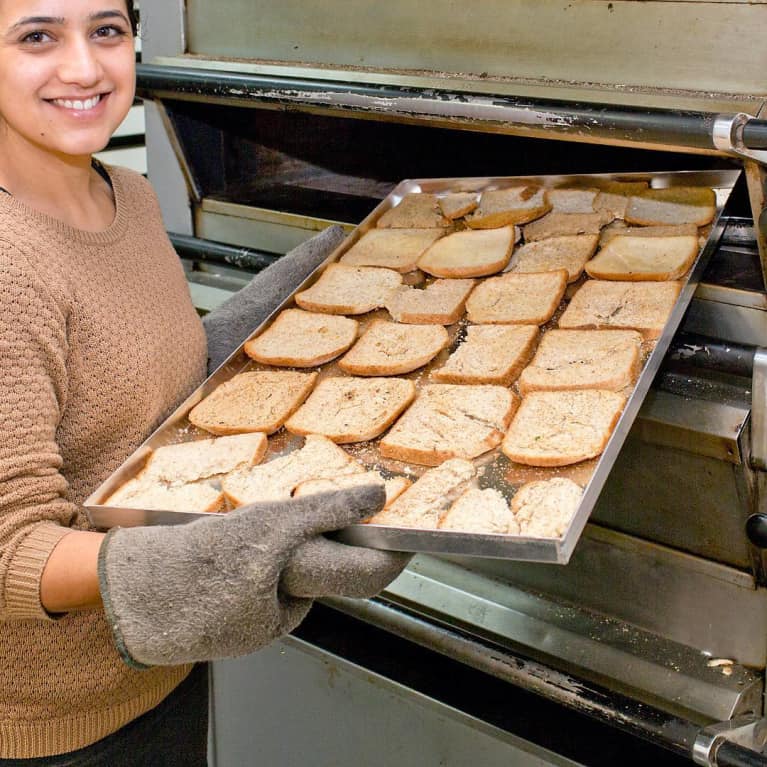 "Those in food recovery have long been puzzled by how to handle the massive quantity of bread. There is far more surplus bread available than food recovery programs are able to redistribute," explains acclaimed food waste activist and Toast brewmaster Tristram Stuart. "Charities are literally inundated with more bread than they can use."
Stuart, who also has a food-waste documentary, book, and Ted Talk that's amassed 1.4 million views under his belt, first toyed with the idea of Toast during a visit to a Belgian brewery. After discovering an ancient Babylonian beer made from bread, he was inspired to revive the old recipe in order to solve the problems of today. By partnering with local bakeries and delis, he turned their surplus bread into breadcrumbs and crewed it with barley, hops, and yeast to make his ale, which hit his native London in 2016. Within its first 15 months on shelves, Toast recycled 3.6 tons of bread that would have otherwise been thrown away or used as animal feed.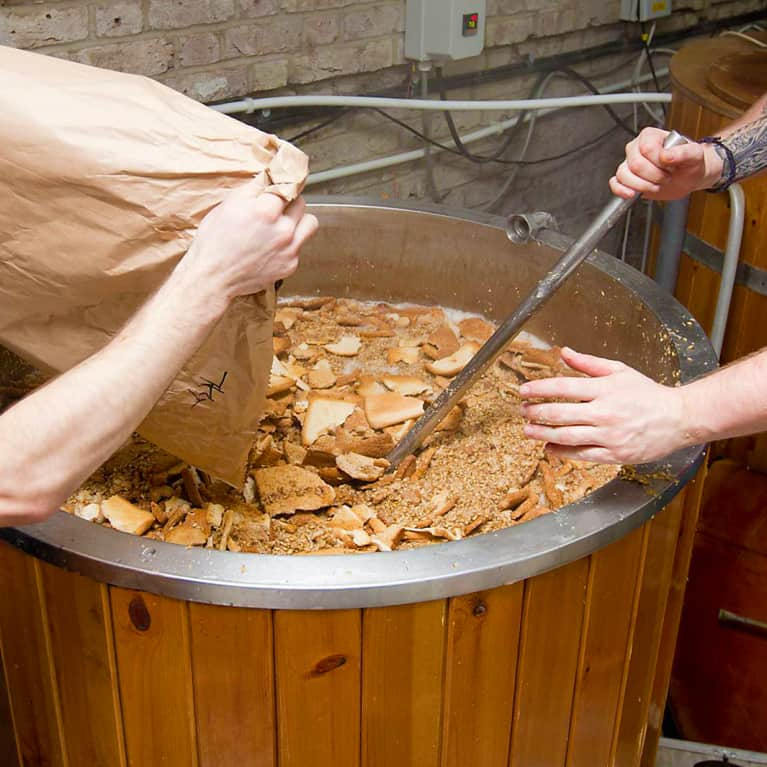 "Toast Ale manages to keep the valuable nutrients in bread—and all the corresponding labor, land, fuel, and water—in the human food supply, and we still send the spent grain to livestock farms. So the bread does ultimately get to animals, but we extend its life for one step further," Stuart explains.
His creation also has a philanthropic component. All profits from Toast go to Feedback, a nonprofit (also started by Stuart) that aims to halve food waste by 2030 using a mix of outward-facing initiatives like "Feeding the 5000" public dinner series, grass-roots campaigning, and policy shaping. By creating a for-sale product that feeds into the same mission, Stuart's creating a sustainable revenue stream for his charity and raising awareness in a new, fun way.
Following a successful UK launch, the ale has traveled stateside this summer. Stuart has noticed an increased awareness of food waste issues in America, and he's developing a team to bring his beloved product to our shelves. It's currently stocked in Whole Foods and select bars, grocery stores, and restaurants around New York, and plans to expand are in full swing.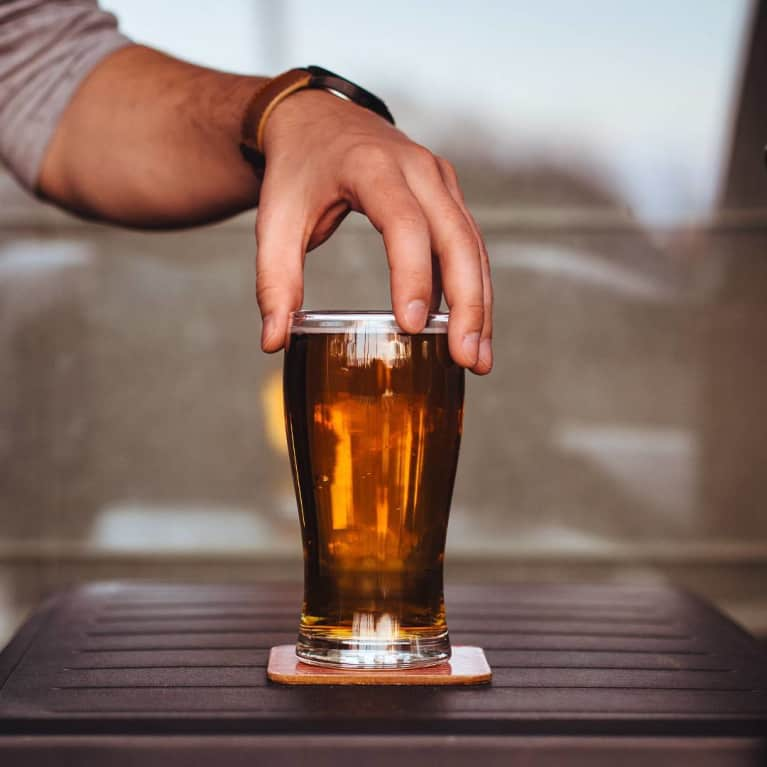 "The most common customer reaction is first 'Wow, what a cool concept' and second, 'Hey, this is actually really delicious,'" says Madeline Holtzman, the company's U.S. director, or "vice toaster," as she's known to some.
In an age when about a third of the planet's food goes to waste—enough to feed 2 billion people—we all have work to do in reshaping the system. Opting for better-for-the-planet products like Toast is a step, but Holtzman also recommends getting a bit creative in your own kitchen. "If you have some ingredients that are about to turn on you, consider coming up with your own recipe that allows you to combine them. I'm also a big advocate of freezing every piece of vegetable that you don't cook—skins, tops, stems—and stockpiling them until you have enough to make an awesome vegetable stock." For Stuart, it's all about getting back to nature.
"For me it's about connecting with the land, forests, and hard work that brought me the food I eat and celebrating every morsel," he says. "Enjoying and appreciating food is a physical way of appreciating how we are all part of this beautiful world's web of life."
Hungry for more solutions? Check out a recap of NYC's annual food waste fair and peek inside the world's first supermarket to sell only food waste.