'To The Bone': Read This Before You Watch Netflix's Controversial New Film
Psychotherapist & Social Worker
By Heather Senior Monroe, MSW, LCSW
Psychotherapist & Social Worker
Heather Senior Monroe, MSW, LCSW, is a psychotherapist, licensed clinical social worker, and the director of program development at Newport Academy, a holistic adolescent treatment program celebrated as the most comprehensive in the United States in the mental-health field. She holds a bachelor's in english from Skidmore College and a master's in social work from City University of New York, Hunter College.
Controversial Netflix series 13 Reasons Why showed the immense appetite for real, unglamorized depictions of real teen issues like bullying, sexual assault, and suicide. Now, with new film To the Bone, Netflix has taken on another dangerous facet of adolescent mental health: anorexia. Starring Keanu Reeves and Lily Collins, the movie offers an unflinching look at the horrifying effects of anorexia nervosa. The powerful honesty of the film owes much of its authenticity to director Marti Noxon—a survivor of anorexia.
Noxon and Netflix are building important awareness and creating a platform for dialogue around this life-threatening disorder, which has the highest mortality rate of any mental illness. But, while To the Bone gets a lot right, there are a few places where it could have done a little better. This list, from a psychotherapist who specializes in treating adolescents, hits on where To the Bone should be applauded and where it could do more damage than good.
1. It's not about the weight.
As the film makes clear, eating disorders are not really about wanting to be thin; they are expressions of underlying issues such as depression, trauma, and anxiety. Controlling food intake becomes a form of self-medication—a way to manage the pain and discomfort. "What you crave is the numbing of the thing you don't want to feel," Dr. Beckham (Reeves) says.
2. Online triggers for eating disorders are a serious concern.
An incident from the past is referenced throughout the film: Artwork that the main character, Ellen (Collins), created about her eating disorder, which she shared online, might have triggered a tragic event. This plot point highlights the problem of online "pro-ana" (anorexia) or "pro-mia" (bulimia) sites, which encourage and even give instructions for disordered eating. One study showed that such sites are visited by 13 percent of young female teens—and that number triples among female teens who exhibit problematic eating behaviors. Parents should be mindful of such sites and the language used on them.
3. The entire family is affected by an eating disorder.
Some of the most poignant scenes in the film are those between Ellen and her sister, Kelly (Liana Liberato), who loves her deeply but is also angry about what her illness has done to the family. The emotional impact on other family members is also shown, both subtly and overtly.
4. Recovery with the support of peers can be empowering—and even fun.
The film's depiction of residential treatment includes moments of bonding, mutual support, and friendship among peers—as well as pure fun and humor. (In this case, it's an environment where males and females are treated together, which allows for the inclusion of a budding romance in the plot; it's worth noting that gender-specific treatment is often more effective because it minimizes that distraction.)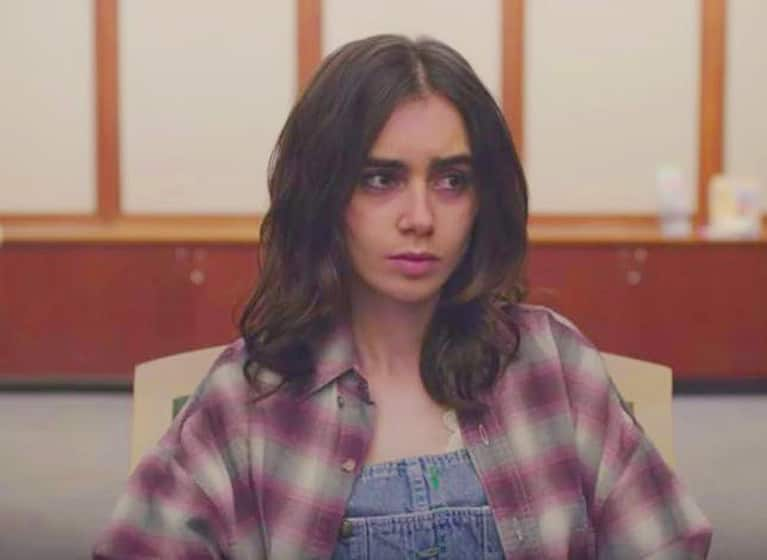 5. There are many approaches to treatment for eating disorders.
To the Bone shows Ellen in a hospital-like setting during one of her residential treatments; in another scene, several specific treatment methods for anorexia are referenced. The approach that ultimately catalyzes Ellen's turnaround involves an intimate residential setting with half a dozen other young people. What families of those with eating disorders can take away from this is that there are many treatment options—and they should do their research.
1. It cast a lead actor with a history of anorexia nervosa.
Like Noxon, Collins suffered from anorexia. Some might argue that this makes the story more authentic, but relapse is common with anorexia, and putting Collins in a position where she needed to lose weight and relive the disease is a questionable choice.
2. The warning at the start of the film could be more explicit.
Viewers are duly warned that the film's "realistic depictions" may be challenging for some. However, the warning does not explicitly state that those who are vulnerable to an eating disorder could be triggered. Ellen is someone a vulnerable person could potentially look up to: Those suffering from or at risk of anorexia may think of themselves as not being "thin enough" compared to her, or they may see her counting calories and spitting out food and use these behaviors as a model.
3. Family therapy might have been depicted more positively.
The film shows one family therapy session, in which Ellen's stepmother, her mother, and her mother's girlfriend ("a record number of mothers for one patient," Dr. Beckham jokes) ignore Ellen and focus instead on their own conflicts and history. Afterward, Dr. Beckham tells Ellen that family therapy is not helpful in her case. In truth, family therapy (no matter how difficult) is—in almost all cases—crucial to an adolescent's healing process. During and in the wake of treatment from eating disorders and other mental health issues, family therapy improves the way families communicate, strengthens relationships within the family, and ultimately teaches the family how to live harmoniously.
4. The disease and its treatment are sentimentalized to some degree.
Extreme highs and lows can certainly be a part of treatment and recovery, but the film's pacing and soundtrack telegraph these moments and romanticize the journey to some extent.
[SPOILER ALERT]
5. It doesn't show us what getting better looks like.
Rather than depicting Ellen as she navigates her recovery, To the Bone ends just after she's hit bottom and decides she wants to live. The film misses an opportunity to show the real work and rewards of getting healthy. However, it does leave viewers with the understanding that there is hope, healing is possible, and those with eating disorders can go on to live a full and joyful life.
Want more insights on how to level up your life? Check out your July horoscope, then find out why holding on to past relationships is the worst thing you can do for yourself.