To Help Save Our Oceans, Research Says We May Need To Quit Washing Our Delicates
mbg Editorial Assistant
By Jamie Schneider
mbg Editorial Assistant
Jamie Schneider is the Editorial Assistant at mindbodygreen with a B.A. in Organizational Studies and English from the University of Michigan. She's previously written for Coveteur, The Chill Times, and Wyld Skincare.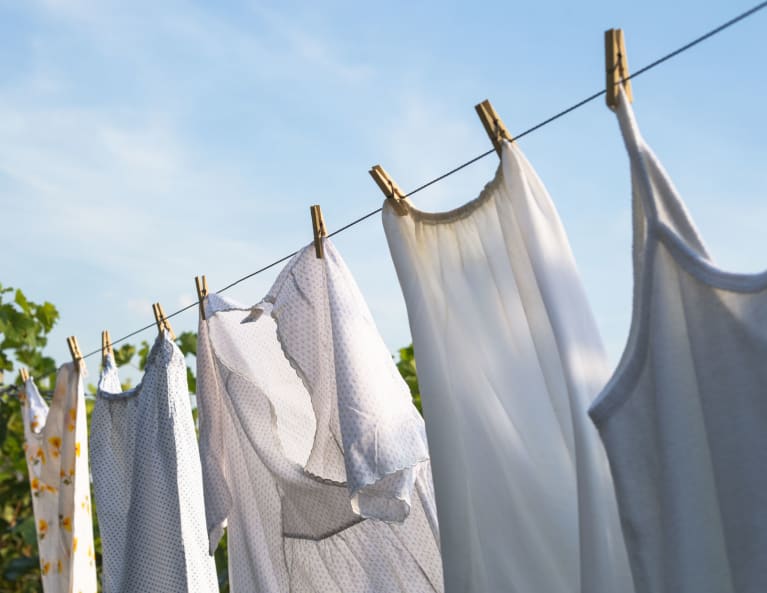 September 25, 2019 — 23:02 PM
As someone who always enjoys a good hot yoga session, my laundry basket seems to be perpetually filled to the brim with workout clothes and athleisure garments alike—both of which need special attention in the wash. "Wash on delicate. Always air-dry," I was told time and time again growing up, after accidentally ruining the precious fibers of yet another pricey pair of leggings.
New research from Newcastle University suggests that perhaps we all need to rethink the ways we clean our activewear and extra-fragile clothing. It seems as if the delicate wash cycle has some rather aggressive consequences for our environment—more specifically, for our marine ecosystems.
Through a study with Procter & Gamble, these researchers found that 800,000 (!!!) more microplastic fibers were released from clothing in a delicate wash than a standard cycle. These microfibers are so tiny that they have the ability to drain out of our washing machines and straight into our oceans, which is why this six-figure number is so scary for the future of our marine environments. While you may think the term "delicate" should mean that the laundry setting is gentle not only on our clothes but on our planet as well, this research shows that even the simple task of doing laundry on a Sunday night could contribute to the ever-expanding climate crisis.
You may be thinking, "Why is the delicate setting more harmful to the planet than my regular spin cycle?" That's because it's the volume of water, not the speed and abrasive force of the washing machine, that's responsible for the release of these fibers. And in a delicate spin cycle, a much higher volume of water is used in order to adequately clean our clothes.
Max Kelly, Ph.D. student and leader of the study, explains further in a news release: "The high volume of water used in a delicate cycle which is supposed to protect sensitive clothing from damage actually 'plucks' away more fibers from the material."
In order to make this new discovery in delicates, Kelly and his team used a tergotometer, a device comprised of eight washing vessels that simulates full-scale domestic washing, and tested whether changing the water volume, spin speed, temperature, and time had significant effects on the release of microplastic fibers. After they conducted this initial research, the team tested the same fabrics on identical washing machines at Procter & Gamble using a delicate wash cycle.
Through this study, they were able to counteract the previous (and seemingly obvious) knowledge that utilizing higher water volumes to replace high agitation levels in washing machines could reduce the amount of microfibers released into our marine environments. They were able to conclude that, in fact, this higher water volume seems to actually be making the problem worse for our oceans.
What does this mean for my next laundry load? 
"By avoiding high water-volume-to-fabric washes such as the delicate cycles and ensuring full wash loads, then we can all do our bit to help reduce the amount of these synthetic fibres being released into the environment," Kelly says.
Although you may miss the ease of coming home from a sweaty yoga session, peeling off your garments, and throwing them in the wash with the "gentle" setting, maybe you should take the extra time and energy to hand-wash all of your delicates. That way, you can help save our oceans and still ensure your activewear stays in as tiptop shape as you are.
"Reducing the amount of plastic pollution is everyone's responsibility, and often it's the small changes that make a huge difference," Kelly states. If all I have to do is find a new way to wash my sweaty separates in order to reduce the amount of microplastics in our oceans, consider me sold and my spin cycles set to regular.