How To Calculate Your Closet's Carbon Footprint In 3 Minutes Or Less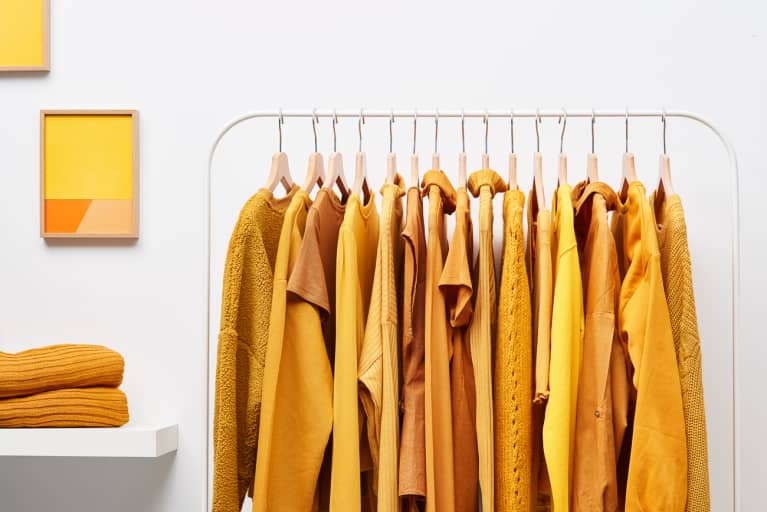 Our editors have independently chosen the products listed on this page. If you purchase something mentioned in this article, we may
earn a small commission
.
January 15, 2020 — 11:01 AM
The journey toward a more sustainable closet starts with a single step—or, in this case, a single click. Today, secondhand clothing retailer thredUP worked with environmental research firm Green Story to release a Fashion Footprint Calculator that can give you an idea of the annual carbon footprint of your wardrobe and how it stacks up against the average consumer's.
It's basically a more targeted version of your standard online carbon calculator. Once you take a three-minute fashion habit quiz with questions ranging from the granular (how many tops do you buy a year?) to the broad (how do you dispose of your clothes?), you'll have a better understanding of your pain points and how to clean them up.
ThredUP was inspired to create the calculator after asking 1,000 women about their wardrobes and getting some puzzling responses: "81% of women think their fashion habits are less wasteful than the average consumer—which is obviously impossible," Erin Wallace, thredUP head of integrated marketing, tells mbg. This disconnect between how green we think we are and how green we really are could be due to a lack of education. Though 92% of women surveyed said that they wanted to shop more sustainably in 2020, two out of every three of them didn't know how to go about lowering their fashion footprint.
The calculator sheds some light by finishing with a list of suggestions for whittling down emissions. I appreciated the fact that they weren't just tips for purchasing new clothes but for taking care of the ones you already own.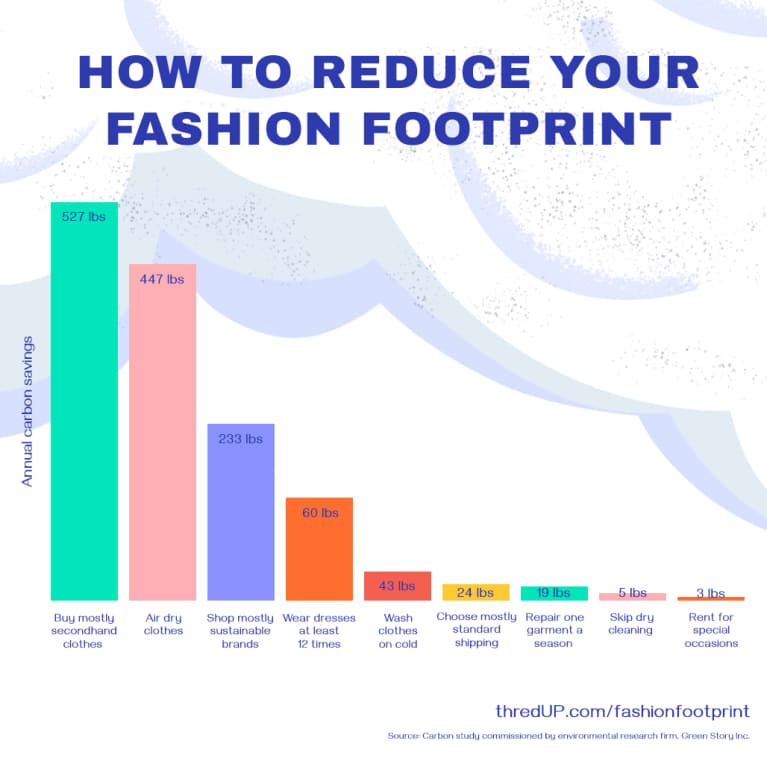 For example, after seeing that extending the life of a garment by one year can reduce its carbon footprint by 25%, I feel inspired to make this the year I finally learn how to mend my own clothes. (If anyone else is with me here, Wallace suggested checking out Elizabeth L. Cline's book The Conscious Closet for some lessons on Mending 101.) And once I realized that 75% of my laundry's total carbon impact happens when I machine-dry them, I gave a second thought to air-drying pieces in my tiny bathroom instead.
The next time I do want to buy a garment, the tool reminded me of the environmental benefits of supporting sustainable brands or shopping secondhand, trying something on in order to avoid returns, and never, ever opting for next-day shipping if I can help it.
Though we can't have a more sustainable fashion industry without brands changing the way they do business, we can't have it without the active participation of consumers either. There are plenty of things we can do to lessen the impact of our closets right now and in the future—and this is a good reminder of what those are.