This Yoga Movement Is For Everyone & Anyone
mbg Contributor
By Krysten Peck
mbg Contributor
Krysten Peck is a freelance writer specializing in arts, wellness, brands, and visual storytelling. She received a bachelor's degree from Dickinson College.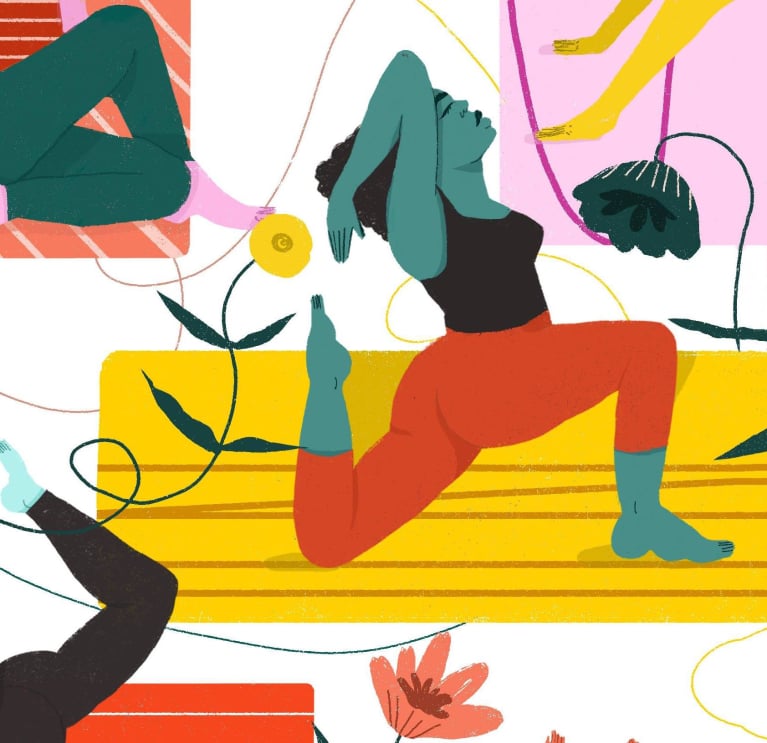 The push to make the yoga world a more diverse space is more fervent than ever. Brands are expanding their athleisure sizes in support of body diversity, self-started collectives uplift underrepresented voices—and now, with Setu yoga, there's even more access to the spectrum of change and diversity taking yoga by storm.
Setu yoga is an online directory specific to yoga teachers of all kinds to build community and encourage inclusivity. "The mission behind Setu is to support and advocate for diversity and inclusivity within yoga," says founder of the project Libby Nicholaou.
The project initially started in 2017, when Nicholaou was navigating an entirely foreign yoga scene in a new city. "Living in California, I practiced at the same studio and there wasn't much of a community–it was a bit isolating." As a California transplant in NYC, she noticed the city's yoga scene had a built-in community among teachers and students, a phenomenon she wasn't privy to while living on the West Coast. "When I moved to New York City, my experience with yoga completely shifted–it became about connecting with others and not just myself."
Setu, a Sanskrit word inspired by Setu Bandhasana, known as "bridge pose" in today's yoga vernacular and often referred to as the heart-opening pose, is a fitting reference for a project grounded in community.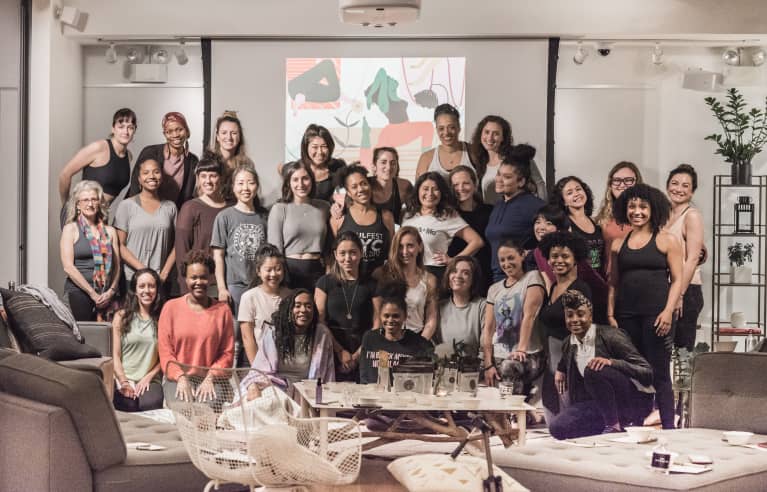 Some of mainstream yoga can be misleading.
Nicholaou's practiced deepened as her network of her supportive and diverse yoga peers grew. "I started to see people who practiced yoga in NYC were connected—and my yoga practice deepened on a different level because of the camaraderie," she shared over breakfast here in DUMBO, Brooklyn by the mbg HQ. The diversity of people, voices, and bodies practicing yoga were invigorating, says Nicholaou, and a far cry fromnot quite the image reflected in mainstream's portrayal of yoga.
"I noticed that the media around yoga lacked diversity of people, whether that's body, race, gender, or identity-specific," she said. As a full-time graphic designer at the time, she found that the latest innovations were rarely expressed in mainstream yoga. "I saw that a lot of tools were being used in the design world to promote inclusivity, but little like that existed in the yoga world. Setu isn't really about yoga; it's about community—and yoga is the way through which it happens."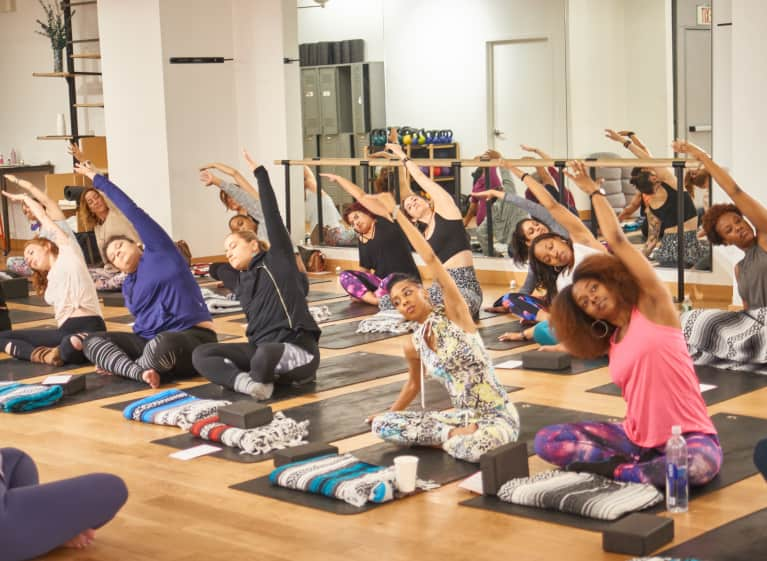 Yoga and community go hand-in-hand.
Setu's services may cater to yoga practitioners, but the ethos of the project speaks to anyone, be it a novice or veteran, who's keen on deepening their wellness practices with healthy habits and relationships. "If you're building healthy habits and building relationships, there's room to help create more mindful and healthy interactions in this world," says Nicholaou. "We're looking to make this a place that welcomes everyone and affirms that you can come from anywhere and practice yoga."
Since 2017, Setu has steadily grown, with an enormous response from yogis and community members alike. "That's me—thank you for representing me" is often the response to Setu's messaging, says Nicholaou.
Currently, the directory houses 165 yoga practitioners and grows with each day. The profiles include tags like "body positive," "mindful," "trauma-informed," and "accessible" in addition to your standard types of yoga like restorative and alignment-based. In the beginning, Libby took a guerrilla approach and scouted teachers herself by attending classes around the studios.
Using privilege to amplify a platform for others.
When I ask about whether her perceived privilege has ever been questioned as someone in a position trying to diversify commonly white spaces, she thoughtfully agrees and clarifies her intentions with Setu. "I'm a white, seemingly able-bodied person, but I'm willing to put myself out there as an ally," she continues with why her ideal role is to stay behind the scenes. "Eventually I'd like to create a board and advisers who drive the decisions of the site and community."
Nicholaou also organizes offline events for Setu to help spread the message and bring the online community to face-to-face opportunities. "Events are meant to recreate the yoga training experience"—discussion of experience, topics around love and self-care, and listening in a community sense. "It replaces the competitive and busyness nature that comes with being a teacher with celebration and support."
Part of the dialogue around Setu also addresses changing the structure of how yoga is discussed and taught, which opens up the conversation on how yoga teachers can expand their teachings and resources to "create an experience that's not just 'inhale, exhale' but about creating a livelier yoga experience," according to Nicholaou.
Ultimately, she hopes for Setu to contribute to the transformation of yoga from merely a workout to a way of being and moving through the world. "When you slow down, you're able to feel different muscles—and as you do this, you feel muscles shift. You just start to learn to love and have compassion for the parts of yourself that are working."
It's this shifted perspective on fitness and movement that also resonates with mbg, particularly at a time when life can move fast and rough—a counter-approach, if you will.
"It can be less of a workout and more about reminding your body how to take care of itself," she offers.
On our radar: Here's one woman's refreshing take on athleisure.