This Underrated Fruit Is A+ For Evening Out Your Skin Tone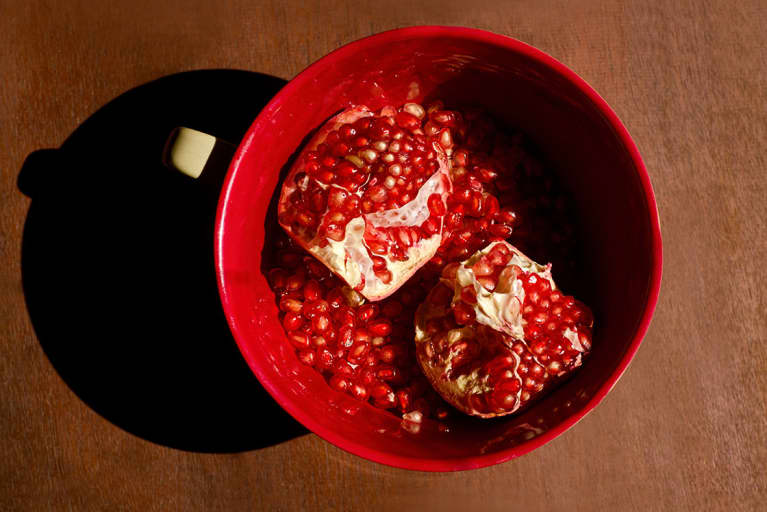 When it comes to caring for your skin from the inside out, it's important to start with foods high in antioxidants. Why? Well, antioxidants fight off free radicals (which can cause oxidative stress leading to signs of aging, among other common skin woes). Both ingesting and applying antioxidants topically can help combat this oxidative stress from two different angles.*
Of all the antioxidants out there, one of the most popular is vitamin C, with oranges perhaps being its most famous accompanying food. But guess what? There's actually another underrated fruit that contains tons of vitamin C and some other skin-loving antioxidants that are especially helpful for evening skin tone.* The fruit in question? We're talking about pomegranates.
Why pomegranate is A+ for even skin tone.
There are many reasons someone might want to focus on evening their skin tone: to strengthen their skin barrier, address photoaging, or perhaps they're just gunning for an allover glow. Luckily, pomegranate bioactives have the power to help address every single one of those concerns.* Here's a quick summary for you, but feel free to read through our full guide to pomegranate skin care benefits for a more in-depth explanation:
Antioxidant properties: Pomegranate is a great source of antioxidant polyphenols (which also come from things like grapes, green tea, etc.). And like we said up top, antioxidants help combat oxidative stress in the skin.*
Supports skin's hydration: "It contains punicic acid, an omega-5 fatty acid that helps to hydrate and buffer against moisture loss," board-certified dermatologist Hadley King, M.D., previously told mbg. When your moisture barrier is compromised, it's common to have pigmentary changes on the skin, too.
Works to protect against UV rays: This does not give you permission to swap pomegranate seeds for your trusty SPF, but antioxidants do have the power to assist with sun protection. As for a concentrated pomegranate extract, clinical studies have shown that this targeted phytonutrient-rich botanical has the ability to enhance photoprotection in the skin, meaning your skin cells are better equipped to deal with UV rays and their subsequent effects.* Another double-blind, placebo-controlled clinical trial even found that taking pomegranate extract orally could help with common sun-induced pigmentation.*
Of course, you can consume pomegranate for these benefits, but it's not always easily accessible, and it's pretty difficult to eat enough pomegranate every day to reap these benefits. According to the Food and Drug Administration (FDA), there's no recommended dosage for pomegranate extract, but experts view 100 milligrams and up as the ideal amount to reflect the current research on skin health.* If you'd like to look into targeted supplements to meet this goal, mbg's cellular beauty+ contains 200 milligrams of pomegranate whole fruit extract (boasting an impressive 60% polyphenol potency), among many other great skin-loving ingredients you can read about here.*
If you're looking to care for your skin from the inside out, getting enough antioxidants is key. Pomegranate specifically has tons of benefits for skin, including some that may help to even skin tone.* If you're looking for an easy way to get this powerful fruit into your routine, skin supplements are a great place to start. If you want to know more about what it means to approach beauty from a cellular level, here's our go-to explainer.