This Tiny Workout Tweak Will Transform The Rest Of Your Day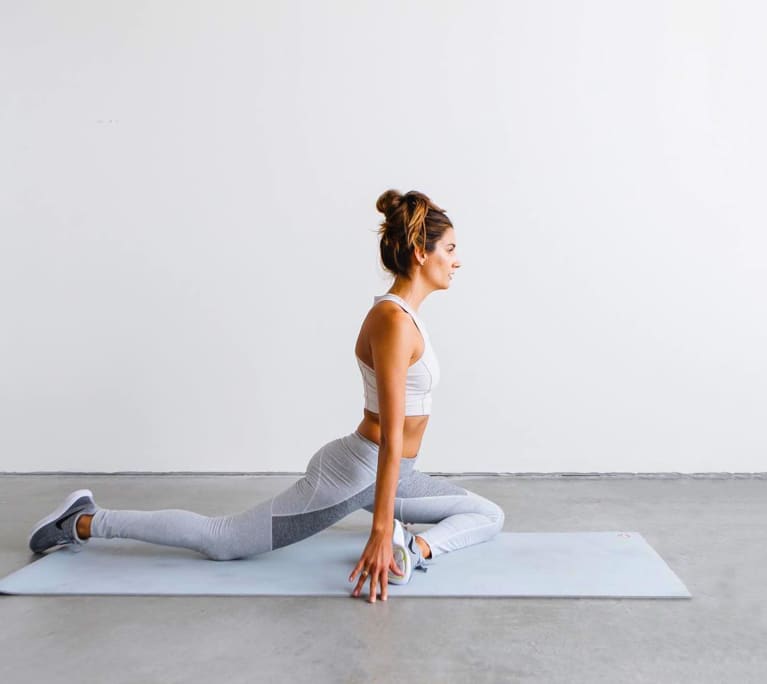 "Does anyone want to share what their experience was like?" My yoga and meditation teacher had just led a small group of us through 30 minutes of mindful yoga, and to be honest, I hated every single second.
If you've never taken a mindful yoga class, let me tell you about it. There's no bumping music. No strong vinyasa flows. No badass warrior poses. It's just you, your breath, and your mat. You're not trying to accomplish anything. You're not trying to get anywhere. Your only job is to breathe, gently make your way through a few postures, and practice being embodied—which means getting curious about the physical sensations, emotional currents, thoughts, and reflections that are present in your body.
I raised my hand to answer my teacher's question. "I don't get the point of this. It seems like I should either be feeling the burn and sweating it out or resting completely. I just felt angry and antsy the whole time. All I could do was pray the class would end."
My teacher Kimberly nodded her head like she wasn't surprised. Her response? "You don't need to like it. You just need to keep doing it. Mindful yoga allows you to practice being present from moment to moment with a deeper, nonjudging awareness. Give it a chance. This is healing work."
My first reaction was to argue and get defensive. When I practice yoga, run, or do my high-intensity workouts, I'm aware of the physical sensations in my body. I've been an athlete all my life, and I'm super in tune with how I feel; I didn't have time for something like this. I believed this slower movement could work for some people, but there was no way it would work for me.
Still, I decided to stick with it.
Even though I had major doubts, I ultimately decided to stick to it. I took Kimberly's advice. After all, I had nothing to lose. At the time, I was struggling with what felt like unrelenting anxiety. I had recently had a series of panic attacks, and these episodes shook me up enough that I took two weeks off work to regroup and get my feet back underneath me. Kimberly ultimately was someone I trusted. The seated meditations she had me doing daily were helping me stay steady and be more resilient to stress. So maybe I just needed to give mindful yoga time.
Over the next month and a half, I stayed consistent and practiced slow movement three times a week. While the movement was easy on my body, it was a massive challenge for my mind and heart. Without anything else to distract me, I was forced to be alone with myself. All the things I had been stuffing away for so many years—the feelings of not being enough, the negative self-talk, the body image issues—they all bubbled up to the surface when I was on my mat. I'd do my best to be brave, to let it all be there, and to not to judge whatever was showing up as good or bad. Over time, I noticed that the more space I created for my emotions and thoughts during my movement practice—the joy and the anger, the shame and the love, the sorrow and the gratitude—the more free and calm I became.
The unexpected benefit of slowing down.
The most unexpected result of slowing down and embracing mindful yoga was how drastically the practice changed how I approached my other high-intensity workouts. I stopped being so obsessed with achieving. It wasn't about rushing through everything and completing the reps perfectly. It wasn't even about building strength or having a toned body. My workout became something much deeper than that—it was my time to check in and connect with myself in a more meaningful way.
Suddenly, all of the moments of my workout started to matter—not just the moments when I was sweating like crazy, feeling an intense muscle burn, and breathing hard. For the first time ever, I began tuning into and valuing the moments between the poses. Like feeling the wind on my leg as I reached it back to set up for a glute-strengthening all-fours series. Or how strong my mid-back and core felt as I rooted my palms into my yoga mat and lifted my hips for downward-facing dog.
The more aware I became of my body and the direct experience happening during my workout, the more embodied and aware I became of everything that was showing up for me the other 23 hours of the day. Specifically, I started to notice the patterns of thinking and ways in which my body reacted to stress. For example, I'd receive a frantic work-related email and notice the sinking feeling in my stomach and the way I clenched my jaw. Or I'd go to bed later than usual and notice that on days when I slept less, my negative self-talk increased and my inner critic was harder to dismiss. The more curious I got, the more I learned about myself. And the more I learned about myself, the more connected and resilient I became.
Trust me: The practice of softening into a deeper part of yourself and the present moment is healing work. It's heart work. It's also hard work. But you know what? It's also the most worthwhile. So the next time you roll your eyes and tell yourself that you don't need to slow down, can you reconsider? Can you open yourself up to the experience and to the possibility that sometimes less can give you a whole lot more? I believe in you.
Want more from Kait? Read about how her obsession with working out backfired on her.