All The Inspiration You Need To Go On An Outdoor Adventure This Spring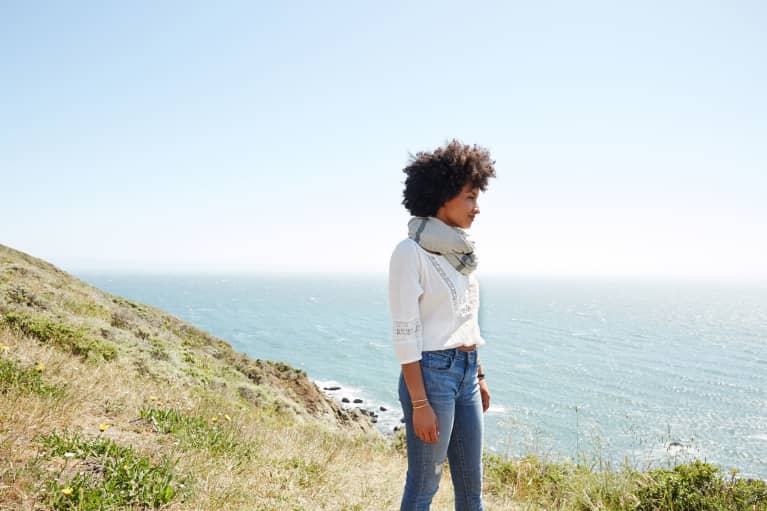 Our editors have independently chosen the products listed on this page. If you purchase something mentioned in this article, we may
earn a small commission
.
The new book She Explores: Life-Changing Adventures on the Road and in the Wild is an extension of Gale Straub's podcast by the same name. A collection of personal essays and advice from women who have found fulfillment in the great outdoors, it's equal parts inspiration and practical tips. This excerpt is a beautiful ode to all that nature can trigger within us, written by landscape artist Madision Perrins, followed by Straub's action plan for planning your next adventure.
An Ode to Every Woman Who Has Been Called Outdoorsy
You, a natural resource.
You who feels like the best version of herself at sunset when the air is crackling and the dirt's between your toes.
You who, as the sun's rising, promises to be quiet and let the dawn share its secret with the day on its own.
You who, at high noon, have almost-but-not-quite dared the sun to burn your skin, imag­ining the cracked patina leather it would someday become: signs of a life outside. But you know better than to dare the sun anything.
You who have pulled on crusty socks unceremoniously and brushed off those who notice.
You, who know that all the bruises and scrapes from scrambling and rambling are the best because they remind you of being alive. Someone may even point it out: "How'd ya do that?" And you shrug your shoulders because you honestly don't know.
You who have shed tears on the trail without really knowing why.
You who look at the mountains and think they must know everything about you, and you who look at the sea and are sure that it doesn't care about you at all.
You who have surprised yourself by falling behind the group, and you who have surprised yourself by charging ahead. The trail is the same, but each time, you're the one who's different.
You who, however gracefully, made it. Sometimes it's ugly, and sometimes you move across the water or rock and have never felt lighter.
You who smiles as someone tries to understand why you have to be barefoot at least some portion of the year, or come in with rosy cheeks and wild hair and dirt clinging in clumps to, well, anywhere it can get. And you who don't really need them to understand anyway.
You who have found your remedy—you lucky girl. It takes some years to know about the cure-all of dried sweat and moon-stains.
You, a natural resource, supplied by nature, and made up of it, too. I am proud of you.
—Madison Perrins
Questions to ask before you go.
Your wandering is your own—be it for a weekend, a year, or the foreseeable future yawning into the horizon. The following questions will help you form a sense of where you've been, where you're going, and how to get there with intention.
What road has brought you here?
Why do you want to travel? Perhaps you have a pent-up curiosity, or a long-ago road trip planted the seed. Take the time to reflect on where you are in your life and why you're in need of motion.
This is the stuff of dreams. The allure of mobile travel is the flexi­bility of choice. You could likely explore every cor­ner of your country and have appetite for more. Or you could also invest in a plane ticket to New Zealand, fly thousands of miles, and purchase a minivan upon arrival. The beauty is that it's up to you.
The people who have gone before us shape our travels. There are hundreds of storytellers out there sharing their routes, vehicles, and methods. Use their stories as your launchpad.
How long will your trip be?
The answer may be a combination of how much time you have and how much time you want. There are so many factors to dictate the length of your travels: Will you be hitting a pause button on your career? Are you building a new life in motion? Do you fantasize about better weekends spent in the outdoors?
How much physical living space do you need? How much do you want?
Our circles are constantly widening and contracting. Think about your sleep and living space, who will fill it, and what mobile home may accommodate it.
What are you passionate about?
It is perhaps too simple to ask what brings you joy. Passion is a more complex feeling: It's a driver. If you're carving space in your life, fill it with what moves you forward.
Who will you take with you?
Not every excursion is a solo adventure. If you're planning with a partner or a family, ask them these ques­tions, too. And if you have a dog, cat, or other pet, they may guide you as well.
Home follows you everywhere; some might say it's within you. Consider whether that's a comfort. When you're packing and planning, gather up home and inject it into your possessions and practices.
Will the road bring you back here?
There are two sides to this coin. Will you return, phys­ically, to the origin of your travels? Or are you in search of some new place? And while we're con­stantly growing and changing, is there a chance wandering will take you back to the same place, psychically, that you are now? What does it take to move forward?
Here you are. If your nature has taken you right up to the invisible line between contemplation and decision, what keeps your toes on the line? Imagine what might happen if you stepped over.
Reprinted from She Explores by Gale Straub with permission by Chronicle Books, 2019