This Wristband Can Identify Your Emotions For You ... Do We Need It?
Contributing Sex & Relationships Editor
By Kelly Gonsalves
Contributing Sex & Relationships Editor
Kelly Gonsalves is the sex and relationships editor at mindbodygreen. Her writings on sex, relationships, identity, and wellness have appeared at Teen Vogue, Cosmopolitan, The Washington Post, and elsewhere.
Today in weird things that now exist in the world: Researchers from Lancaster University in the U.K. have successfully created a smart wristband that can tell you when you're feeling emotional. Why would someone need this, you ask? Good question.
The wristbands work by changing color, heating up, vibrating, or tightening in response to changes in a person's arousal levels, measured through a skin sensor that reads the electrical conductivity of the skin. The brains behind this new wearable technology—which is still in its prototyping phase—tested it out on a dozen people who wore them for two days each. The researchers presented their findings at a tech conference called ACM Designing Interactive Systems 2019 this week.
"Knowing our emotions and how we can control them are complex skills that many people find difficult to master," said Muhammad Umair, one of the study authors and a research associate at Lancaster University's School of Computing and Communications, in a news release. "The idea is to develop self-help technologies that people can use in their everyday life and be able to see what they are going through. Wrist-worn private affective wearables can serve as a bridge between mind and body and can really help people connect to their feelings."
Prompting you to pay attention. 
Umair and his team aren't the only ones interested in creating wearable tech to help people recognize our emotions: The Feel wristband, unveiled in 2016, does a similar emotions analysis via biosensors both in real-time and by recording the wearers' emotional history over time. Amazon is reportedly also working on such a device, though theirs will identify emotions based on the wearers' voice and speech.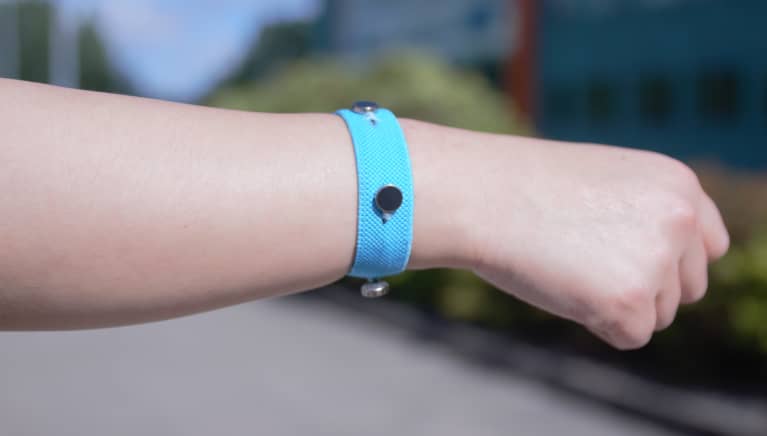 According to Umair, the goal is to help people have more real-time emotional awareness, which is apparently very difficult to do without a smart wristband to whisper the answers to you.
"Participants started to pay attention to their in-the-moment emotional responses, realizing that their moods had changed quickly and understanding what it was that was causing the device to activate," he explained. "One of the most striking findings was that the devices helped participants start to identify emotional responses which they had been unable to beforehand, even after only two days."
In the paper on their test run of the wristbands, the Lancaster team described "knowing our emotions" as "complex skills that many people find difficult to acquire." With the help of their technology, though, people were prompted to stop and reflect on their feelings whenever the wristbands activated. (Anything from having conversations to cooking and eating to saying goodbye to a friend to playing with pets and relaxing at home.)
"It's nice to have something like this, that is aware of your emotions," one of the participants told the researchers.
"It made me more aware of my feelings and made me think what feelings I have," another participant explains. "But if I didn't have the device, I wouldn't be probably as aware as I am when wearing it. It did give me a way to think of my own emotion."
Do we really need technology to tell us what emotions we have? 
At first blush, it's a little bizarre to think some people just wouldn't be in touch with how they're feeling if they weren't wearing a wristband that told them to pay attention. But in essence, it sounds like the wristbands merely act as a mindfulness cue—similar to how at a wellness retreat, there might be a system in place that when a host rings a bell, everyone must stop what they're doing and look inward at how they're feeling.
Anything that prompts us to be more mindful in the present moment is probably a good thing. Should we really need to rely on a piece of tech to explain our emotions to us? That, dear reader, is up to you to mull over.
Meantime, if you're not trying to buy some fancy skin-sensing bracelet, there are plenty of ways to work on being able to be totally in tune with your emotions in real time. Try these breathing exercises and meditation ideas geared around emotional awareness from psychotherapist Emily Roberts for starters.