This May Be Why Your Veggies Scraps Won't Grow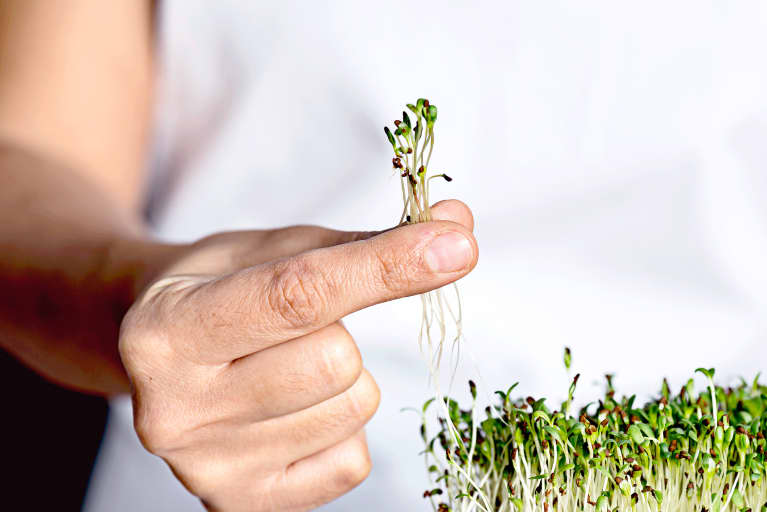 The newest stay-at-home hobby has taken a turn for the green—with a bit of scrappy indoor gardening.
As we all continue to stay socially distanced from the comfort of our homes, we're looking for ways to live more sustainably and to limit trips to the store, so it was only natural that people would begin regrowing veggies and herbs from table scraps.
From carrot stems to scallions, there are plenty of things that will grow again when given the right conditions—a bit of patience and some strong sunlight, most crucially.
This may be the reason your vegetables won't regrow.
As more people give this sustainable practice a whirl, they may also start finding that it simply isn't giving them more produce—and there's a pretty simple reason. You're likely to get the best results with organic produce.
The pesticides and chemicals used in growing non-organic vegetables can actually hinder the plants' ability to sprout and regrow, though that's not to say it won't work at all. It's simply easier to find success with organic produce. Consider seeing whether you can get your hands on local organic produce to start sprouting at home.
With the shocking abundance of vegetables and herbs that will regrow also comes a range of times that it takes to get back harvestable produce from your scraps.
Romaine lettuce, bok choy, leeks, fennel, carrot greens, celery, and yes, scallions, are among the quickest to resprout, and you could even have enough to cook with within the week. If you don't mind waiting a bit longer, you can also grow garlic, basil, lemongrass, and cilantro from kitchen scraps, which will take nearer to two or even three weeks.
While there's a bit more nuance to the process than simply sitting the scraps in cups of water on a sunny sill, the bit more really is only a bit.
For romaine, bok choy, leeks, celery, fennel, and scallions, take the bulb end of the produce and place it bottom down in a container that will support them as they grow upward. Fill with enough water to cover half the remainder and place it in a very sunny place.
For herbs like basil, all you need to start growing more is a few leaves. Place them in a glass full of water and give them sunlight until you have about 2 inches of roots, at which point you should transfer them to soil.
While you won't grow further garlic bulbs quickly, one clove of garlic can become a bunch of garlic scapes, which have a slightly milder but still versatile flavor. Place the clove in a small glass with water, but don't submerge it. Let them grow until they're a few inches tall, and then you can use them to cook.
Looking to grow something a little more carb-heavy at home? Maybe try your hand at sourdough.