This Is Why So Many Women Don't Want To Get Pregnant At The 'Wrong' Time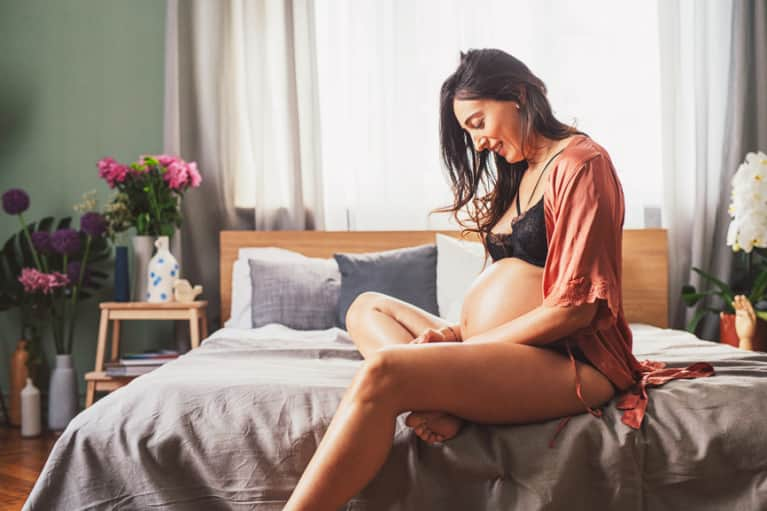 A year ago when I found out that I was pregnant I had a total meltdown. I was 25 years old with a thriving business and starting to travel the world like I had always dreamed. I felt like my life was over because I had never known any moms who were making a massive impact on the world through their businesses while raising a new human.
When we lost the baby six weeks in, I experienced more emotional pain than I could imagine and remember doing my work from bed, crying over my computer, just trying to see what I could be grateful for each day. The truth was that I felt like it was my fault that we had lost this baby because I was working really hard and so stressed thinking about giving up my dream.
A couple of months passed and as the grief started to lift I found myself not being driven by the things that had pushed me to work harder in the past. I no longer cared about luxury travel, photo shoots for my brand, or shopping at Anthropologie. It was such a weird place to be in! How could I not be driven?
In 18 months I had created a quarter-of-a-million-dollar business from nothing and then the drive just stopped.
So I chose to ask for more meaning in my life.
Shortly after that, I got pregnant again. This time I felt better about becoming a mom, but I still had underlying fears about truly being able to make the impact in the world that I desired to make with this huge, impending life change. Honestly, I was angry that I had gotten pregnant. I blamed my husband, blamed myself, and tried to avoid preparing for the baby's arrival for as long as possible. The sales in my business tanked and I just felt like the pregnancy was taking away everything that I had dreamed of and worked for.
I was in that funk until we had to go in for an emergency ultrasound because I was measuring small and we were told that she might not be growing. Over the next 24 hours, as I waited to go back to the midwife, I had two breakthrough moments. First, I remembered that life gives you what you ask for and I had asked for more meaning in my life. Second, I was attaching feeling determined, being driven, and taking action in my business with hurting our baby, because of my past experience.
Once you bring something to the surface and shine a light on it, it can be healed. And once I realized that this is what was going on, everything shifted in a matter of days. So I'm sharing with you the three things I had to do to get my joyful life and drive back as a pregopreneur and soon-to-be mom:
1. Choose a different meaning.
When we attach a certain meaning to something, we can only take action based on the belief that we've created about that thing. Actions create your reality! So in my case, my belief that determination was hurting my baby was creating a lack of action in my business. When you replace a current belief with a new one and start to truly believe that, your actions will change along with it.
So what I did was replace my old belief with this new one: Determination means taking care of my baby and makes her healthier. When mom is happy and healthy, so is baby!
2. Create a new future story.
Expectations about how things should be can create pain in our lives. This might look like being sad, angry, frustrated, or any range of emotions that aren't of service to us. They key is to let go of the expectations and create a new story in your mind about what's possible. You can either live in an excited positive state or something else and it's 100 percent your decision.
Sometimes it can be hard to create a new story if we've never seen it happen for someone else. Even though I knew what I wanted things to look like, personally I had a hard time convincing myself that it was possible. So I went on the hunt for really successful female entrepreneurs who are also moms of small children. The crazy thing was that I was already following some of these women online and actually friends with some as well! But because I was telling myself a different story about what was possible for me, I couldn't recognize myself in them.
Once I really saw what they were doing I told myself that If they could do it then I could do it too. Building a business wasn't easy, and I had never done it before, but I kept going, made it work, and always saw the positive in every experience. This was no different.
3. You don't have to do it alone.
This is one of the things I always tell new entrepreneurs, pregnant or not! There are people out there who have done this already and when you get the support you desire and deserve, it makes everything easier. Every successful person will tell you that they found a mentor and learned from them to compress their timeline. You are never alone in anything in your life and business. There are always people willing to help, share their wisdom, and be there when you need it. It takes a village, and there are people in your life who want to be a part of yours.
Life is truly always working for you, and when we let go and just allow the lessons to come, they are so much more beautiful and life-changing than imagined.