I Tried The Whole30 Diet In January—Here's What I Wish I'd Known
mbg Manager of Culture & Events
By Jenna Capizzi
mbg Manager of Culture & Events
Jenna Capizzi is the manager of Culture & Events and graduated magna cum laude from the Alvin Ailey/Fordham University B.F.A. program with a degree in Dance Performance.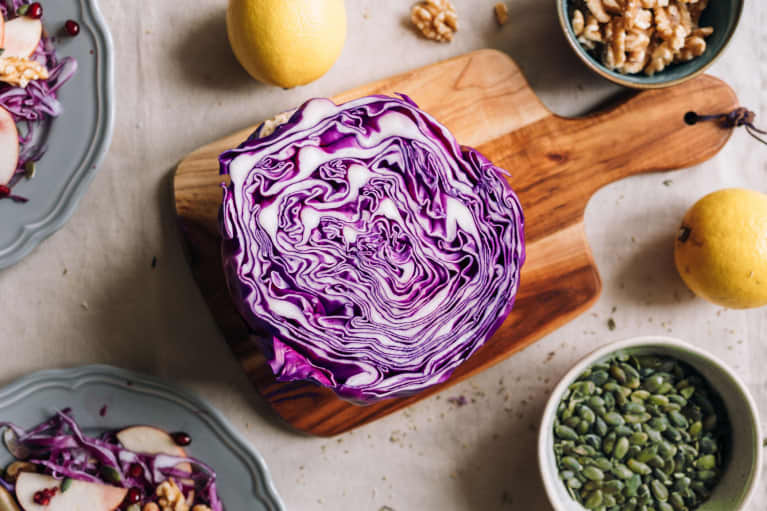 Our editors have independently chosen the products listed on this page. If you purchase something mentioned in this article, we may
earn a small commission
.
Last updated on December 30, 2019
I thought I could claim I had a healthy and balanced diet. I ate tons of vegetables, healthy fats were my jam, and I stayed away from most gluten and dairy. But often I'd follow a day of healthy eating with a nightly glass (or bottle) of wine, endless amounts of popcorn, and animal crackers with melted dark chocolate. And it was fine. That was 80/20, right?
Then, someone blew my mind when they mentioned offhand that the wine and cookies weren't part of a balanced diet: They were just a mindless habit. I craved those foods every night because I was just used to having them every night, but I didn't actually want or need them.
When I was researching ways to break habits, I came across the Whole30. The Whole30 is 30 days of complete elimination of, as co-creator Melissa Hartwig describes, "the most common craving-inducing, blood-sugar-disrupting, gut-damaging, inflammatory food groups." These include all dairy, any added sugar, all legumes, and any alcohol. Hartwig was once an addict (you can hear more about it on her shockingly open and emotional interview with mbg founder Jason Wachob on the mbg podcast!), and many credit the diet with being transformative in redefining their relationship with food.
I talked my begrudging fiancé, now husband, into giving up his favorite peanut butter and Pizza Fridays and doing the January Whole30 with me. Thirty days later, my life was changed. Here's what I learned:
I'm really competitive and good at a challenge, so this is hard to admit, but I don't think I could have completed the whole 30 days without my fiance on the same plan as me. As much as I was doing this for myself, I also really needed to stay strong for him (no pizza on Fridays was rough). Plus, it's super helpful having someone to stay in with you on nights where everyone else is out having fun and you are feeling the #FOMO. For us, spending money on a plain piece of chicken and some steamed veggies just to leave the house for dinner was not worth it. Instead, we made sure to find other ways to have exciting "dates." We started going to the farmers market together, planning long walks, taking pretty winter hikes, and cooking Whole30-compliant meals together.
2. I don't know how to be social without a drink involved.
I would never consider myself a party animal. I am in bed by 9:30 on weekdays, and on weekends it's rare for me to be out past 11. But I realized quickly that while on the Whole30, other than my workouts and full-time job, I wouldn't leave the house. I couldn't grab a casual drink after work, meet friends at a bar, or go out to a fun date-night dinner. My fiance and I are homebodies to begin, but when you realize your entire social life revolves around alcohol, you can feel really stuck (and kind of embarrassed!). My advice? Plan weekend activities like a hike, yoga class with friends, or invite people over for a home-cooked meal (you don't even need to tell them it's Whole30-compliant!). Taking these active steps in having a social life was so key to keeping me from defaulting to going to a bar and feeling deprived—a lesson I carried over after the Whole30 ended.
3. Meal prep is actually a game-changer.
I'm not talking about eating the same breakfast, lunch, and dinner for a full week out of plastic ware kind of meal prep. I'm merely referring to having your week planned out on paper—not just in your head. It really is insanely helpful. I'd wake up on Sunday, find some recipes (I love @paleorunningmama or the @whole30 Instagram for recipe inspo), write out my shopping list, and go to the grocery (with my sidekick, of course)! If you're not into cooking a million meals in one day, you definitely don't have to. I found just having the ingredients was enough to make me feel so much more prepared for the week ahead. And if I was extra ambitious on a Sunday, I even started preparing my greens, cutting down the broccoli, and cubing my squash. Every little bit of planning and preparing really does help!
4. Balsamic vinegar has sugar. Everything has sugar.
I was shocked to find out how many of my "healthy" cabinet staples had sugars and ingredients that I couldn't pronounce. My vinegar had sugar! I also found my hot sauce, steak sauce, tomato sauce, nut butters, spreads—you name it—were all not compliant. My advice? Identify your "must-have" condiments/sauces, and find their alternatives before you even begin. For me, Primal Kitchen products were my go-to's, and making our own hot sauce from scratch from a recipe in the Whole30 cookbook was rewarding and super tasty.
5. If you can have breakfast for dinner, you can also have dinner for breakfast.
Before Whole30, I was stuck on the thought that breakfast meant having a smoothie, yogurt parfait, or toaster waffle. I quickly learned that if I didn't plan my breakfast for the next day, I couldn't just stop for the (noncompliant) smoothie or yogurt on my way into the office, leaving me stuck eating leftovers from dinner the night before. To my surprise, dinner for breakfast is just as great as breakfast for dinner. After 30 days, my favorite breakfast (that I still eat today) is sauteed crispy Brussels sprouts or any leftover veggies from the night before, with two fried eggs on top (hard-boiled works, too, if you're on the go!), drizzled with almond butter. I also love to add a sprinkle of Manitoba Harvest Hemp Hearts for extra crunch and complete protein. Don't knock it till ya try it!
6. Food is not the only kind of reward.
Before Whole30, if I had a good day, I rewarded myself with a glass of wine...and a cookie. If I had a bad day, I told myself that I deserved a glass of wine and a cookie. But after realizing my "treats" or "rewards" were not Whole30 compliant, I needed to figure out other ways to pick myself up after a long, rough day or congratulate myself for personal wins. I turned to a journal. On a rough day, I would write what made me upset and how I could work on having a positive day tomorrow. And on a good day, I would note how I was feeling and what positive things made me feel that way. Without even knowing it, I was identifying patterns in my moods and not just masking them with a mindless reward!
Overall, I learned a ton about myself and my habits while on the Whole30. After the 30 days, I went immediately back to wine and definitely reintroduced some legumes to my diet. But I did find myself eating less out of habit, and really acknowledging why I was drinking when I was. And guess what? I found myself drinking a whole lot less as a result. As I noted above, I also kept doing savory breakfasts, which helps my blood sugar stay stable well past lunchtime. That said, I'm definitely going to try it again this January!