Not All Tree Plantings Are Created Equal. Here's How To Do It Right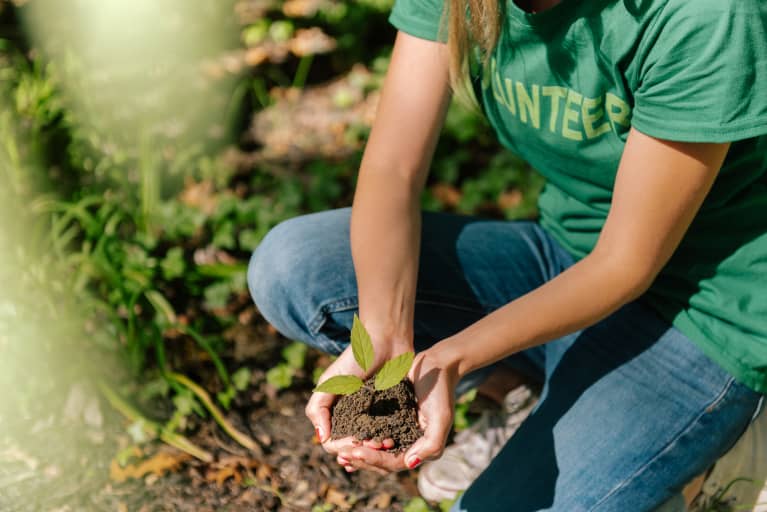 With Earth Day quickly approaching, you might be hearing more talk of tree plantings than usual. And for good reason: Reforestation can help restore degraded land, sequester excess carbon in the atmosphere, promote clean air and water, and protect the world's biodiversity.
As the canopy director of One Tree Planted, a nonprofit that plants trees around the world, it's no surprise that I'm completely on board with all things trees. I've seen firsthand the positive impact that planting trees can have for nature, wildlife, and people. In 2019, my organization helped plant over 4 million trees, hosted over 200 volunteer tree planting events, and restored over 30,000 hectares of forest across the globe. And if there's one thing I've learned, it's that in order to really help the environment, tree planting must be done right.
If you're looking to support reforestation around the world—either by purchasing carbon offsets through a third-party organization or getting involved with tree plantings more directly—here are a few things to consider.
What to look for in a tree planting organization.
If you want to support the cause, thank you! Eco-conscious change agents like you are the driving force for action on the ground. That being said, be wise with your money so that it is used in the best way possible. Here's what to look for when you donate.
501(c)(3) Nonprofits are the way to grow. You'll encounter many roundabout ways to support causes through products or social media campaigns, but that can mean only some of what you pay actually goes toward planting trees. Instead, consider giving directly to a nonprofit you trust.
Look for real stories and documentation. The organization should be sharing the work they're doing—whether it's through photos or videos, blog posts, or social media showing what's going on on the ground. Look out for real photos of people planting trees and details about the planting project and how it is progressing.
Do your research and ask questions. Most organizations have reviews on things like Google and Facebook, and the best ones share financial information on their sites. Red flags to watch out for include any sort of gimmicky messaging, sketchy websites, lack of response, or lack of "proof" the organization is doing what they're saying.
Want to plant trees in your own community? Here's how!
You can absolutely take the lead in organizing a tree planting initiative in your community! But keep in mind that it's not a fun, Insta-friendly thing you can quickly throw together on a sunny Saturday. Be prepared to really apply yourself. It's usually a good idea to find a local environmental organization that has some systems in place to help make sure you're planting trees in the right place, at the right time, in the right way, and with the right tree species! Legally speaking, you'll also need to have permission to plant trees on public or private land.)
One Tree Planted has more detailed info on how you can be a tree ambassador in your city, but let's go through the basic steps here:
Find a local partner. Tree planting takes teamwork, so connect with your local environmental heroes. Parks departments, watershed organizations, state parks, or other independent nonprofits near you are great places to start. Do some research and get in touch, and if all else fails, see if your local plant nursery or garden center can help.
Get funding. Planting trees and caring for them will cost something, so start a fundraiser to cover the basic costs of trees, supplies, and, of course, snacks. Get your family, friends, and neighbors involved to support the initiative. After all, they'll benefit from the new trees too!
Get organized. Once you've got logistics and funding for your tree planting, you can prepare for the big day. Create a schedule for the event, determine where people can park and if there's a hydration station and bathroom nearby, and ensure you'll have the materials ready when others arrive to help. Recruit your creative friends to help you make posters, provide live music or entertainment, or just assist with planting.
Spread the word. Invite family and friends, create an online event for more exposure, and try reaching out to your local paper or news station to come and cover the day. You may find the more people hear about it, the bigger and better the event will ultimately become.
And one last thing: Be sure to follow all the care guidelines for the trees you plant. Young trees sometimes need a little TLC in the first few years, whether that's protection from grazing wildlife or special nutrients in the spring and fall. Ensuring these recommendations are followed will help your trees thrive for years to come.
As the world struggles to find solutions to climate change, we can all play a role by being a force for good in our own neighborhoods.