Here's The Best Way To Clean Your Coffee Mug + A Stain-Removing Hack
mbg Contributor
By Caroline Muggia
mbg Contributor
Caroline Muggia is a writer, environmental advocate, and registered yoga teacher (E-RYT) with a B.A. in Environmental Studies & Psychology from Middlebury College.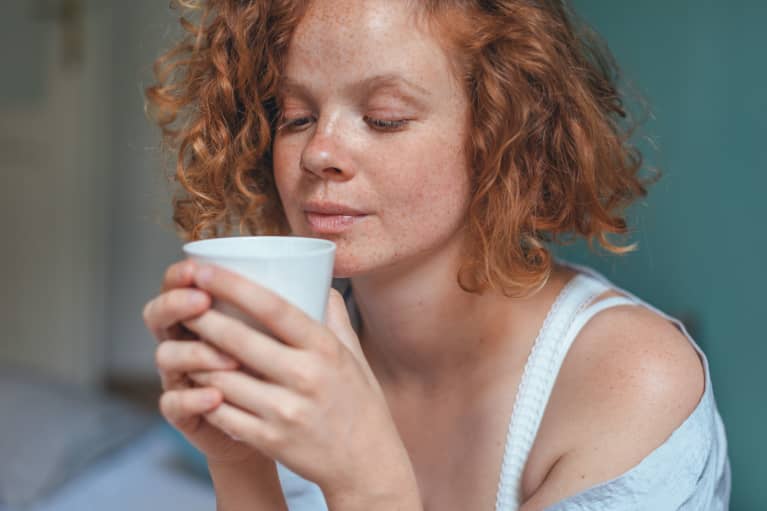 If you can't go without a morning cup of coffee or tea, there's a good chance you've got a trusty mug. Sometimes you may pop it in the dishwasher; other times, you just give it a quick rinse. But what should we be doing? How often should you be scrubbing your trusty caffeine vessel? Is it time to replace your 10-year-old mug?
The answers may be obvious to some, but we wanted to talk to an expert. So we reached out to Melissa Maker, expert cleaner and founder of Clean My Space, to learn about how often we should be washing our coffee mug and how to do it.
How often should we wash the mug we use daily?
"Give it a rinse at least once a day with some hot water," recommends Maker. If you're a multiple-cup-a-day person, she suggests giving your mug a rise between uses. It's not a hard science though. This also may vary depending on how you take your tea or coffee (milk and/or a sweetener of some sort will probably require more cleaning than, say, black coffee).
Rinse with water or use dish soap?
If you use a white or light-colored mug, you'll probably notice the coffee or tea stains on the sides and bottom of your cup. These may be stains from tannins, polyphenols that occur naturally in coffee and tea, explains Maker. Although not totally necessary, she says, "Use some soapy water, as dish soap will help remove bacteria and tannins. It will just give your mug a more thorough clean."
When it comes to deciding whether or not to put your mug in the dishwasher or hand wash it, Maker says both are fine. "Hand washing, as long as it's with soap and water and a sponge that can help lift off the tannins," does the trick just fine.
"The benefit of using the dishwasher," she says, "is it really helps reduce any tannins left behind in the mug so you won't see any staining. Also, it will help clear the mug from bacteria buildup." But sometimes dishwashers are harder on the mug and may shorten the life span. (This should go without saying, but make sure your mug is dishwasher-safe before popping it in there.)
Are there any signs to look for that we should probably get a new mug?
There will obviously be wear and tear to your mug, but only when it cracks or chips do you need to consider replacing, Maker says.
If you're looking to remove a stain, she suggests the "tequila solution," which involves "taking salt and a slice of lemon and rubbing it on the stain—all of the tannins will come off!"
Here's to happy (and cleaner) mornings!