Researchers Have Turned To The Banana For Ways To Help Us Fight The Flu
mbg Editorial Assistant
By Eliza Sullivan
mbg Editorial Assistant
Eliza Sullivan is an Editorial Assistant at mindbodygreen. She has bachelor's degrees in journalism and english literature from Boston University.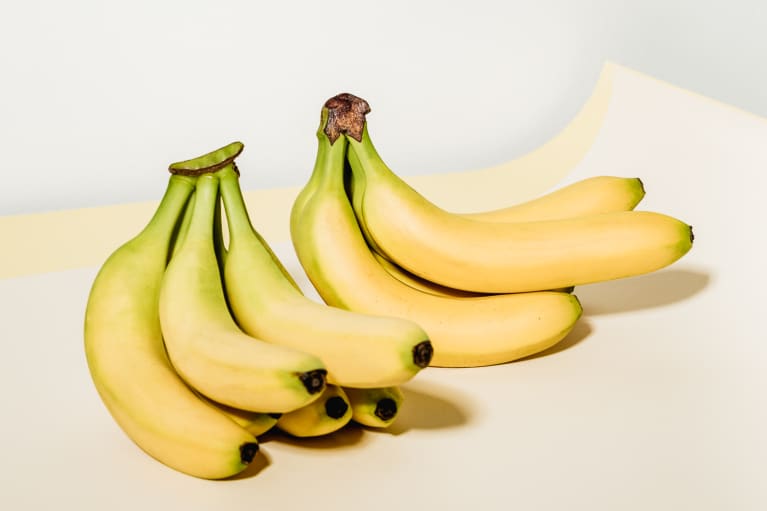 January 22, 2020 — 13:03 PM
Researchers at the University of Michigan have tapped the humble banana as their inspiration for a recent trial of a new way to fight the flu.
In a paper published Tuesday, they explained that an engineered compound based on a protein found in bananas increased survival rates of mice with flu in a dramatic way.
How can bananas help fight the flu?
They don't help fight it directly—they just inspired a new breakthrough that could have serious implications.
David Markovitz, M.D., a professor of internal medicine in the division of infectious diseases at Michigan Medicine and one of the authors on the study, has been working with a team of collaborators for years on antiviral solutions for the flu, all based on banana plants.
This most recent study, published in the Proceedings of the National Academy of Sciences, found that 80% of mice exposed to a generally fatal form of the flu survived when they had received an injection of the protein. This was true even when the injection was given a full 72 hours after exposure to the virus.
The protein, called H84T, is based on banana lectin but engineered in the lab. The researchers believe it may have clinical use implications.
"We were able to show that H84T blocks the ability of the influenza virus to fuse with structures termed endosomes in the human cell, a key step in infection," explained Markovitz.
Banana lectin in its organic form, like other lectins, is linked to some negative side effects like causing inflammation. In this study, early evidence indicates that the engineered protein does not seem to carry the same negative impacts. They also found that while the mice did develop antibodies to the new protein, it did not result in adverse effects in mice.
How will it work in the real world?
The functionality of the protein means that while it does bode well as a potential option for fighting the flu, it also may be effective against "Ebola, HIV, measles, MERS, a new deadly viral illness that was first reported in Saudi Arabia in 2012, SARS and all other coronaviruses tested," according to a news release from the university.
The protein injection also seems to work when the current standard treatment, Tamiflu, fails: "We've also shown that there may be a synergistic effect between H84T and Tamiflu," said Markovitz.
While the current impact of this new breakthrough has only been shown in mice, the team hopes to do more research in regard to the use of the compound in humans.
While we can't just turn to a banana a day to keep the flu away, there are some tried-and-true habits you can use to help make flu season less painful. And if you do get hit with this year's strain, there are some teas you can turn to to make it more bearable, and some foods that may help kick your flu faster.