The Airplane Fuel Of The Future May Be ... Plant Scraps?
mbg Sustainability Editor
By Emma Loewe
mbg Sustainability Editor
Emma Loewe is the Sustainability Editor at mindbodygreen and the author of "The Spirit Almanac: A Modern Guide To Ancient Self Care."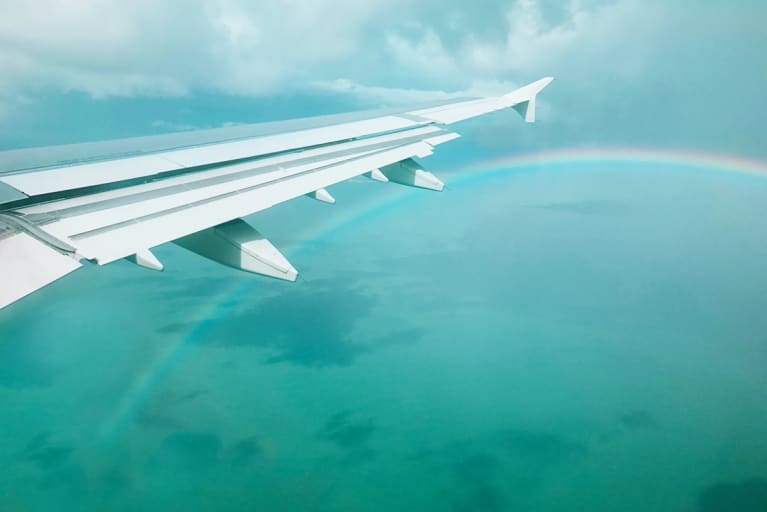 March 21, 2019 — 21:49 PM
It's a cold, hard truth that planes are bad for the environment. As a passenger on one round-trip transatlantic flight, you're contributing to the same emissions it would take half a year to produce driving in a car.
Unsurprisingly, powering massive planes requires lots of jet fuel, and when that fuel is burned, it combines with oxygen in the air to form polluting gases like CO2. Well, a team of scientists in China thinks they may have found the next great substitute for conventional fuel.
Their alternative fuel, also known as biofuel, is made from cellulose—a stringy fiber that gives plant cell walls their structure. Cellulose is one of the most common carbohydrates on earth, and it's often a waste product of the agricultural and timber industries.
While this isn't the first-ever biofuel created from cellulose, it may be the most efficient.
"The aircraft using this fuel can fly farther and carry more than those using conventional jet fuel, which can decrease the flight number and decrease the CO2 emissions during the taking off (or launching) and landing," Ning Li, a research scientist behind the study, which was published in Joule today, writes.
Li's team used a chemical reaction to break cellulose down into isolated carbon, and the result is very high in density (about 10 percent denser than conventional jet fuels). Basically, it can pack more power into the same amount of tank space, and you need less of it to support a plane, which means fewer emissions too.
While it remains to be seen what kind of impact this innovation will have on the airline industry, Li says it could be ready for commercial use soon. Here's hoping it's a high-flying achievement out of the lab, too.