This Is Gigi Hadid's Favorite Piece From Her New Reebok Collection
mbg Contributor
By Caroline Muggia
mbg Contributor
Caroline Muggia is a writer, environmental advocate, and registered yoga teacher (E-RYT) with a B.A. in Environmental Studies & Psychology from Middlebury College.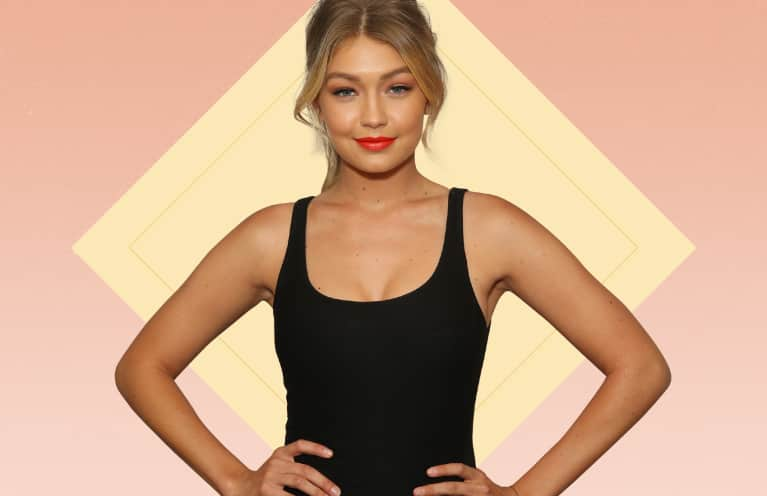 February 6, 2019 — 19:41 PM
Whether on a catwalk, magazine cover, or billboard, Gigi Hadid is no stranger to the spotlight, but with her new collab with Reebok, we're seeing a different side of her shine through.
Growing up as a competitive volleyball player, Hadid always considered herself an athlete first, which served as one of the main inspirations for the Reebok x Gigi Hadid collection.
"When I began the design process, I closed my eyes and pictured myself walking into my high school gym. I was thinking about the player," said Hadid in a statement. "Reebok mostly sees me as an athlete, and that's what I really appreciate."
Their combined vision resulted in a spin on the '90s-inspired sportswear her dad, who was an Olympic skier, always wore mixed with color-blocked patterns and chunky soles. Besides being fashionable, the line caters to the modern athlete who values function and comfort—plus the ability to play any sport at a moment's notice.
The white, turquoise, and yellow tracksuit hoodie is her favorite piece from the collection as it represents her passion for fashion and sports. It echoes that '90s skiwear vibe but also features sweat-wicking material for max functionality.
Hadid's love for volleyball has also inspired an overall love for working out—specifically boxing. She's also been outspoken about her commitment to a healthy lifestyle after a diagnosis of Hashimoto's disease.
How does she cope, you ask? "It's about learning about your body," Hadid said in an interview with Elle when asked about managing her Hashimoto's. "You can make a life for yourself in ways that won't hurt your body."
Besides exercise, she supports her mental, physical, and emotional health by eating a clean diet that's high protein with minimal carbs and making sure she gets enough sleep.
For Hadid, wellness is not one-size-fits-all, and we hope this playful collection inspires you to go out and find the movement that makes you come alive.