This Form Of Dementia Looks Like Alzheimer's But Isn't — Here's What That Means
mbg Contributor
By Caroline Muggia
mbg Contributor
Caroline Muggia is a writer, environmental advocate, and registered yoga teacher (E-RYT) with a B.A. in Environmental Studies & Psychology from Middlebury College.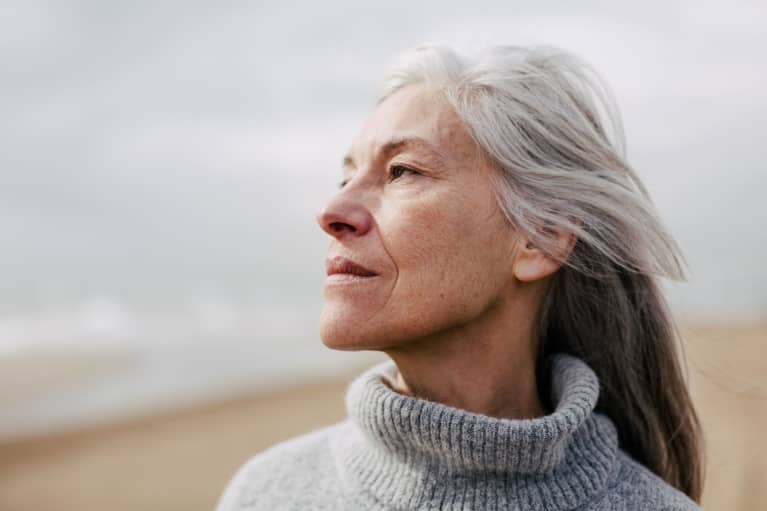 Alzheimer's is one of the leading causes of death in the U.S. and is among the most common causes of dementia in older people. Dementia and Alzheimer's are often used interchangeably, but dementia is, in fact, a group of symptoms that has many causes, one of them being Alzheimer's disease.
In a new study published in the journal Brain, a group of researchers lays out the criteria and characteristics of a recently named form of dementia called limbic-predominant age-related TDP-43 encephalopathy or LATE.
While scientists have been aware of this dementia for many years, it has only recently been named with formally outlined criteria. The researchers discovered that LATE is almost as common as Alzheimer's in older people, and the symptoms seem virtually identical from the outside, but the inside of the brain appears quite different.
Similarly to Alzheimer's, LATE negatively affects cognition and makes daily activities difficult. They found LATE appears to come on more gradually than Alzheimer's, but when combined with Alzheimer's, the decline is more rapid than either one on their own.
These new guidelines are essential as they can help doctors more accurately find the cause of patient's dementia. The study's findings also may have an impact on clinical trials going forward and lead to better treatment outcomes.
"LATE probably responds to different treatments than AD, which might help explain why so many past Alzheimer's drugs have failed in clinical trials," said Peter Nelson, M.D., of the Sanders-Brown Center on Aging at the University of Kentucky, in a statement. "Now that the scientific community is on the same page about LATE, further research into the 'how' and 'why' can help us develop disease-specific drugs that target the right patients."
The study estimates that somewhere between 20 and 50 percent of people over the age of 80 may experience brain alterations from LATE making further research on earlier detection and treatment critical. With neurodegenerative diseases on the rise, we could not be more excited to hear about this development and are looking forward to what's next.