This Fitness Instructor Wrote Her Body An Apology Letter Every Woman Should Read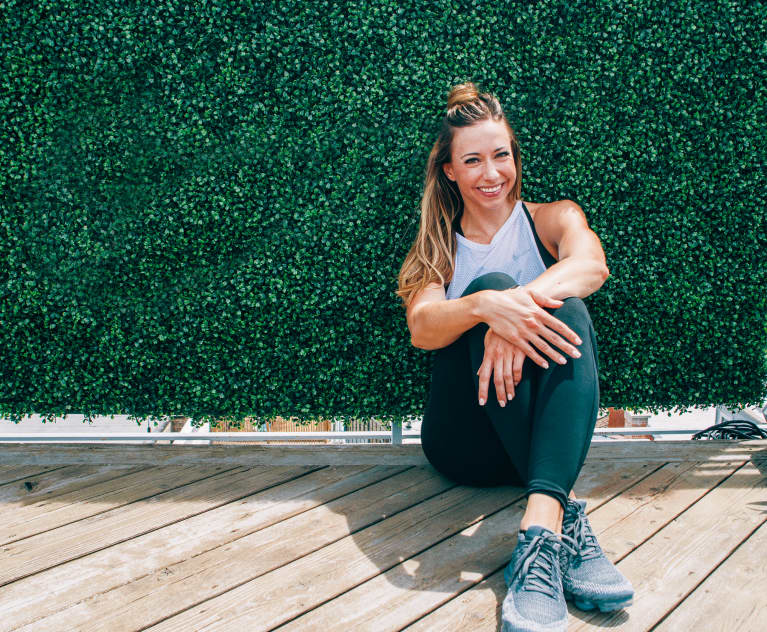 Dear pre-pregnancy body,
As I scrolled through my phone, my arm resting on my 23-week pregnant belly, I swiped past pictures of my life before conception. Action shots in the gym, professional photos, and selfies alike. I stared at myself in awe and shame.
In awe of the muscular body I had worked so hard to achieve and in shame that I never once appreciated it—not only for aesthetics but for its tremendous ability.
To my pre-pregnancy body, I didn't appreciate you, love you, or realize how hard I was on you. I'm sorry.
In real time, I'd look at pictures of myself and immediately compare it to the bodies I deemed to be perfect, ones that weren't my own. I'd promise myself to eat cleaner, lift heavier, and incorporate additional HIIT sessions. There was ALWAYS room for improvement. I'd console myself that by doing so, I'd finesse my hamstrings, build my delts, and chisel my abs. It's hard to admit, but I don't know what I was seeking. Happiness? Success? Validation? Probably. Whatever it was, I don't think I ever found it.
I looked at my body as this fragile being that I needed to meticulously maintain or everything would fall apart. As a fitness professional trying to build a personal brand, I resisted anything that disturbed the delicate balance of training and nutrition. I put my body before everything else.
Part of me was convinced that pregnancy would unravel the foundation I had worked for years to create.
So when my husband and I decided to try to start our family, I was terrified. I was scared I'd lose my clients and my prime-time schedule as my body changed. If I wasn't striving for an unattainable level of perfection, who would even want to work out with me?! As a Barry's Bootcamp Chicago founding instructor and regional marketing manager, I relied on my body to visually communicate my credibility and act as a driver to fill my classes and build my brand on social media. Part of me was convinced that pregnancy would unravel the foundation I had worked for years to create. Sounds ridiculous, right?
Beyond the physical, I was afraid of my postpartum mental health. It takes a lot of courage to admit; I was fearful I wouldn't be able to savor the first memories with my newborn because "bouncing back" would be at the forefront of my thoughts. You're not "supposed" to say that, but it's true.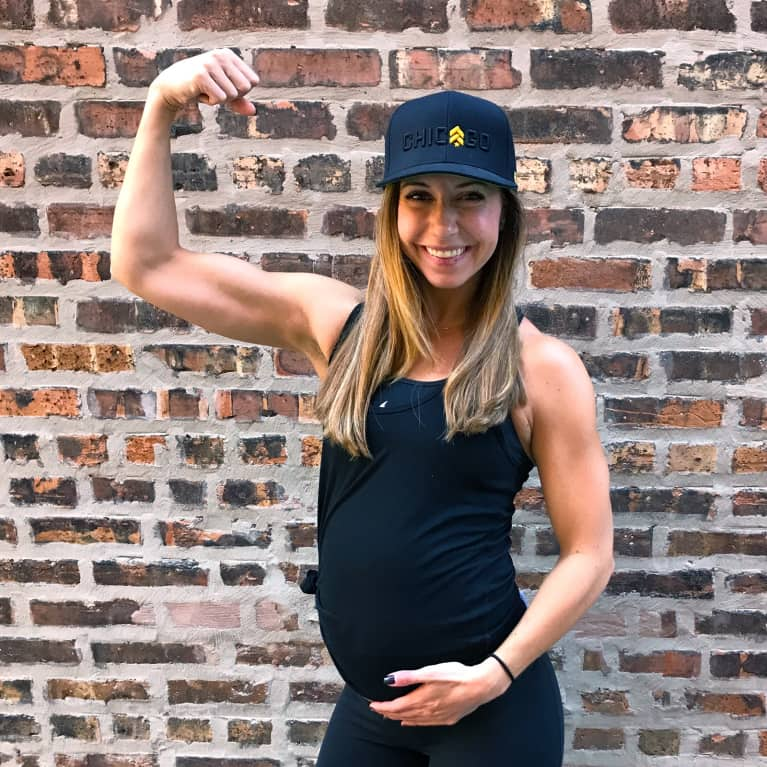 Now, I'm over halfway through my pregnancy and have a whole new perspective. My body isn't fragile—it's POWERFUL. It's creating new life and supporting two energy systems. I haven't lost clients; I'm building a new relationship with them. Most importantly, I learned my worth and talent as a trainer goes far beyond appearance.
Pregnancy has brought a shift in priority. I remember what's important.
I still worry about my postpartum health, but the love I already feel for this baby trumps everything. And while the extra pounds and cellulite that comes with the belly I adore get me down from time to time, the second those little kicks start, my heart melts.
Pregnancy has brought a shift in priority. I remember what's important. Life isn't about abs, the perfect body, or even Instagram followers (although, I truly LOVE mine!). It's about valuing real-time connections, finding happiness from within, and extending myself love, patience, and forgiveness.
Goodbye, I'm sorry for not giving you the respect you deserved. I'll never see you again because after this journey, you'll never be the same.
You'll be even better, and I'll be sure to do you right.
Love,
Me
Want more? These real women share what they love most about their bodies.