Here's How To Create An At-Home Gym In Your Studio Apartment
mbg Associate Movement & Wellness Editor
By Ray Bass, NASM-CPT
mbg Associate Movement & Wellness Editor
Ray Bass is the associate movement and wellness editor at mindbodygreen and a NASM-Certified Personal Trainer. She holds a degree in creative writing from the University of Pennsylvania, with honors in nonfiction.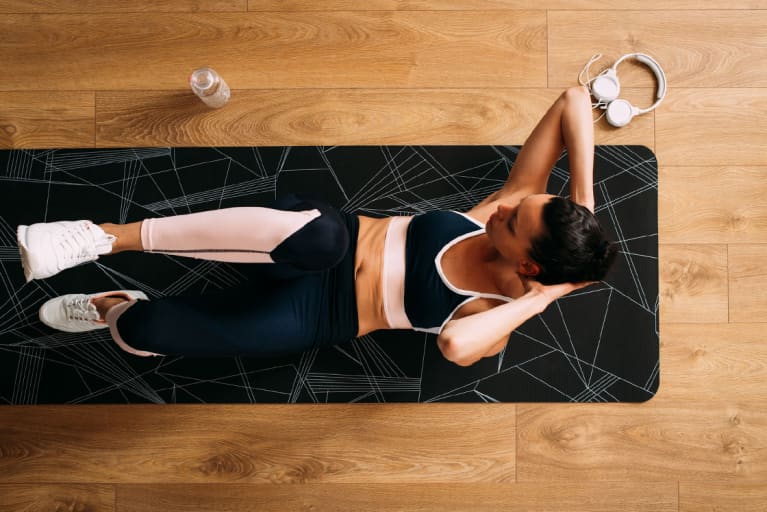 Our editors have independently chosen the products listed on this page. If you purchase something mentioned in this article, we may
earn a small commission
.
Many people shy away from working out at home, and some say it's because space is hard to come by (which is valid, especially in a small apartment or studio). Finding space for the items you actually need in your home can be hard enough, and I can't speak for you, but I've never listed "open space to work out" as a must-have when searching for an apartment. It's more like "Is there a gym under 5 miles away? Great I'll take it."
But there's a reason at-home workouts are booming right now—most of them are cost-effective and require hardly any equipment and space. Gone are the days of pricey memberships and jumbo gyms being your only option to get a sweat in (thank goodness). Nowadays, it's easier than ever to build yourself a mini gym, even if you have little to no space. All you need are a few pieces of worth-it workout equipment to take your at-home workout to the next level (that is, a level that leaves you feeling fiiiine afterward). In particular, you need some high-quality resistance bands and a set of dumbbells.
Resistance bands are a very underrated piece of fitness equipment (Ever done a lateral band walk? Yeah, that sh*t is hard), but they're definitely worth a purchase if you live in tight quarters but still want a stellar workout. For one, they take up virtually no space in your apartment. They fold up all itsy-bitsy spider-like and can be easily shoved into any bag or drawer or placed atop a shelf. Not to mention, you can use resistance bands for tons of different exercises that target any part of your body. As NASM certified personal trainer Mecayla Froerer puts it, "They're the cheapest and most versatile equipment to have at home and are suitable for just about everyone."
Resistance bands also come in a variety of resistance levels—the thicker and more difficult to stretch, the higher the resistance–which means you can tailor your workout to your current fitness level and move on to thicker bands as you build your strength. Snag a pack of three or five and you're golden.
If you aren't sure where to start with your new resistance bands, it's cool; we've got some ideas. Try adding some resistance to your squats by positioning the band just above your kneecaps. You'll feel the band giving you some "feedback" or pushback—this helps keep your knees from caving in or flaring out when you squat.
To do the lateral band walk that I said was hard, put the band at mid-shin, getting into a squat, and then sidestep one foot at a time to the right, like you're walking sideways. Step to the right with your right foot, and then step your left foot in so you're back in your squat position. Feel that burn in your glute? Take a few more steps; you will.
Still lost? Try these seven resistance band exercises that you can do anywhere.
By now we all know how important strength training is—for longevity, weight loss, better sleep, the list goes on. That's why, if you're going to work out at home, investing in a pair of dumbbells is a smart move. If you don't have space for two, totally fine, you can still do a lot with one. Dumbbells, like resistance bands, are a worthwhile buy because they can also be used an endless amount of times for pretty much any exercise. "The movements you're able to do with a single dumbbell (or pair of dumbbells) in a home gym space are almost limitless," Froerer says. "From cleans, overhead presses, squats, Romanian deadlifts, and more, you can get a total body workout, working both strength and cardio, in no time."
If you've never used dumbbells, there are plenty of tutorials online (seriously, check these out; you'll have to learn proper form if you want to avoid injury). I love adding dumbbells to exercises I would usually use my body weight for, like squats and lunges, and I use them to work out my arms instead of doing pushups—yeah, I'm not that great at pushups.
There you have it! These tools are all you need to get a marvelous, effective workout from the comfort of your home. For more ways to use your new dumbbells, check out this dumbbell complex from Nike master trainer Betina Gozo, or if you're brand-new to lifting weights, read this before you get started.