This Couple 'Roadschools' Their Kids While Traveling The World. Here's How It Works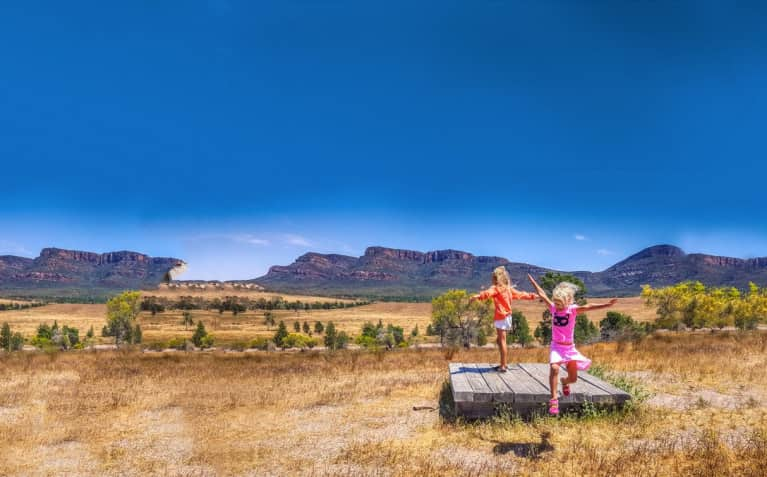 "I love everything about my life," my 6-year-old daughter told me as she bounced up the path to our cottage overlooking the mountain covered in balls of gold, orange, and red. We were leaf peeping in Manchester, Vermont, and it was the first time she had ridden a bike without training wheels.
My heart swelled as I recognized that deep connection to awe, wonder, and joy that travel gives you. I know it because it's that connection that has driven me to create this free-spirited lifestyle with my children. Some may call me insane, and often I am, but I travel full-time with my children and husband, Craig while homeschooling them and running a full-time location-independent business. These are the moments that make the craziness worth it.
I didn't travel much as a child.
But my parents instilled in me a curiosity of the world, which I'm sure sparked a desire for adventures in exotic lands.
My brother moved to England to play cricket when I was 18, and his stories of campervanning across Europe inspired that curiosity even more. Three days after I graduated from university as a teacher in 1997, I jumped on the plane to live abroad. I have pretty much been traveling ever since. Craig came from a similar background, so when we met after I returned from living in London, it was a natural fit. Three days after we married, we left for our five-year honeymoon.
When we got pregnant with our first daughter, everyone seemed intent on telling us that our travel lifestyle was over. It became our mission to prove that travel does not have to stop after kids. Our daughters, now 10 and 6, have been traveling since they were born and between them have visited 12 countries.
I want my daughters to be independent, passionate, and empowered young women.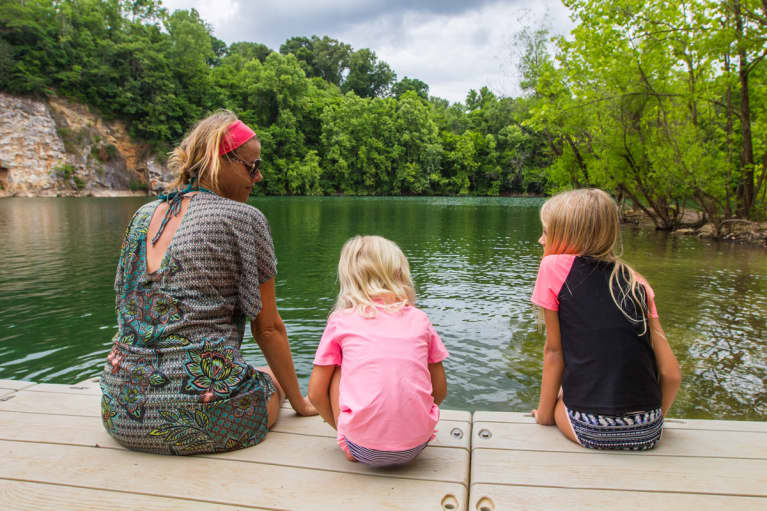 I want them to speak their truths, follow their dreams, and connect deeply to life. I feel travel gives them unlimited freedom to do this.
I also find parenting hard. No matter where I am. When I travel, instead of the moments in between the hard parts being filled with errands, schedules, and ships passing in the night, I fill them with memorable moments. We wanted to unplug from the chaos of life to reconnect with our values, to each other, and to accumulate moments and memories over possessions.
Instead of traditional education, we "roadschool."
This is the question I am asked about our lifestyle. Our children don't attend school for traditional education but spend every day learning in a free and natural way. We like to call it roadschooling.
Roadschooling, or worldschooling, is used to describe families who homeschool as they travel. It's more flexible than home schooling, with most of the lessons related to the travel experiences. It's not entirely open-ended learning, known as unschooling, because we still incorporate more formal work every day to focus on the critical foundational skills: math, reading, spelling, and writing.
I used to be a teacher so feel comfortable teaching my daughters and know how to turn any moment into a teachable one. However, I think any parent can successfully roadschool. The travel and life experiences really do most of the teaching for you.
Here's how we make "fun" learning real.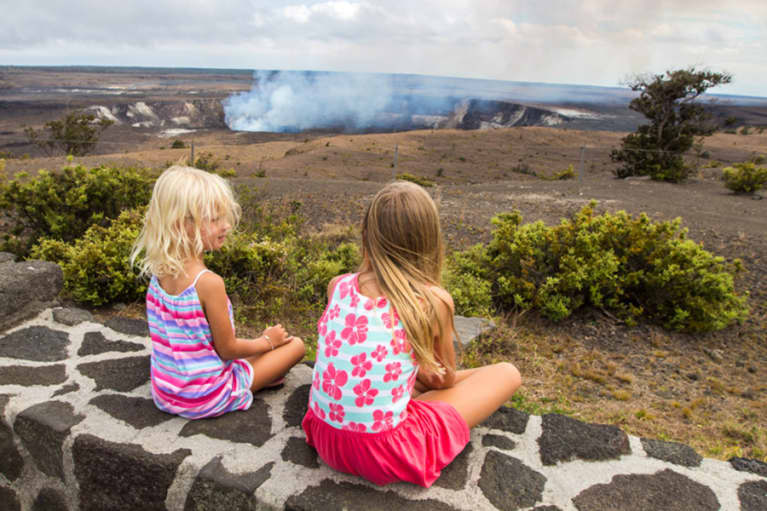 It's a rich, relevant, and interactive way for children to learn. They learn so much about the world around them, and they learn a lot about themselves. Life on the road helps them develop many skills such as how to make decisions, how to be independent, how to be responsible, confident, and courageous.
We incorporate hands-on experiences such as visits to museums, art galleries, and national parks. We recently visited Hawaii Volcano National Park, where the girls learned about volcanoes, earthquakes, and rain forests while walking among lava fields.
We were affected by Hurricane Irma on a recent Western Caribbean cruise, which provided a relevant lesson on hurricanes, weather, and climate change. We were recently in New England leaf peeping, so they are learning a lot about seasons, weather, and the beauty of nature.
We love the outdoors, so exercise, health, well-being, and connection to nature are just regular parts of my girls' life. They've taken on a love for surfing, stand-up paddleboarding, hiking, biking, and kayaking. With roadschooling, the focus is less on what they learn—apart from the aforementioned vital core foundational skills—and more on how they learn and how they use their curiosity and creativity.
Is it tough to open the computer to start working at 8 p.m. after a full day of exploring? Yes.
With our lifestyle, it's too easy to spend the day only exploring and playing. I often want to say, "Let's forget about work for today. We'll pick it up tomorrow." But tomorrow can turn into the day after and the day after. It's difficult to persist in doing math skill work with your kids when they can't be bothered.
There is a higher purpose here that won't be achieved unless the work is done. It's not passion that helps you get it done but discipline. And discipline comes with consistent daily action. The formal learning we do each day (one to two hours) is vital to keep me in a steady teaching rhythm and crucial to teach the girls the value of discipline.
I'm quite astounded by the results I am seeing taking this approach to learning. It took me some time to transition from a traditional style of learning to this more unconventional way. Children are innately curious and imaginative. When we allow them to express this, when we give them the freedom to pursue their passions and interests and learn for themselves, when we give them time to process and absorb, they learn at an accelerated pace and become well-rounded individuals with curiosity and creativity intact.
I believe balance is a myth, so I don't strive for it.
My life sounds chaotic and unbalanced, right? And it is. You can never have all parts of your life in equal balance. Our lives are always evolving and changing—we have unique needs at different times, and priorities are going to tip the scales. Trying to maintain "balance" sometimes causes more stress than the "unbalanced" life. It's about understanding your values. What is most important to you? Our family has figured that out, and so our lives are crafted to align with that.
One helpful concept is one I call multilayering rather than multitasking. We take the different priorities of our life and stack them.
For example, the travel is our core lifestyle, which gives us a lot of freedom and joy. The travel experiences are how we collect content for our business (contribution, growth, and abundance). We are adventure and outdoor nature lovers, so the travel gives us the opportunity to exercise and connect with nature (connection, health, joy, love). It provides my daughters plenty of opportunities to learn (growth), and it gives us plenty of quality family time together creating amazing memories (connection, love, joy).
So you can see how this one thing—travel—allows us to layer other important things on top of it. We gain multiple benefits from the one experience; hence, our lives seem to have balance.
No, because again, nothing is. It can be exhausting, and there are many challenges, but because most of our values are in alignment, we can manage them better and know what might need adjusting should it pop out of alignment.
This helped us change the way we were road tripping the United States about three months in when we felt the values popping out of alignment. We realized not having some form of home base was affecting our health and ability to contribute and our abundance. So, we've rented an apartment in Raleigh, which we return to every few weeks. It allows us to catch up on work, rest, reconnect with friends, and is far cheaper than renting out an Airbnb every few weeks just to do the same thing.
That alignment helps us all to bounce along the path exclaiming, "I love everything about my life!"
Bitten by the travel bug? Here's one of the best wellness-centric travel destinations on our radar.