We'll Be Dreaming Of This Beachy Tiny Home Until Summer
mbg Sustainability Editor
By Emma Loewe
mbg Sustainability Editor
Emma Loewe is the Sustainability Editor at mindbodygreen and the author of "The Spirit Almanac: A Modern Guide To Ancient Self Care."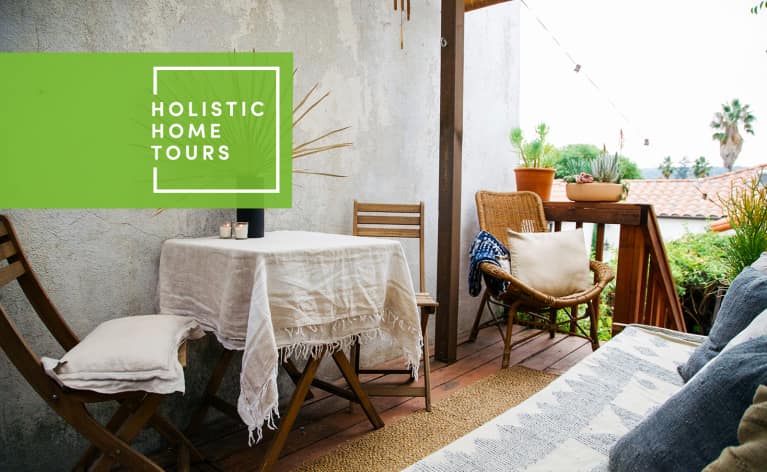 Our editors have independently chosen the products listed on this page. If you purchase something mentioned in this article, we may
earn a small commission
.
Artist, designer, and author of Wabi-Sabi Welcome: Learning to Embrace the Imperfect and Entertain With Thoughtfulness and Ease, Julie Pointer Adams knows a thing or two about crafting a cozy, inviting home. Over two years, she's turned her 200-square-foot studio in Santa Barbara, California, into an always-evolving hideaway inspired by the beach that surrounds it. Here are the breezy artist's top tips for thriving in a small space, harnessing a deeper communion with nature, and living simply and with intention.
What's your favorite season in your home?
Although the tiny home I share with my husband is very cozy on dreary days, I'd have to say my favorite season is summer, when the days are warm and long. We keep the door ajar and all the windows swung open all day long. Since the windows above our bed are surrounded by trees, in the summertime when everything is lush and green, it almost feels like we live in a Mediterranean treehouse.
What noises can be heard in your home? What smells?
Our home is tucked away from the street, so generally, it's very quiet. One of the best sounds we hear is the birds singing in the trees and vines that surround our home. We also have some resident chipmunks in the backyard, and even though their little chirping is sometimes rather annoying, I love knowing that they live back there (some of the more bold ones have even ventured into the house a handful of times).
As for smells, my hands-down favorite smell is the scent of citrus blossom that wafts up to our windows from our neighbor's lemon tree next door during a certain time of year. It's heavenly.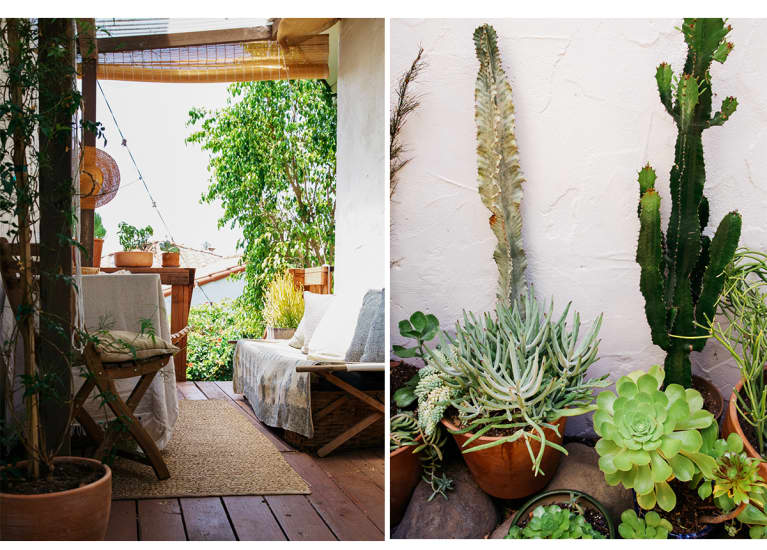 I love your outdoor space! Do you use it often?
During the spring and summer months, we practically live out there around the clock! We use our porch for all of our meals and sit on the cot to watch shows or movies in the evening, and during the day we often sunbathe on the lower patio when it's too foggy down at the beach. We love this space to lounge, read, and relax on lazy days. The patio space is also perfect for grilling out and having friends or family over for a summertime meal.
Living here has helped me realize it's possible to adapt nearly anywhere into a livable, serene space with some patience and restraint.
Top tips for making the most of a smaller space?
The two main lessons I've taken from living in a small space are that you need to maximize storage options by doing things like using bins and crates under the bed and make sure everything has its own place. Since it's very difficult to hide anything at all in so little square footage, we've also tried to make sure that most of our utilitarian items (brooms, storage containers, etc.) are also nice to look at!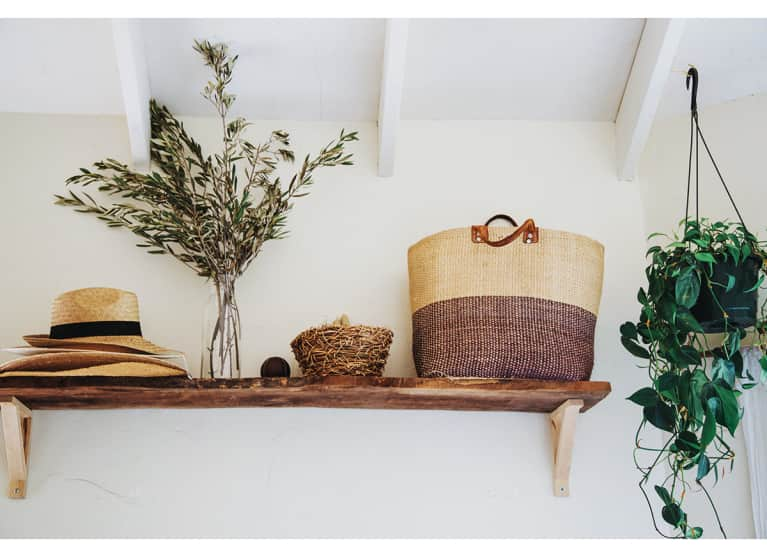 Top tips for decluttering and keeping things clean?
It's an ongoing challenge to keep things feeling decluttered here, but dedicated storage really helps. As I mentioned, we have a lot of wooden crates, baskets, and wooden wall pegs; this really helps make things feel organized and keeps them off the floor. As for keeping things clean, somehow being in a tiny space seems to multiply the amount of dust and grime exponentially. I'm still not sure about the mathematics of this, but I do my best to try to at least keep surfaces clean…though in the summertime I will say we do live with a lot of sand in the house, which at this point I've come to accept as inevitable.
Also, when you live in a studio with your bed as the focal point of the space, it does wonders for making the space feel tidy to simply make the bed look nice every day.
What's your favorite room in the house and how do you use it?
Given that we really only have one room in the house (besides the bathroom) we don't have a lot of options here! Thankfully, most of the time at least, I really love our space and find it very peaceful. It's part home office, part bedroom, part living room, part dining room, and everything in between. Living here has helped me realize it's possible to adapt nearly anywhere into a livable, serene space with some patience and restraint.
What's the oldest thing in your home? Newest?
Although I definitely have saved little treasures that are older than this, one of my favorite oldest pieces of furniture in the house is a chair I acquired while in college when living with all my best friends. We bought it at a garage sale for $2. I later recovered it with beautiful linen I found at a market in France, and it's now been in five different homes since our shared house in college. I love that a $2 chair is still going strong and will likely be with us for many more years to come.
One of the newest items we have is a lovely white oak bench with a woven seat from Ikea that sits at the end of our bed. I have a real affinity for benches, and the moment I saw this one, I knew (or rather, my husband knew) I had to have it. It's perfect for displaying coffee-table books, sitting down to put our shoes on, or—to be quite honest—piling mail and other junk that accumulates.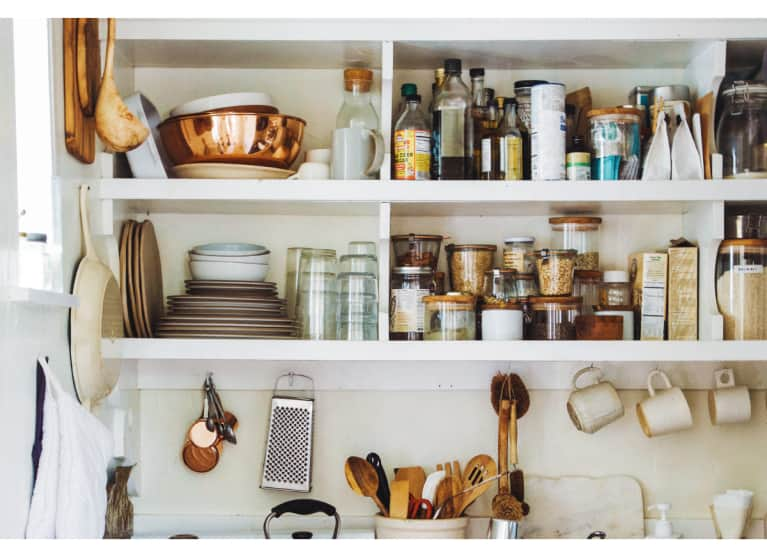 How does your home relax you? How does it motivate you?
My home relaxes me because it feels like a little nest that's tucked away from the rest of the world—even though we have other homes all around us. Having a space that's light-filled, personal, and intimate has always been extremely calming to me, and this place definitely fits the bill. And the small nature of it motivates me to constantly simplify and pare down what I own. It's not always easy, but I think living here has helped me accumulate and consume less.
What's the best compliment you've ever received on your space?
I always like hearing that my space feels like a peaceful retreat, but probably my favorite compliment is that my home really feels like me. I think spaces should be a reflection of and an embodiment of our intimate personalities.
Want to snag some of these serene vibes in your own space? Here are some top tips.