These Are The Products A Natural Beauty Expert Uses To Make Her Clients Camera-Ready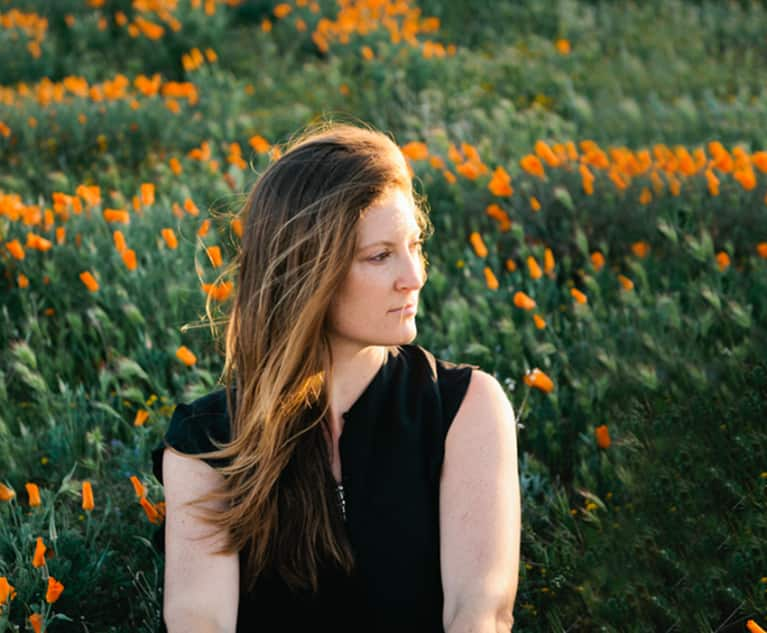 Our editors have independently chosen the products listed on this page. If you purchase something mentioned in this article, we may
earn a small commission
.
Early Saturday morning, September 9, 2017, I took my delicious Canyon Coffee with almond milk, a smoothie, and some avocado toast topped with microgreens over to the backstage area to prep the day's speakers for their talks on the main stage. If it sounds like heaven, believe me, it was.
I'd set up my workspace the previous night with the latest and greatest natural beauty products from one and only Credo Beauty. Being asked by mindbodygreen to do the makeup for this event is so special because they deeply understand the importance of healthy, nontoxic, and natural makeup and skin care. It's one of my favorite events of the year, and partnering with Credo was a no-brainer. They are always at the forefront of green beauty trends and carry some of the best brands in the biz.
This is now my third year backstage for revitalize.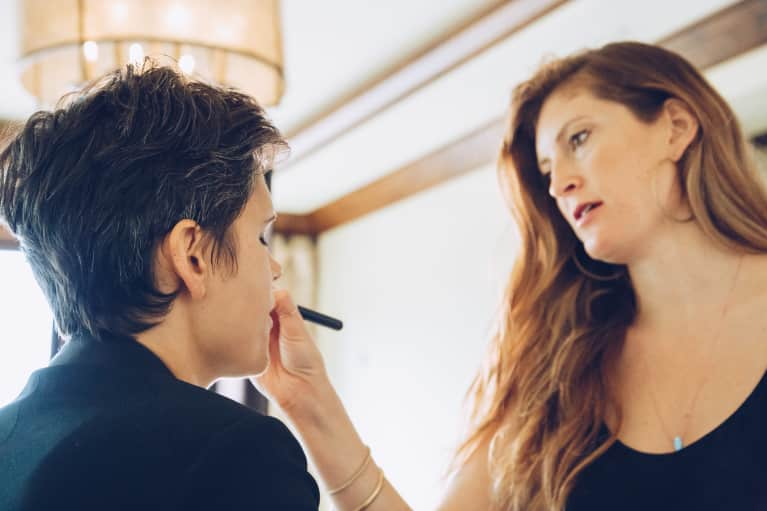 I positioned the chair so speakers could see the beautiful Sonoran Arizona desert and Saguaro cactuses (do you all know how amazing these plants are?!) while I worked on them for a moment of calm before they took the stage. One of the most beloved parts of the whole backstage wellness zone was a pair of incredible crystals that the Ritz brought for me and the guests. Last year I had one of them, and this year they brought me two! Jackpot.
I've been working in the natural beauty space and as a makeup artist and wellness expert for more than 10 years, so getting to spend some quality time with other wellness trailblazers is a real treat. As their makeup artist, I'm the last person they see before the head onstage, so I'm often reminding them to breathe, calming their nerves, and helping them feel like the most beautiful version of themselves as they speak their truths. This year the lineup was epic: actor and writer Hill Harper, a crowd favorite from last year's summit who opened this time; Andrew Huberman Ph.D., Ashley Neese, and Brian Mackenzie, who were on a panel about breathwork; Aviva Romm, M.D., who did an inspiring solo session on women's health; Meredith Kessler, who spoke about limits and boundaries as a competitive athlete; environmentalist (and mbg's 2017 Person of the Year award winner) Paul Hawken; ESPN sportswriter and author of What Made Maddy Run Kate Fagan; Daniel Chao, Ph.D., and Cavan Canavan, who spoke about the future of fitness tech; Lisa Merkle, who shared her story about being a yogi with cancer; Emily Silverman, M.D., who spoke about the roles of illness and wellness in becoming a doctor; and Jason Fung. M.D., Carrie Diulus, M.D., Vincent Pedre, M.D., Frank Lipman, M.D., Mark Hyman, M.D., and Steven Gundry, M.D., a team of all-star doctors who discussed intermittent fasting, microbiomes, mitochondrial health, and new healing horizons; as well as nutritionist Kelly LeVeque, who helped present mbg's Next Great Nutritionist award.
These are some inspiring folks!
I chose products that brought out an inner glow.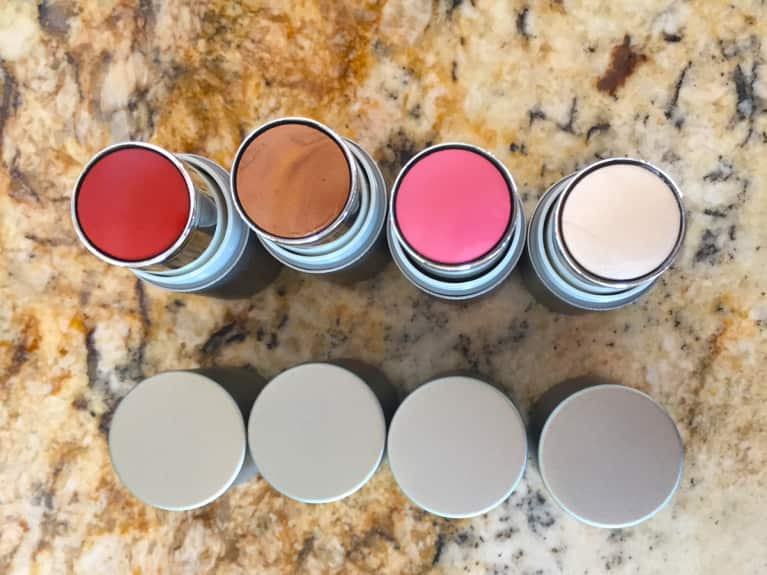 When thinking about the makeup I'd need backstage (and what I'd send speakers away with), I worked with Credo and their brands Alima Pure, Vapour Organic Beauty, Maya Chia, Ilia, and Ursa Major because of how easy they are to use. Plus, they look great on-camera, feel good on the face, and I knew the colors would work for all of the speakers. As a makeup artist, I love a complicated smoky eye with tons of colors and brushes and tools. But let's be honest, who really has time for that on a daily basis? These type of simple, double-duty products are really what I end up coveting and enjoying most, whether I'm using them on-camera or for quick touch-ups on myself in the back of a cab! One of my main goals when doing makeup, especially on-camera, is how to achieve the perfect amount of glow without having shine. There is a difference, and it is what makes you look healthy (and like you had a green juice) but not sweaty and nervous.
Ursa Major Face Wipes are the most helpful on-the-go wipes! They come individually packaged, are super calming to the skin, and make cleaning up any makeup mistakes so simple. I love them for travel too; they are perfect for feeling fresh on the plane or after working out. In fact, in a pinch, they are basically a shower in a packet. I also used their Golden Hour Recovery Cream on many of the faces as makeup prep, since the desert is so drying, as is plane travel—everyone's face was loving this luxe face nourishment!
2. Multiuse toning stick.
Ilia's cucumber water stick is one of the niftiest products around. It's a solid toner, and cucumber water is the ultimate antidote to weary, travel-trodden skin that needs to wake up. A dab here and there worked wonders, especially on redness or warm skin as it's cool to the touch.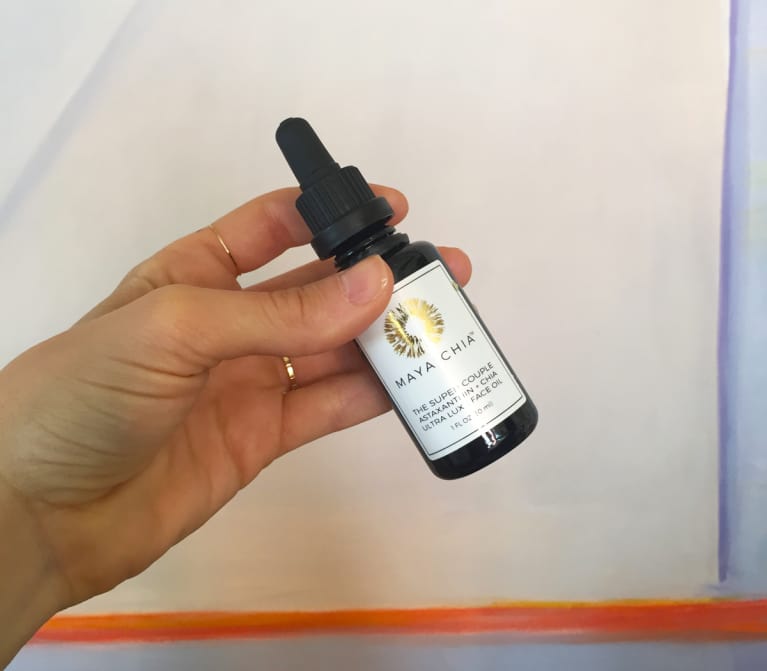 Maya Chia highlighting serum was the perfect cheek highlight for all of the ladies backstage. When doing makeup for bright lights and cameras, blotting and powder are your friends. But when I wanted to put a tiny bit of that natural glow back onto the face, this sheer highlight serum did just the trick. It blends in so beautifully.
Alima Pure pressed powder was a perfect foundation powder—I used it on top of their Liquid Silk Foundation. It especially looked great on the men! It was just the perfect amount of natural-looking coverage and it got rid of shine.
Vapour Organic Beauty's double-duty lip and cheek sticks come in amazing colors and are great for lips, eyes (yep!), and cheeks. The textures are really workable and look good on everyone. If you can only carry a couple of products in your bag, this should be one of them!
Enter to win Jessa's picks from Credo Beauty!
Ursa Major essential face wipes, Ursa Major deodorant, Ilia cucumber water stick, Vapour Organic Beauty lip and cheek color, Alima Pure lip tint and eye pencil, Ilia lip conditioner, and $100 to spend online at natural beauty mecca Credo Beauty. To top it off, you'll get an online private consult with me to talk about your skin and how to best spend your gift card.
Follow @mindbodygreen, @jessablades, and @credobeauty on Instagram and comment on our most recent photo, answering the question "when do you feel the most beautiful?"