These Are The Fitness Tracker Metrics You Should Care About
mbg Associate Movement & Wellness Editor
By Ray Bass, NASM-CPT
mbg Associate Movement & Wellness Editor
Ray Bass is the associate movement and wellness editor at mindbodygreen and a NASM-Certified Personal Trainer. She holds a degree in creative writing from the University of Pennsylvania, with honors in nonfiction.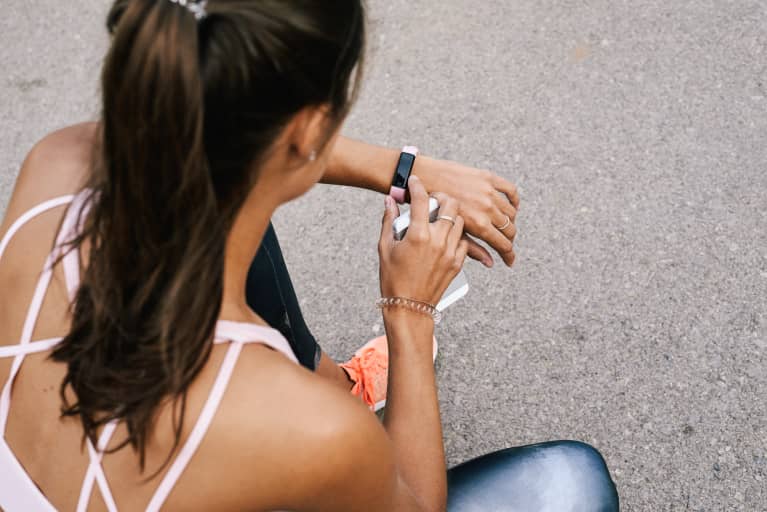 Against all odds (and amid controversy surrounding their accuracy), fitness trackers have proved to have remarkable staying power—and for good reason. In our sedentary society, fitness trackers can provide the reminder we need to get up from our chairs and take the steps as often as we can. (My Garmin quite literally vibrates, lights up the screen, and tells me to "MOVE!")
Fitness trackers also collect a lot of information that we couldn't on our own—assuming you aren't counting every one of your steps or keeping track of your heart rate during a workout—and that data can get confusing. Which numbers should you be paying attention to, and which should you shrug off? What actually matters? We asked Jaime Schehr, N.D., R.D., to weigh in.
When it comes to working out, heart rate is the most important metric.
If you're looking for the most valuable metric on your fitness tracker, allow us to introduce you to your heart rate. Most trackers have a heart rate monitor, which can provide useful information about your workouts as well as your resting state.
"Heart rate is the most global and useful metric to track since it can guide your intensity and output, as well as your recovery," says Schehr. "For anaerobic workouts, you can use heart rate training to make sure you are hitting the highs and recovering. For endurance, you can use heart rate to make sure that you are not overexerting yourself, which could lead to negative outcomes for endurance and duration."
Schehr also notes that heart rate training is quickly emerging as the most effective way to achieve health goals—which certainly explains why HIIT has achieved what can only be described as epic stardom. HIIT, or high-intensity interval training, prides itself on being able to get your heart rate up through short, intense bursts of exercise (and in doing so, can shorten the duration of your workout while maximizing results). This type of heart-rate-focused training can improve your overall fitness, help you lose weight, and even slow aging. It's no wonder people are loving it.
If you're an athlete, or a very athletic person, heart rate is an essential metric for you, too, because it can help you gauge your fitness. "Resting heart rate and how quickly your heart can return to its baseline are good indicators of fitness level," Schehr says. "I often guide my athletes to focus on their recovery—because when the body can recover properly, it is likely to perform optimally."
To gauge your day-to-day movement, pay attention to steps.
There's no getting around it: We sit, a lot. That's why the steps metric on our fitness trackers is one to keep an eye on—it makes us aware of how often we sit, and it can keep us from turning into sloths. That is, of course, if we listen to its reminders.
"Steps are a fantastic way to increase your daily activity level," says Schehr. "Most of us are too sedentary, but paying attention to your steps can remind you that it's time to get up, go outside, or just move. I recommend everyone aim to get at least 10,000 steps a day."
At the end of the day, the metrics you should pay attention to are the ones that correspond with your goals. And if you're thinking of investing in a fitness tracker, make sure to spring for one with a heart rate monitor and step count. Above all, don't take any of it too seriously. Focus on your well-being and your goals—and let your tracker do its thing.