Here Are Workout & Fitness Trends You May Want To Try In 2020
mindbodygreen Editorial Assistant
By Sarah Regan
mindbodygreen Editorial Assistant
Sarah Regan is a writer, registered yoga instructor, and Editorial Assistant at mindbodygreen. She received her bachelor's in broadcasting and mass communication from SUNY Oswego, and lives in Brooklyn, New York.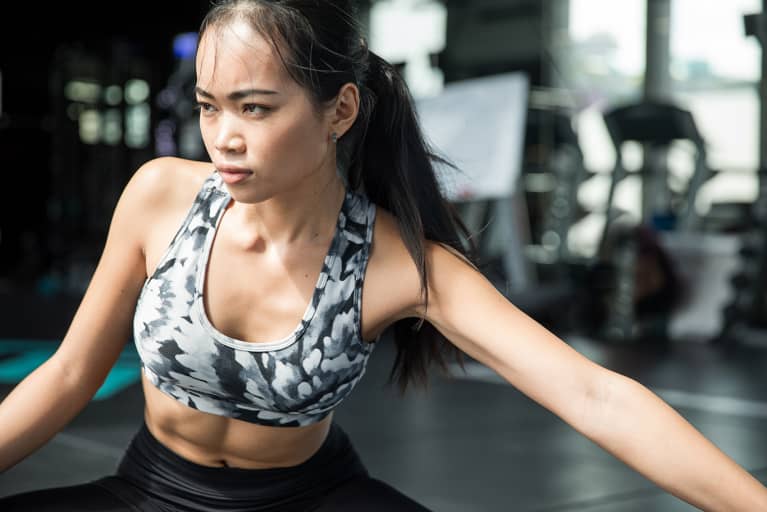 Our editors have independently chosen the products listed on this page. If you purchase something mentioned in this article, we may
earn a small commission
.
Every year, the American College of Sports Medicine conducts a survey to determine which fitness trends the world can expect to see the following year. Last year, their 2019 list included wearable tech (also the No. 1 trend again this year), HIIT, and group exercise classes—and they were definitely onto something.
So with their 2020 list newly released, we had to take a look. To compile their predictions for the top 20 trends, they put out an online survey, which was completed by over 3,000 people, many of them health and fitness professionals. And we noticed some common themes within that list.
In 2020, we're thinking outside the gym.
Among the list, things like free weights, which came in at No. 4, body weight training at No. 7, and outdoor activities at No. 13, show people are taking their exercise outside of the gym. The nice thing about these is they're very much affordable, making them also an accessible exercise option.
Between a set of free weights and some solid calisthenics, you can get all the benefits of a gym workout right in your living room. So, why not? Get started with these hand weights for weight training, and check out our online classes for some workouts involving little to no equipment. Take your routine outside, and you can hit all three of these trends in one go!
We're leaning on each other.
Another theme that stood out among the list of 2020 fitness trends was the prevalence of exercising with others. Group training came in at No. 3, with personal training close behind at No. 5. And not only that but HIIT, or high-intensity interval training, earned the No. 2 spot. Yoga also came in at No. 14.
With both HIIT and yoga being popular classes offered in gyms, and ClassPass making it easier than ever to try different classes across different gyms and studios, it's no wonder more people are taking advantage of all the benefits that come with a group workout, like more endorphins and greater motivation.
And if you're not a member of a gym, don't sweat (at least not until you're working out), we've got a 20-minute workout that incorporates both HIIT and yoga. Bonus points if you grab a friend to join in!
We're focusing on well-being.
As we predicted in our 12 health and wellness trends for 2020, we're anticipating a further shift toward overall well-being, and the results of the ACSM survey would support that trend.
Exercise is medicine was pretty high up on the list at No. 6, highlighting the importance of doctors prescribing movement for their patients. Health and wellness coaching was No. 9, lifestyle medicine No. 16, and workplace health programs came in at No. 18.
All of these trends suggest people are waking up to the importance of having a well-rounded, healthy lifestyle that's functional, includes support from professionals, and is about more than just weight loss or appearance-based goals.
For more information on these fitness trends and the others you can expect to see, take a look at the entire ACSM survey. And to see how the trends have evolved over the years, check out their chart comparing their lists over the past 10 years.