These 5 Wellness Tips Actually Changed My Life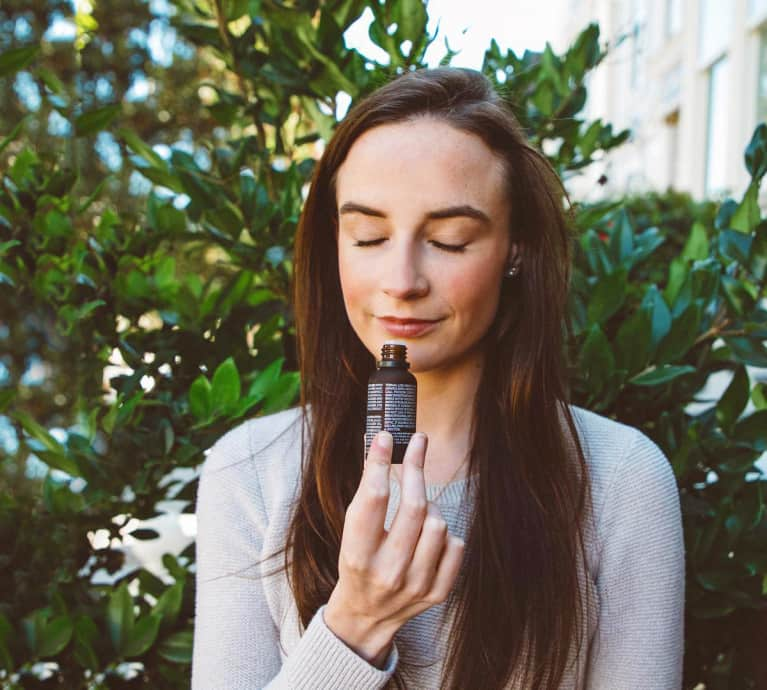 Our editors have independently chosen the products listed on this page. If you purchase something mentioned in this article, we may
earn a small commission
.
These evidence-based nuggets of truth from across wellness domains—including natural beauty, reproductive health, and exercise—have changed my daily practice in real ways, empowering me to take control of my own health. Could they do the same for you? Here's what I learned:
1. Ditch fragrance and parfum.
Do you love smelling like crème brûlée? Or maybe it's just too hard to part with your beloved strawberry-scented body butter. I get it. I've been there. For years, I was a product junkie—I had every potion and lotion on the market. It wasn't until I took a deeper dive to understand the toxins in our everyday products that I became a more conscious consumer of my products and their aromas.
Go into your bathroom and grab your shampoo, conditioner, and body wash. Do you see the words, "fragrance" or "parfum" listed in the ingredients? Sounds ambiguous, right? Due to copyright and trademark laws, scents are considered proprietary. Therefore, anytime you read fragrance or parfum on an ingredients list, buyer beware of the mishmash of various aromatic chemicals that may potentially be carcinogens, neurotoxins, and reproductive toxins. In fact, fragrance dispersants, like diethyl phthalate, may bioaccumulate in the body and cause allergies, dermatitis, and respiratory issues.
If you're about ready to toss your entire bathroom cabinet in the trash, hold up. My go-to resources to learn more about hazards and toxic ingredients in cosmetic and personal care products are the Environmental Working Group's Skin Deep database and the Think Dirty app. And, if you're a true aroma-lover who can't go without a signature scent, consider swapping out synthetic fragrances for unadulterated essential oils and hydrosols.
2. Get in tune with your cycle using FAM.
For many years growing up, I attended a progressive all-girls school. As forward-thinking as it was, I look back and shudder at the poor formal reproductive education I received. Far too often other educated women tell me that they honestly don't know all that much about their cycle and how it connects to overall health. While not all of us are taught the nitty-gritty of charting and our female cycle in a classroom, it's never too late to think about birth control, fertility, and contraception differently.
What if there were no hormones, no pills, no procedures? The first time I learned about the Fertility Awareness Method (FAM), I remember asking some obvious questions—so, a woman isn't fertile for only 24 hours of her cycle? What does my body temperature have to do with anything? If you've struggled with painful periods, contraception, or just want to learn more about your body in a way that has no side effects and is environmentally friendly, perhaps FAM is for you.
By creating a more mindful connection with our cycle, we are able to more deeply tune into our bodies. For instance, I realized that taking magnesium and vitamin C reduces my PMS symptoms. And I've concluded that I experience less cramping during menstruation when I practice barre and yoga consistently (at least three to four times a week). Plus, charting and FAM allow you to engage in safe sexual practices with a lot more knowing and a lot less praying and hoping.
Are you wondering where to even start? The book Taking Charge of Your Fertility by Toni Weschler is a great introduction. And if you're ready to get right into it, check out the Kindara app. Kindara makes it super easy for you with their Wink tool—it's pretty much an Amazon echo that syncs your temperature and data to the app for you. No manual input required!
3. Tap into scent to get what you want.
A huge part of my interest in health in wellness lies in the intersection of our brain and behavior. How can we thrive at home, at work, and in our relationships? Initially, I found the wellness world to be an overwhelming to-do list of practices with which I originally had little or no attachment and therefore interest. Every day, you must do some interval training, practice yoga—oh and don't forget to meditate! Instead of looking at these habits as chores, I started tapping into what I call the "me and not me" of spiritual practices.
I found my love and niche in aromatherapy and all-natural product formulation. From my years of study, it's become clear that everyone can learn how to cultivate different states of being through the power of scent. Evolutionarily, we've moved away from our old friend, olfaction, making it one of the last frontiers sense-wise. Just smelling certain aromas, like essential oils, influences neurotransmitters.
Want to be more productive? Reach for some peppermint or rosemary at work, which have been clinically proven to improve memory and energy level. Can't sleep at night? Rub some lavender and roman chamomile essential oils on your pulse points, since they're both potent nervous system sedatives. A recent study demonstrated that lavender creates an affinity to bind to GABA, the brain's relaxing neurotransmitter, which supports the popular anecdotal claim that lavender works wonders for relaxation and sleep.
Aromatherapy and aromatic molecules were once regarded as woo-woo and placebo—thought to offer little scientific advancement to the understanding of the brain and their influence on human behavior; however, recent clinical discoveries (namely, that these molecules easily pass through the blood-brain barrier) have shown us that it's worth hopping on the scent bandwagon as they may hold the key to future brain therapeutics that potentially rewire stress, anxiety, OCD, and trauma circuits.
4. Once a day, get moving with low-impact, isometric workouts.
I'm an advocate of finding a variety of workouts for your body and goals, but I'm also a big believer in low-impact and isometric exercises. As a woman who enjoys getting active once a day, taking it easy on my body is a top goal. Running multiple times a week was too hard on my joints, and I desperately sought a complement to gentle restorative yoga. And with autoimmunity on the rise, it's coming to light that caring for and moving our bodies in the right way can make all the difference in the long-term.
That's when I found barre. There's a body of research demonstrating that the ballet-like moves, like plies, lifts, and bends, actually require more lower-body muscle than traditional lower-body exercise moves, like squats. Plus, low-impact workouts, like barre, help target the seldom-used back and side abdominal muscles that contribute to the core strength needed to maintain posture as you age. And while you might be thinking good posture and flexibility aren't enough to entice you, you're also increasing the energizing hormone serotonin and decreasing cortisol.
If you've tried barre and it's not your thing, be sure to explore other low-impact but high-cardio exercises like cycling, yoga, and swimming.
5. Buy an old-school alarm clock and limit phone use to 1 hour of screen time.
For Instagram lovers, this can be a tough pill to swallow. I know it was for me. In 2017, people spend more than four hours a day on their mobile phones. Researchers estimate that about 90 percent of that time is on apps. And it's recently come to light that people are spending more time on Instagram than email. I used to spend so much time refreshing email on my phone that the pang of anxiety from the influx of messages became normal.
I read a study that discovered we use our phones twice as many times as we think we do. Reaching for the phone and scrolling through Instagram was a go-to mindless ritual. But living life on autopilot and engaging in automatic behaviors was making me less analytical, creative, and intuitive. Once I started to realize that I wasn't relying on my own mind for actively retrieving information or entertaining myself, I knew I had to make some lifestyle changes.
Currently, my bedroom is a technology-free zone. I bought a battery-operated alarm clock and use that instead of my old routine of using my iPhone alarm. Beyond that, I only use apps on my phone (Facebook, Instagram, mail, etc.) for an hour total each day. You might think 60 minutes is an arbitrary number, and it is, but it works for me because of my circadian rhythm's sensitivity to blue light and desire to be more present in everyday interactions.
If you're inspired to implement these changes, or try a digital detox, incorporate the crystal shungite, which is believed to block electromagnetic frequencies and radiation, into your living spaces, set micro-goals for yourself, and verbalize them or make a pact with a partner or friend. I suggest setting the night-shift mode on your phone to start at least two hours before you intend to sleep. And if you're committed to curbing your smartphone addiction, I enjoy using the Onward, Offtime, or Moment apps. While it may seem ironic to use your phone in an effort to use it less, I promise these apps that track your time and behavior can help you make the necessary changes to improve your quality of live and overall mood.
Often, it's making seemingly small lifestyle shifts that changes your day-to-day and has a huge impact on your health and well-being. These are the five that have made a huge impact for me.
If you're into this, check out the 10 practices that changed wellness podcaster Elizabeth Dehn's life.