These 5 Spiritual Lessons Guided My Business To Success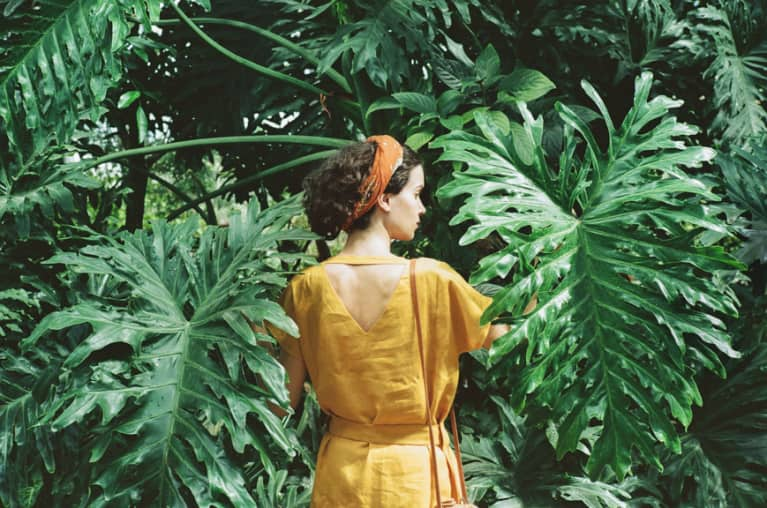 Our editors have independently chosen the products listed on this page. If you purchase something mentioned in this article, we may
earn a small commission
.
Tyler Gage's first book, Fully Alive, tells the story of how his own spiritual journey informed his multimillion-dollar tea startup, RUNA. Here, Gage has adapted his best tips on how to approach spirituality and work as one.
Though "spirituality" can have as many meanings are there are people in the world, feeling "spirited," more alive, and more connected to the deeper parts of ourselves are cornerstones of the human experience.
Rather than being a hindrance or sidebar to my business, the lessons I've learned from spending 12 years studying with traditional healers in the Amazon have not only changed my own life, enabling me to be happier, healthier, and more engaged, but have also been essential to making Runa, the organization I co-founded, one of the fastest-growing eco-minded beverage companies in the United States.
Amazonian teachings for personal and spiritual growth were powerful in their own context and surprisingly translatable to my world up north. I discovered an inherent pragmatism in these practices that sprang from a need to survive and a desire to thrive in one of the world's most lethal ecosystems: the Amazon rain forest.
Here are the tools I've learned from my time in the Amazon and now use to bring deeper parts of myself to my professional pursuits:
1. Use vulnerability as a tool to strengthen your weaknesses.
Especially in the world of business, vulnerability is usually considered a curse, but this misperception can be quite disempowering. Vulnerability does not equate to being weak—it means having the courage to be honest with yourself. Finding strength in vulnerability is about using that honesty and humility to ask for and get help where you need it. We tend to hide or deny our weaknesses and vulnerabilities, which creates a blind spot that actually makes you weak. Instead of avoiding and pretending like we don't have weaknesses or that we know everything, we can proactively admit our limitations, learn what we don't know, and invite support, which we all need in one way or another.
How to apply it: I've become a huge fan of taking the time to free-form write in my journal all of the things I'm afraid of around work. "If this contract doesn't go through I'm screwed," or "I'm afraid we'll run out of money," are things I've written. This practice helps me see the inescapable terror that comes along with trying to start, run, or grow a business and honors it rather than shames it.
In addition, I also started adding two important sections to our investor newsletters at Runa: "What's Not Working" and "How You Can Help." Ironically, we found that we were able to build more trust with our investors by being honest about our mistakes and inviting their support.
2. Practice popcorn appreciations to boost morale and spirit.
Giving and receiving gratitude is one of the most universally touching aspects of life, and finding creative ways to express appreciation in a professional context can be transformative.
How to apply it: When leading meetings, I've found that starting with "popcorn appreciations" can be an incredibly effective way to coalesce the group.
Here's how to do it. One team member starts by relating a "high," something good that is happening in their personal life unrelated to work, and a then a "low," something challenging in their personal life. That person then chooses another team member in the circle and recognizes him or her for a contribution he or she made to the team. The person who was recognized then relays his or her own high and low, and then recognizes someone else. You continue until the circle gets completed and everyone has been recognized. The tone of positivity, support, and shared humanity that results from this simple practice is always palpable.
3. Change your routine to live in the moment.
To be spirited is to be more awake and aware. Changing up routines and leaning in to the unusual and the unexpected at work can keep your creative cylinders firing, bring more excitement to seemingly dull tasks, and keep your access to deeper purpose alive.
How to apply it: In my personal routine, I like shaking up the monotonous activity of brushing my teeth by using my left hand, attempting to sing at the same time, while balancing on one foot—anything out of the ordinary makes me more present.
At Runa, we've even tried to build practices that shake up our routines into our work culture. Historically, we've had an annual tradition of taking our entire company in Ecuador white-water rafting—at midnight! Through this unusual (and borderline dangerous; don't try this at home!) activity, we activate a heightened state of awareness that always brings more connection and solidity to the team.
4. Understand what your "gut feelings" mean.
When it comes to making a decision, yes, there is inevitably some "magical" leap that must be made, but first you have to narrow the gap as much as possible. No amount of spiritual learning can substitute for good due diligence when it comes to business.
That being said, after all the analysis has been done, a decision still must be made. When navigating tricky relationship situations or charting new territory on the business front, it's rare to have enough information to make the decision cut-and-dried. Like the Amazon itself, difficult situations are usually "serpentine and moist," requiring the permeable, mutable power of your intuitive faculties to feel into it. Yes, I did just recommend feeling as an effective tool for making business decisions. I know it sounds "out there," but when you've done all of the diligence and there still isn't a clear answer, tapping your gut intuition is a helpful technique.
5. Tools can help you if you let them.
I've found value in a range of archaic, if not esoteric, methodologies for tapping into deeper, subtler layers of a situation when looking for guidance. From coca-leaf readings (similar to tea-leaf readings in Asia) to the I Ching (the ancient Chinese book of divination) to tarot cards, I've come to appreciate the way these tools help me see the effects of how my approach, mindset, and underlying motivations are affecting the situation at hand.
The inner workings of why and how these techniques may work are beyond me. Personally, I'm open to both the more accessible perspective that they are effective because they speak in the language of the subconscious mind through metaphor and also the more esoteric one: that they possess the ability to enlist the help and guidance of unseen allies.
Rather than going to some third party who has some special power to interpret the coca leaves or an I Ching throw, the key for me is to push myself to use these tools myself and challenge my own ability to find useful reflections in what they are saying. I never use them to look for definite answers or try to "see the future" but purely to get a deeper sense of how to act with the most alignment in any given situation.
Based on excerpts from Fully Alive: Using the Lessons of the Amazon to Live Your Mission in Business and Life by Tyler Gage, with the permission of Atria Books. Copyright © 2017.