The World's Leading Happiness Expert Has A Genius Tip For Keeping Your New Year's Resolution
mbg Contributor
By Leigh Weingus
mbg Contributor
Leigh Weingus is a New York City based freelance journalist writing about health, wellness, feminism, entertainment, personal finance, and more. She received her bachelor's in English and Communication from the University of California, Davis.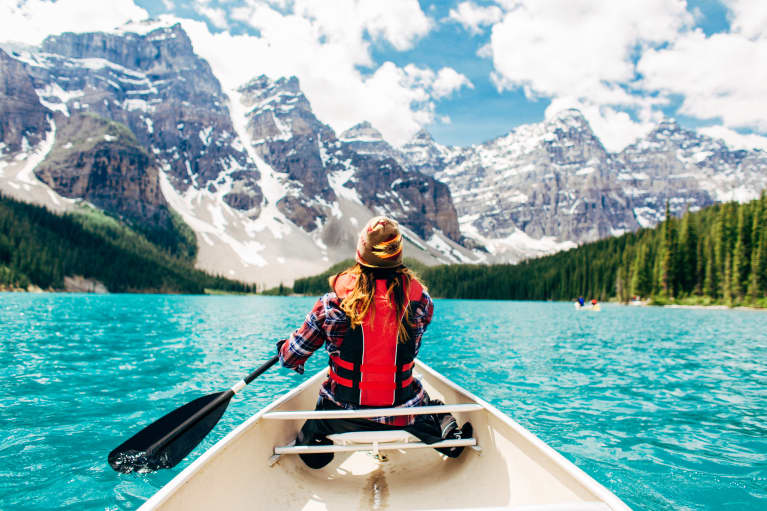 Our editors have independently chosen the products listed on this page. If you purchase something mentioned in this article, we may
earn a small commission
.
While January 1 can feel like an arbitrary date to set new intentions and goals, most people make them—and 80 percent of those people fail by February. That statistic sounds discouraging, but Gretchen Rubin, author of multiple books on happiness and habits including her newest book, The Four Tendencies, says she still believes taking on New Year's resolutions is a good idea for most people.
"Having a catalyst for self-reflection is so helpful," she explains. "It's very easy to just be managing your day-to-day and not step back, and for most people January 1 feels like a clean slate—everybody's talking about it. If it bugs you and you object to it, maybe you make it your birthday or the summer solstice. But most people need a catalyst."
If you're one of the many people who made New Year's resolutions this year, here's how you can actually keep them.
Why you should focus on milestones, not goals.
While Rubin doesn't believe there's anything wrong with setting a goal, she believes doing this can be detrimental to habit formation. "I think it depends on what it is you're aiming for, but often setting a goal can actually interfere with a habit," she explains. "Let's say you set a goal to run a marathon in 2018. What people often find is that once they run the marathon, they think they've created the habit of running—but one you've reached your gaol, it's over and it doesn't actually for a habit."
Instead, Rubin recommends thinking in milestones. "If what you want to do is keep your habit indefinitely, you don't want to feel like you have to keep starting over. It's better to think of milestones. So finishing that marathon is exciting, but it's just one of many milestones in creating a lifelong running habit."
How knowing your tendency can help you keep your New Year's resolution.
According to Rubin's framework, people typically fall into one of four tendencies: Upholders, obligers, questioners, and rebels. Upholders respond readily to both inner and outer expectations, obligers respond to outer expectations (and typically need to be held accountable if the want to achieve something big), questioners need to understand exactly why they're doing something, and rebels fight expectations.
The most important thing you can do if you want to actually following through on your New Year's resolutions, according to Rubin, is understand your tendency, and then tailor your plan for keeping your resolution to the way your brain works. If you're not sure what category you fall into, figure out which category your fall into, check out Rubin's quiz.
How to keep your resolutions if you're an upholder.
Out of all the tendencies, Rubin says New Year's resolutions are the easiest for upholders. "Once they decide they really want to do it, they can do it," she explains. "But they're cautious about putting expectations on themselves because they know they'll do it." In other words, if you're an upholder, make sure your resolutions are actually attainable and something that will make you happier—because you'll end up doing them no matter what.
How to keep your resolutions if you're an obliger.
The number one thing obligers need to stick to their resolution, according to Rubin, is accountability. "Create outer accountability. If you want to read more, join a book group," she says. "If you want to exercise more, join a running group. Think of it as your duty to be a role model for someone else. It doesn't help them to think about putting themselves first."
If you find that isn't working, Rubin suggests adjusting the way you're holding yourself accountable. "Is that outer accountability there? Maybe you thought you would be held accountable if you paid to go to an exercise class, but in fact that's not actually working."
How to keep your resolutions if you're a questioner.
If you're a questioner, the last thing you want to do is blindly follow a plan for achieving your goals. Instead, take the time to make up your own mind about exactly how to go about it. "If a questioner is having difficulty meeting a resolution, the problem is that they haven't truly in their own mind decided that this is the best, most efficient thing to do," she explains. "If this is the case, try customizing. For example, I'm going to Whole30 but I'm going to eat dairy."
How to keep your resolutions if you're a rebel.
If you tend to resist expectations altogether, remind yourself that you can do anything—as long as you want to do it. "One thing a rebel can do is tap into their identity, and say things like, 'I'm a strong, athletic, energetic person, I love exercise. They can't chain me inside—I'm going to go outside and hike and bike! I'm going to go to the gym in the middle of the day when I'm supposed to be working,'" says Rubin. "They like to do things that are unusual, like an unusual form of yoga. They also do well when they're very spontaneous—they want to go to a gym and not feel locked in by a specific workout."