This Woman Left Her Corporate Job To Hike The PCT — And Met The Love Of Her Life Along The Way
Written by
Leigh Weingus
Leigh Weingus is a New York City based freelance journalist writing about health, wellness, feminism, entertainment, personal finance, and more. She received her bachelor's in English and Communication from the University of California, Davis.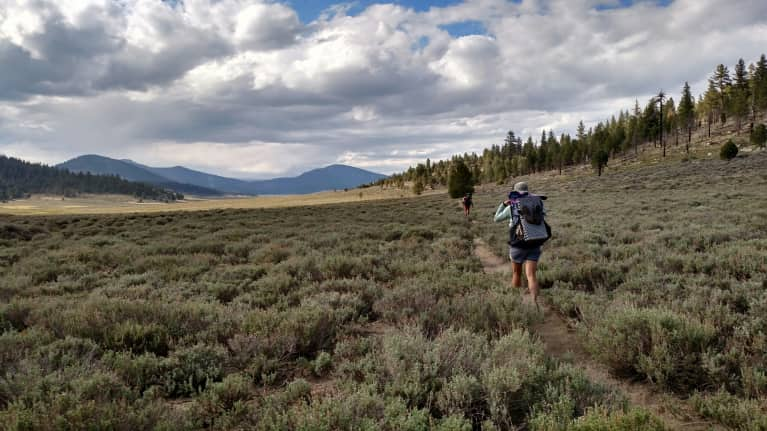 Our editors have independently chosen the products listed on this page. If you purchase something mentioned in this article, we may
earn a small commission
.
It was a January day in Chattanooga, Tennessee, and Claire Henley Miller was feeling particularly restless. The 25-year-old had spent too many months working a corporate job in a field she wasn't passionate about, and the 9-to-5 grind was wearing her down. She had moved to Tennessee from Colorado recently, and those few years spent surrounded by snow-capped peaks had left her obsessively thinking about the mountains and craving adventure.
"I was only 25, and I was absolutely miserable in my job," she said. "And one day I just thought to myself, You know what? I'm going to hike the Pacific Crest Trail."
That day after work, Claire went to the local bookstore, picked up a guidebook, and started making plans.
Mentally preparing to take on the PCT.
When it came to getting ready for her adventure, the physical preparation was the easy part. Claire took solo weekend adventures in the nearby Smoky Mountains, and every day after work she hiked a nearby 2-mile uphill trail with a backpack full of water. As she spent more time in the mountains, she felt increasingly invigorated by the peace and happiness she experienced. She became more sure of her decision every day.
Her family, on the other hand, wasn't so sure. Her family was concerned for her safety, particularly her mother. "My dad was a big rock climber in his day, and we were always doing fun, adventurous things outside. He was terrified, but he wanted me to go," she explained. "My mom didn't get it at all, so as I educated myself on what to expect on the trail, I decided to educate her as well. I had so many family members ask if I was going to carry a gun because a lot of people hated the idea of a woman alone on the trail. It was definitely scary, so I eased my fear by learning. The more I read about it, the more I realized that the danger didn't lie in other people—the danger had to do with weather and wildlife."
The mantra that got her through the hard parts.
Only a few days in, Claire found herself in terrifying wind and rainstorms that nearly knocked her off her feet. In those moments, she wanted desperately to turn back and retreat to the comfortable life she'd left behind.
Instead, she called on a mantra that had gotten her through difficulties in the past. "I kept thinking of one Bible verse that goes, 'I can do all things through Christ who strengthens me.' That became my mantra on the trail," she said. "It was really empowering because those storms weren't the only hard part. In the Sierras when we were hiking up 13,000-foot mountains, I got so burned out. So I just said to myself, 'I can do all things.' That got me through some of the hardest parts."
Falling in love on the PCT.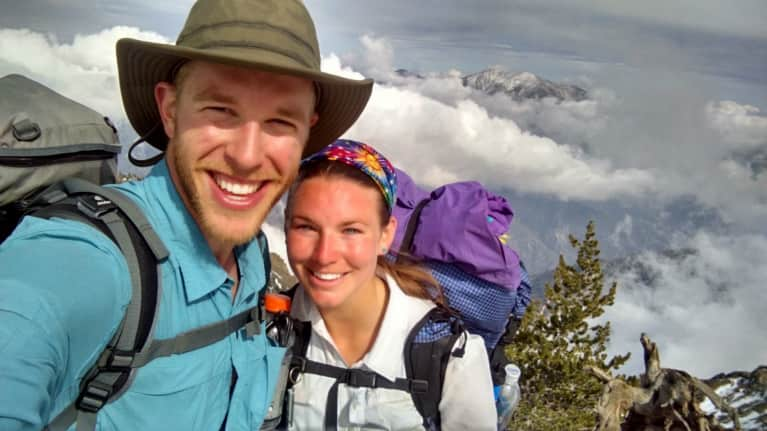 Five weeks after her departure, Claire's journey as a solo through-hiker came to a close. Just before another big storm, she decided to meet up with a group of other hikers for dinner. That's where she met Caleb, or "Big Spoon," as he was called on the trail.
"Caleb was sitting at the head of the table, and there was one spot open on the other end. And when I sat down he said, 'Oh good, you made it. Now we can begin.' I didn't know what to think! But there was an instant connection, and after that we kept crossing paths, and as time went on we really got to know each other. And suddenly we both realized, oh—this is why we're here."
Thirty days later, Claire and Caleb were married. "We ended up getting our marriage certificate at the county clerk's office in Lancaster, California. And it just so happened that the day we got married was the only day they performed marriage ceremonies in Lancaster that month. We got so lucky."
Two years later, they're living together In Chattanooga and have a 3-month-old son. "It hasn't all been fireworks and roses," she admits. "But there's no question that we made the right choice."
Returning to the mountains.
While Claire's life isn't as extreme as it once was, she's much more creatively fulfilled these days. She now works as a journalist in Chattanooga, and last year she even published a book, Mile 445, which chronicles her adventures. Although she's not immersed in them anymore, Claire gets back to the mountains whenever she can. "I love going to the mountains. When you're there and you're up so high, and you can just see for miles and miles, you remember that you really are just a person in this grand wilderness. When you're removed from all the hustle and bustle of 'the real world,' you really do just get to think and meditate. It's such a challenge physically, but mentally it's so peaceful."