I Tried A Zero-Waste Delivery Service & Am So Sad It Didn't Exist Sooner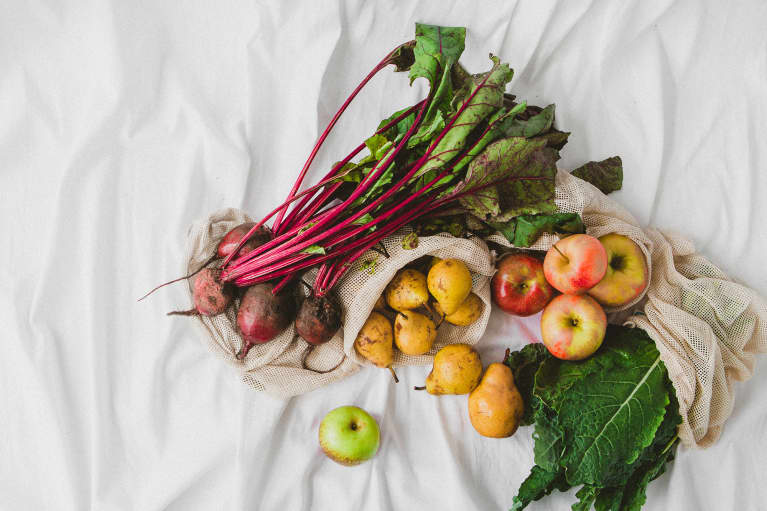 My ideal healthy and sustainable grocery shop probably looks a little something like this: After a morning leisurely weaving of the farmers market for meat and produce—taking the time to get to know my local producers and their growing methods, of course—I head to your local bulk bin shop and pile my reusable bags high with spices, grains, and dry goods.
I've had one of these days approximately once in my adult life. Inevitably time, the elements, and just general laziness always get in the way of this vision, and I once again end up in the familiar aisles of my neighborhood Key Foods.
Welcome to the future of grocery deliveries.
The Wally Shop—a new zero-waste grocery delivery concept—fancies itself a middleman between people and their eco-friendly eating fantasies. The service, currently in Brooklyn and Manhattan, allows users to place a grocery order online from an extensive list of fresh and locally sourced ingredients. Then, Wally Shop employees pick everything up for you—be it from the farmers market or a neighborhood pastry shop—and deliver it to your door in reusable packaging. (When my order arrived, it was in mesh bags and small Mason jars—a welcome change from the plastic that encases most delivered groceries.) The next time you order, these will be collected to be reused, closing the loop on a circular grocery economy. While similar services exist in Europe, this seems to be the first to come stateside.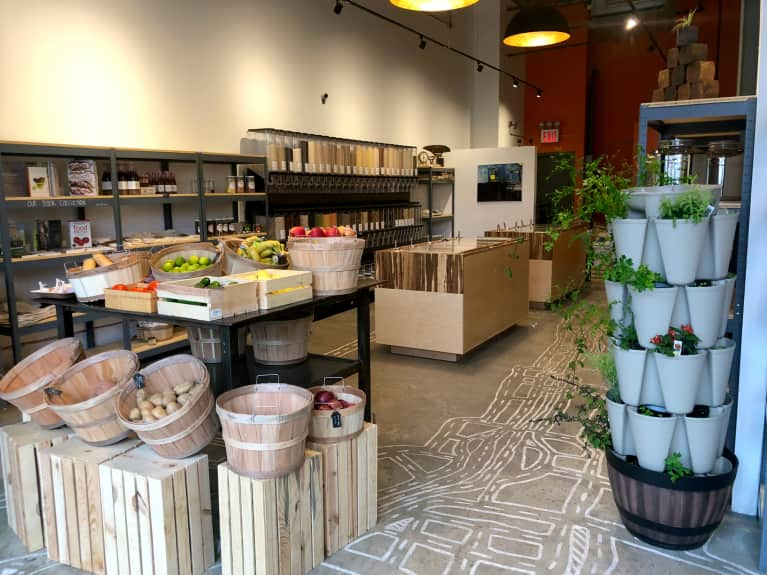 Founder Tamara Lim was first inspired to launch it while she was working in the packaging and shipping department of Amazon. There, she says, customers were demanding more recycled and reusable packaging, but ultimately there wasn't the infrastructure in place to scale options it.
Two years ago, she left the big-box retailer and relocated to New York City in the hopes of creating a convenient delivery service that was as cost-effective as it was sustainable. "My experience at Amazon really opened my eyes to what a big waste problem we have. It made me feel compelled to do something about it," she tells mbg. "I thought where better to work on a waste problem than the city that produces most of our waste?"
It was a prudent move. NYC has since become an epicenter for the budding zero-waste movement.
In the last two years, single-use plastic foam has been banned from city establishments and a coffee shop and lifestyle store have emerged to cater to the growing population of people looking to live a life encumbered with less plastic. Most recently, Precycle, the city's first zero-waste grocery store, opened its doors to a utopia of bulk bins, loose produce, and kombucha on tap. At the same time, the city has seen a rise in programs aimed to cut down on food waste: Local grocery services like Misfits Market and Local Roots offer imperfect produce that would have otherwise been thrown away, and The James Beard Foundation, a culinary institution in the city, has developed a food waste prevention training program for chefs and translated it into a cookbook for home cooks, Waste Not.
Lim hopes to dive deeper into the food waste space as time goes on, too, saying, "The Wally Shop was created to tackle this waste problem as a whole—and I definitely do think that does go beyond just packaging waste."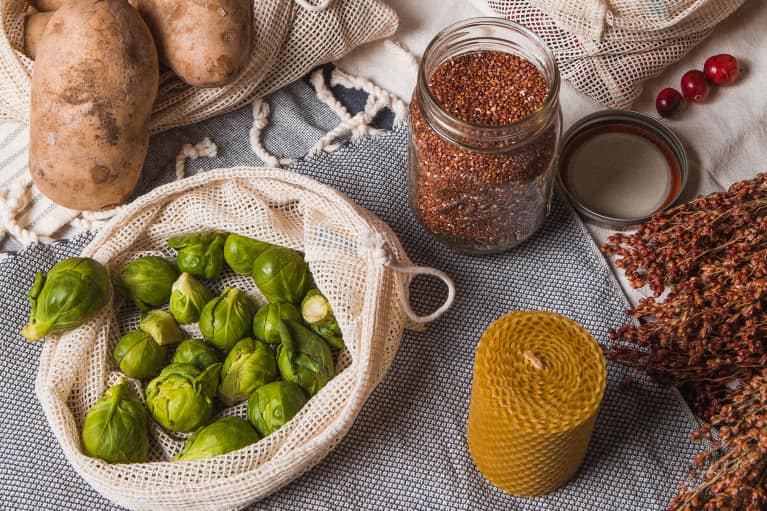 Taking the zero-waste mentality nationwide.
Ultimately, she hopes her business model will disrupt the grocery delivery industry (which an estimated 12 percent of U.S. adults now subscribe to, by the way) for the better. "Groceries are the last frontier of e-commerce. As the industry grows, we hope to set a standard to show that circular and reusable economy is possible," she says. "Sustainability is here to stay, especially in the food space."
Zero-waste brick and mortar stores like Precycle are ultimately what makes The Wally Shop possible in NYC. Without them, the company would have nowhere to source the package-free foods that are harder to find at a market. But the company is looking forward to expanding to other cities as the demand grows. Those who are interested in bringing a service like this to their city can submit their ZIP code on The Wally Shop website, where it'll be considered as the company figures out where to go next.
"We realize we have a big challenge ahead of us to make zero-waste shopping available to all," Lim says. But she's hopeful: "The ultimate mission of TWS is to make reusables the norm."