The Unexpected Tropical Food That Fights Inflammation & Leaky Gut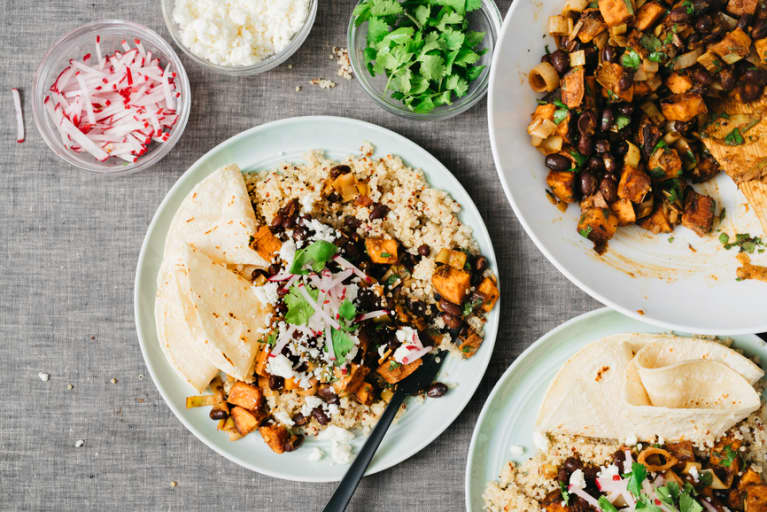 There's a powerful superfood that's often overlooked—black beans. If you think beans are boring, it's time to take a second look at this pantry staple. Black beans embody the idea of food as medicine. They are more than just a good (and affordable) low-calorie source of plant-based protein and fiber; black beans are also nutritional powerhouses full of phytonutrients, folate, and other vitamins and minerals that are good for your overall health. Plus they're super easy to add to your meals. Just throw them into a soup, stew, or salad.
Originally cultivated in the region stretching from Mexico to Central America, as well as the Andes Mountains of South America, beans were a key crop that helped give rise to the great civilizations such as the Maya and Incas, and many more indigenous peoples. Following the age of exploration, the exceptional nutritional value of beans was recognized and spread around the world.
Here in Havana—where I am researching and writing about food—black beans are a key part of the authentic local food scene. They are essential to traditional dishes, as stand-alone frijoles or combined with rice. Seasoned with salt, oil, onions, and sometimes bell pepper or fresh herbs, they make a delicious and satisfying dish. Beans are grown across the island, from the famously fertile farmlands of Pinar del Rio in the West to the rugged hill country of the Oriente in the East. Among their many superpowers, black beans can:
1. Fight inflammation and leaky gut.
While you might not think of the humble bean as an anti-inflammatory powerhouse, Korean researchers discovered that black beans could help reduce colon inflammation and gut barrier function in lab mice.
2. Help your body battle oxidative stress.
When you think of foods rich in antioxidants, you may think of brightly colored fruits and veggies. But the rich color of black beans tells you they are also rich in antioxidant flavonoids, which help neutralize cell damage and oxidative stress by scavenging for free radicals in the body.
3. Calm allergy symptoms.
There's a powerful component hiding in the rich pigment of black beans called quercetin. Scientists from the Boston University School of Medicine found that quercetin exhibits anti-inflammatory and antihistamine effects and may reduce allergy symptoms.
4. Keep your cholesterol levels in check.
The University of Maryland Medical Center states that quercetin may reduce the risk of atherosclerosis and reduce concentrations of LDL cholesterol (aka "bad" cholesterol) in the blood. Plus, black beans are one of the best sources of the phytochemical saponins. These compounds act a bit like detergent in your body, preventing the absorption of cholesterol and moving it out of your body as found by researchers from Mexico.
5. Improve your microbiome and help with weight control
Researchers from Purdue University note that black beans are a good source of one particular type of antioxidant called anthocyanins. These flavonoids are found in the seed coats surrounding beans. Researchers from the Federal University of Sao Paolo in Brazil explain that the microbiomes of healthy and obese individuals differ and that anthocyanins can play a role in modulating healthy gut bacteria.
6. Support bone strength.
Calcium, iron, phosphorus, magnesium, and copper—these minerals are all important for healthy bones. Calcium and phosphorus support the structure of your bones while magnesium keeps your bones healthy. Iron and zinc help maintain bone strength and the elasticity in your joints. Luckily, you can find all of these minerals in black beans.
And not just because of the steady supply of energy beans slowly release into your system (thanks to their low glycemic load). Black beans are also a good source of magnesium. And with many adults not getting their recommended daily intake of this important mineral—a National Health and Nutrition Examination Survey (NHANES) found that roughly half of all individuals weren't taking in adequate amounts of magnesium—we all could use an extra helping or two. Magnesium is involved in over 300 biochemical reactions in your body including energy production, metabolism, and enzyme function. Too little of the mineral might leave you feeling exhausted.
8. Improve insulin sensitivity.
University of California-Davis researchers found that eating black beans helped reduce inflammation concentration after meals. They say this suggests that black beans can improve insulin sensitivity, which could have important implications for diabetics.
10. Protect your gut from invaders.
In a study from the University of Veracruz in Mexico, black bean extracts inhibited bacteria and parasites in the laboratory.
11. Are a source of iron to prevent anemia.