Which Is Better For You: Running Inside Or Running Outside?
mbg Associate Movement & Wellness Editor
By Ray Bass, NASM-CPT
mbg Associate Movement & Wellness Editor
Ray Bass is the associate movement and wellness editor at mindbodygreen and a NASM-Certified Personal Trainer. She holds a degree in creative writing from the University of Pennsylvania, with honors in nonfiction.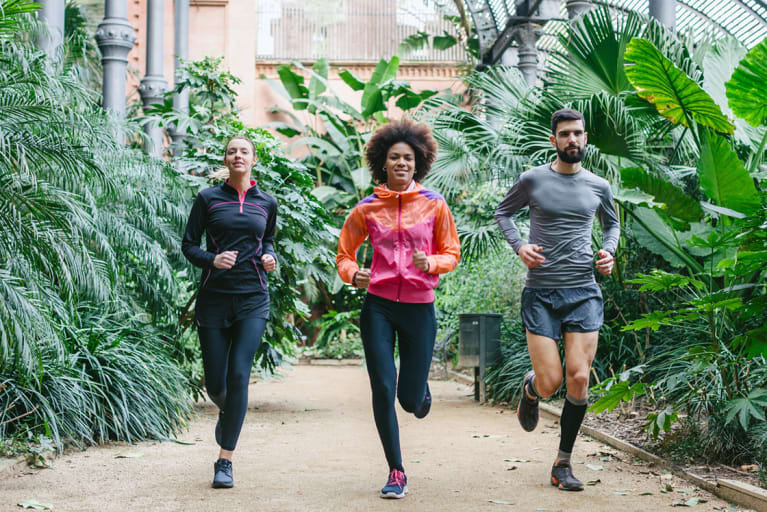 Whether you're new to running, a seasoned expert, or somewhere in between, chances are you've wondered which is better: running inside or running outside. Is one healthier than the other? Are they equally difficult? Is one more likely to damage your body, and is it OK to do both?
To get some answers, we asked our top running experts Elizabeth Corky, Corinne Fitzgerald, and Rebecca Kennedy to help us weigh the pros and cons.
Here's the lowdown on running inside versus outside.
The pros of running inside.
Let's start with the positive aspects of running inside—aka running on the treadmill.
You never have to depend on the weather.
All of our experts agree that weather is a major factor when deciding whether to run inside or outside, which gives indoor running an advantage. Unsavory weather is a running buzzkill (it's raining, snowing, or just too cold), and if the conditions are too extreme, running outside can be dangerous and lead to injury.
"Running outdoors in extreme temperatures can be really tough on the body. If it's too cold, it will take a long time to warm up, and most of us run too fast before we're ready. This increases the risk of injury, because your muscles are tight and don't have enough blood flow. The same goes for running in extreme heat—your body expends more energy to stay cool; therefore, running your typical speeds will feel much more difficult. It's also pretty difficult to replenish all the fluids lost in extreme heat, which can lead to risk of cumulative dehydration."
—Corinne Fitzgerald, NSCA-certified personal trainer and triathlete, running coach
Treadmills let you pace yourself without thinking.
While GPS watches can be a helpful running tool, they aren't always the best at calculating your actual pace. So if you're looking to run a specific speed (or are training for something that requires you to accurately pace), experts say a treadmill is your best bet.
"A great thing about running on the treadmill is that once you set your speed, you don't have to think about it anymore. All you have to do is keep pace with the belt. For some people, this helps them get in the zone."
"If you are looking to practice certain paces, a treadmill can and will hold you accountable and teach you the rhythm of that pace."
—Elizabeth Corky, elite marathoner, RRCA-certified running coach
"My favorite part of running indoors: Your pace and grade are right in front of your face on a tread the entire time, so you're not going too fast out of the gate or too slow when you should be in higher efforts."
—Rebecca Kennedy, holistic fitness trainer, Peloton master tread instructor
You can run with friends, regardless of your pace.
Motivating yourself to run can be as easy as grabbing a friend to join you. Running groups are a great option for outdoor running, but treadmills make running with other people easier because you can go at your own pace and still be together!
"It's really hard to find a running buddy who is exactly your pace—you might have to slow down or sometimes struggle to keep up! It can be a stressful situation feeling like you're going to get lost from the pack. A benefit to running indoors is that no matter your pace, you can still run next to your friends and make it a social experience."
Treadmills let you run at a variety of speeds and inclines (usually on a softer surface).
Most people, especially those living in cities, run on the sidewalk or the street, which can take a toll on our knees and joints. One benefit of a high-quality treadmill is that it can be more forgiving of your body—treadmills nowadays are designed to mimic the feeling of running on grass or dirt while minimizing the pains that come with pounding a hard surface.
Beyond that, treadmills let you build your own workout; by adjusting your speed and incline, you essentially have a new route every time. Gone are the days of running the same route over and over again.
"On a treadmill you can run hills" flat, slow, fast—and combine all of those factors. For someone who lives in a place with literally no hills, the treadmill can offer training options the open road cannot."
The pros of running outside.
It's not as easy to get bored.
If you're running on a treadmill in the same gym every day, it can get pretty monotonous (even with a killer playlist). Running outside allows you to explore new routes and places. That's one of Coach Corky's favorite aspects of running outside: "It's rarely dull. You can mix up your route and terrain a thousand ways."
Running outside means spending more time in nature.
Getting outside has an endless list of benefits, which for some people is reason enough to take to the streets. All of our experts agree that there's nothing like the fresh air and being among other runners, especially since if you're competing in a race you'll always be outside, surrounded by people.
"Outdoor running will always hold a place in my heart—for the scenery, fresh air, exposure to other runners in real life, the competitive drive I feel when someone cruises by me, the headwinds, tail winds, hills (which I love to hate and hate to love), and everything that weather can do to make you stronger. When the elements are out of your control, you train to be smarter and more patient."
Running outside can help build your mental toughness.
While the weather can sometimes be a drag, running inside means that your body isn't challenged in the same way it would be if you were outside. And given that the weather can be a wild card, you'll be in better shape race day if it's freezing cold and you've been running outside (or vice versa if it's hot).
"You are forced to adapt to the terrain and weather in front of you, and you learn to listen to your body instead of deciding what can or can't be possible."
According to these experts, there is a place for both indoor and outdoor running in your routine—but indoor running, with our current technologies, does not replace outdoor running, especially when it comes to training.
As Coach Corky puts it, "Indoor running cannot replace outdoor running. Even on the best treadmills in the world, there's no way to 100 percent replicate running on solid ground."
And all of our coaches recommend a combination of both:
"I find most runners benefit from a combination of indoor and outdoor running. Use a treadmill no more than three times per week, and use the open road as much as possible. Running is one big repetitive action, and so doing something exactly the same way over and over again will cause problems. Mixing up the terrain, weather, and stress level will keep running fun and the body happy."
"There are pros and cons to running both indoors and outdoors. I personally do a mixture of both indoor and outdoor within a week to keep it fresh. In the end, the most important thing is that you're running!"
"I live my life with a combination of both. There is not one without the other—we become our strongest selves when we practice our crafts in every possible way!"
Feeling motivated? Check out our tips for how to start running, how to shift your mindset before your next run, or try this workout sequence that will make you a better runner!