The Truth About Being An Older Mom
Written by
Phyllis Timoll
Phyllis Timoll is a health coach and functional nutritionist whose mission is to improve the lives of mothers through holistic health coaching techniques.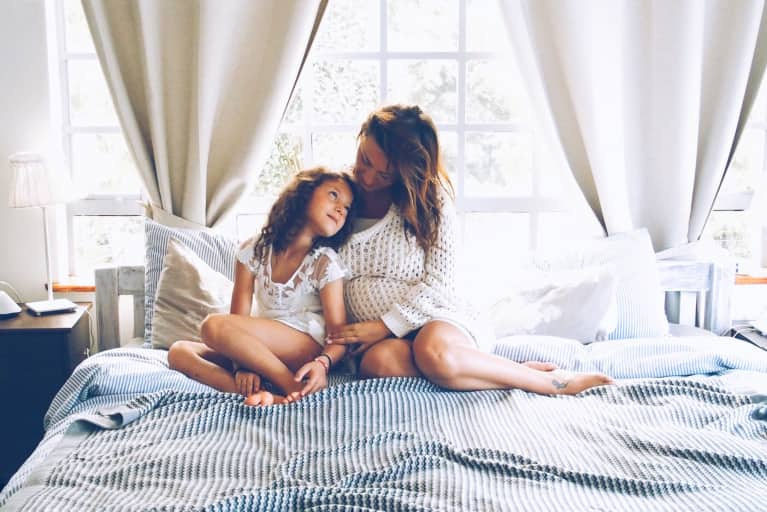 My mother has told me countless times that her biggest dream as a little girl was to be a mom. She and her best friend always played "mothers" with their dolls. She had her first, my brother, at 25. Me? Well, dolls were never my thing. In fact, my childhood toys and games consisted of a travel office set and either playing school, store, or pet shop. I grew up in a home with a working father and a stay-at-home mother, and being one of three kids, I didn't think twice about having kids of my own. While I knew one day I wanted to be a mother, it was not something I idealized. I wanted the experience; I just had no idea what that experience would be like.
When is the perfect time to have a baby?
More modern women now than ever wonder: When is the right time or age to have a baby? The truth is, you're never really ready to have a baby because no matter how much someone tells you, you don't know what's involved until you do it. I had my first child at 32. At that point, I was successful in my career; I was in shape and generally in a good groove balancing my life. It was a big transition for me going from solely focusing on myself, my needs, wants, and desires to then focusing on and being responsible for the life of another human being. Some would suggest I started our family later in life. Heck, when I had my second I was 35, which to doctors automatically meant "advanced maternal age" according to all of the suggested genetic testing and screenings. I've had friends and relatives who had their children at 24 years old and others at 40 or, in a few cases, a bit older. It's a personal choice with many factors involved and certainly has its benefits and challenges.
The push and pull of parenting later in life.
Being an older parent in doctors' eyes is age 35 and older. That may mean that you have stabilized some of the pillars in your life like travel, career, hobbies, sports, or marriage, all providing you with a good perspective. Because you've had so many experiences and have checked off things from your bucket list, you are able to objectively see the magnitude of the job.
For me, it meant I lived out the silliness of my 20s and planted roots in my marriage, career, and health. On one hand I had fulfilled some of the things on my bucket list like skydiving in New Zealand, for example. On the other hand, I selfishly wasn't quite ready to relinquish focusing on myself. A baby changes your whole world, and you learn even in pregnancy that this little person has some serious pull!
You also come to appreciate that it is a beautiful thing to nurture, shape, educate, share, and raise a child. Parenting later in life affords you the opportunities to absorb knowledge of the world and how you want your child to live in it. It's a total "if I only knew then what I know now" scenario except as an older parent you have that, at least on life itself, because actual parenting is a life lesson unto itself!
Wisdom, insight, and perspective are invaluable tools for older parents.
It isn't easy. Sometimes I still feel resentful and long for my former life, where I could do what I wanted when I wanted. Yet when I see my 5-year-old daughter confidently receive a ribbon in swim class or my 2-year-old son proudly buckle himself into the high-chair, the sheer joy and confidence they possess evokes a feeling of pure bliss inside me. That euphoria is what allows me to focus so much on someone else. I'm a better mom in my 30s because of the wisdom I gained in my late 20s and early 30s. With age comes the ability to appreciate the importance of the little things in life and the belief that everything happens for a reason. This insight is something I'm just not sure I would have appreciated as a younger parent.
Think you're ready to be a mom? Read what it's like to balance "wellness" values with real, raw life.