THIS Is The Best State To Buy Your Seafood From
mbg Sustainability Editor
By Emma Loewe
mbg Sustainability Editor
Emma Loewe is the Sustainability Editor at mindbodygreen and the author of "The Spirit Almanac: A Modern Guide To Ancient Self Care."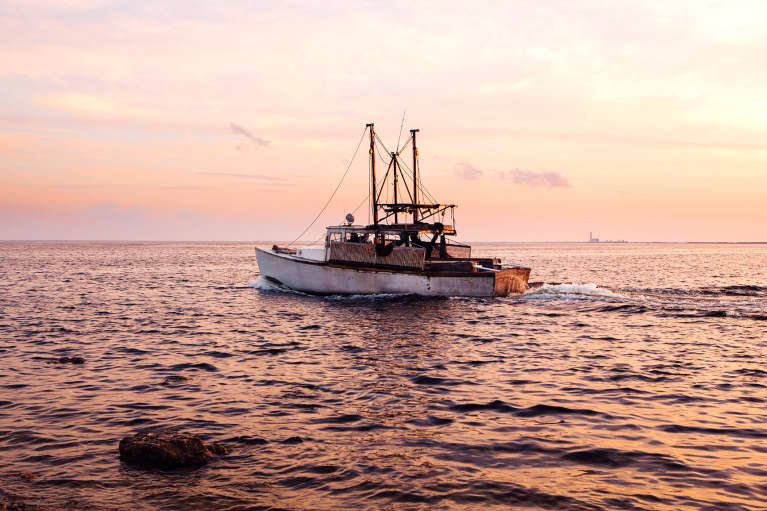 With the coming of summer, anticipation for seafood dinners, sushi specials, and lobster rolls runs at an all-time high. But before we dig into the season's bounty, it's worth doing a little bit of research into where our fish comes from.
In an age when ocean pollution runs rampant, you first want to make sure your catch is sourced from clean waters since contaminants can accumulate in their bodies. (Case in point: Mussels in the Puget Sound just tested positive for opioids!) Then you'll want to look into whether it was caught using sustainable practices that didn't contribute to overfishing. According to the latest numbers, we're now fishing more than half of the world's oceans, and 31.4% of these fisheries are overfished. This means that not enough fish are left to replenish at the same rate year after year.
Last month, mbg explored how fish farms, when managed correctly, could help shape a healthier future for the industry. However, they need to work in tandem with the wild-caught industry. And when it comes to wild-caught practices, Alaska's are hard to beat.
Why fish from Alaska is a cut above the rest.
Alaska is the one state that has sustainable fishing laws written into its constitution. A government-appointed group sets limits on how many fish are available to be caught year after year by studying things like spawning rates and migration patterns. It also caps the number of days that fishers are allowed to head out to sea. Every commercial fisher in the country is required to have a permit. While these rules may sound impossible to enforce along a 34,000-mile coastline, the state has historically taken the job really seriously.
"Fishermen keep logs, and on some of the larger boats you will have several monitors who actually count what is coming onboard. I'd love to say that every fisherman is honest but they're not. If there's any speculation they might be fudging their numbers, the federal government will investigate them," Jeremy Woodrow of the Alaska Seafood Marketing Institute told mindbodygreen during a recent event to kick off the start of Alaskan salmon fishing season, which will last through early October. "If they are caught overfishing, they lose their license, they lose their boat... The punishment is really steep. So the incentive to be good and honest is there."
In fact, state wildlife troopers have fined fishers up to $4,000 for catching as little as two small fish in seasons past. Looking forward into the rest of 2018, the state has declared that harvests need to actually be lower than last season in order to keep local ecosystems thriving.
Alaska also has systems in place to monitor for by-catch—when an unwanted species of fish ends up in a net. This is a common occurrence with bottom feeders like halibut, which are often caught using trawl methods that drag along the ocean floor. In Alaska, they cap the amount of unwanted species or "secondary catch" a farmer can bring in too, and once they reach their quota of these fish they can no longer go out for their primary catch.
So as you're navigating the grocery aisles or dining in a seafood restaurant this summer (always ask your waiter where your fish is coming from!), keep your eyes and ears peeled for Alaska natives. Luckily, about 99% of wild cod, 95% of wild halibut, and 95% of wild salmon caught in the U.S. comes from Alaska, so it's easy to find in the States and is exported to over 100 countries around the world. In supporting this market, you'll also be helping out the people who have made it their life's work.
"Supporting what fishing game tells us to do and working within their regulations to support a thriving population of salmon forever is a huge part of the fisherman's commitment to sustainability in Alaska," says Nelly Hand, a second-generation salmon fisher and Alaska native who runs a boat alongside her husband. And for Maya Wilson, Alaskan chef and cookbook author, it's a matter of pride and connection. "It's such a huge part of who we are as people and a community," she beams.
Check out how to spot tasty, healthy seafood in the store here, and be sure to check out our breakdown of the farmed fish industry.