The Sustainable Mindset That's Helping Puerto Rico Rebuild In The Wake Of Tragedy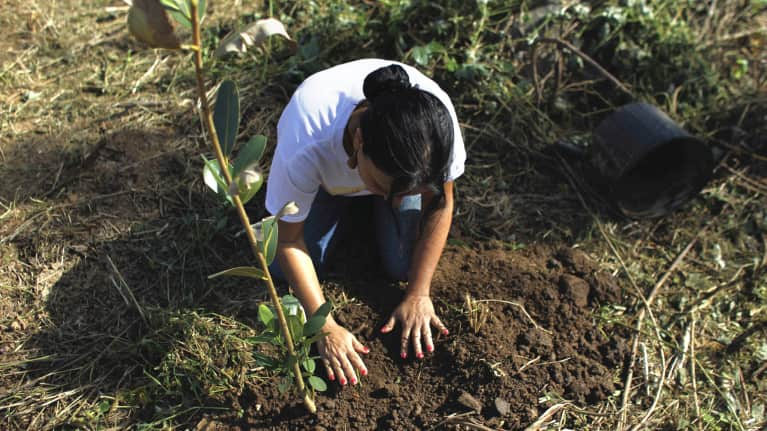 Hurricane Maria struck Puerto Rico nearly eight months ago, but recovery efforts on the island are still in full swing. "The damage was so great that we're still really trying to catch up with the most basic repairs: making sure the roads are completely sealed and roofs are stable," longtime resident Fernando Lloveras says on a call with mbg. "Everybody is dealing with 20 projects at the same time."
They're working against a ticking clock since hurricane season in the Atlantic begins again on June 1, with the most severe storms in Puerto Rico usually happening in August, September, and October. "We have a couple of months to get ready. We're trying to catch up—but it's a challenge."
A more sustainable way forward.
As local organizations rush to rebuild, many of them are doing so in a way that prioritizes the land and will be sustainable into the future. For instance, solar panels and battery storage systems are replacing the island's outdated grid, as they're more likely to withstand intense storm surges. Lloveras, the president of local nonprofit Para La Naturaleza, has also adopted this eco-minded rebuilding mentality.
Under his lead, Para La Naturaleza (PLN), which was founded in the 1970s as a nature education organization, has widened its net. Immediately after the hurricane, Lloveras and his staff turned their education centers into distribution points, complete with basics like solar lanterns and mosquito nets. "We added solar panels and battery packs and water filtration systems so that these places could serve as hubs if we suffer any extreme events in the future." Now, the environmental organization is helping entire communities get back on their feet using green infrastructure. Two of the largest initiatives they're investing in with over $1 million of funds raised? Organic farming and reforestation projects.
"Trees are the most important infrastructure that humans have enjoyed for many, many years. But we haven't credited them correctly. We believe they're going to be key to recovering from traumatic events like this one," Lloveras asserts. While he says he could talk "for hours" about the benefits that trees have in vulnerable communities, carbon capture, temperature control, and flood protection top the list. Over the next seven years, PLN plans to work with a handful of Puerto Rican communities to restore their surrounding canopy with 750,000 new trees. It's a fraction of the estimated 31 million lost in the storm, but it's a step forward in rebuilding ravaged natural lands, which need the same TLC as man-made ones do.
As for organic farms, Lloveras sees them as key components to any healthy, thriving community. A lifelong farmer himself, he admires the "small yet energetic" group of growers who work in a way that respects the earth beneath their feet. "These are farmers who really produce healthy food and treat the land correctly. We decided to team up with them because they lost everything. This industry should not have to take a step backward."
By engaging entire communities in conservation, he hopes to help create a movement around sustainability in Puerto Rico, now and into the future. And it isn't a hard sell for locals. "We need to first take care of basic human needs. These things should be a priority, but that doesn't mean that sustainability is something that needs to be ignored. People here understand its value."
Donate to Para La Naturaleza here, and support other recovery initiatives across Puerto Rico here.