The Science-Backed Way To Kick Your Most Stubborn Bad Habit
mbg Contributor
By Leigh Weingus
mbg Contributor
Leigh Weingus is a New York City based freelance journalist writing about health, wellness, feminism, entertainment, personal finance, and more. She received her bachelor's in English and Communication from the University of California, Davis.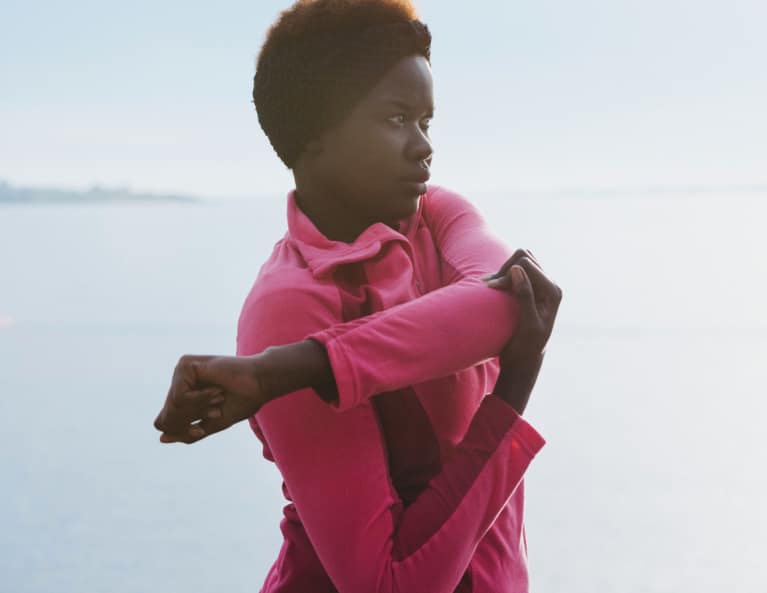 From finally quitting smoking to giving up nail-biting, there's no question that getting rid of bad habits once and for all is extraordinarily difficult. Maybe you successfully quit sugar for three weeks, and then a stressful conversation with your partner or manager sends you straight to a pint of ice cream. We've all been there.
But new research out of the University of British Columbia suggests a powerful tie between running and kicking bad habits. The study took a deep dive into data from a program called Run to Quit, which forms running groups in an attempt to help its members quit smoking for good.
In 2016, 168 smokers signed up. Less than half of them actually stuck with it, but of those who finished the program, 51 percent of them completely quit smoking, and 91 percent of them reduced their smoking amount. So, why did running work so well? Let's take a look.
It's no secret that having peer support is helpful when you're trying to reach your goals. For example, Weight Watchers is the most successful weight loss program of all time—and researchers think this is because having a strong community typically leads to greater success in sticking with something difficult.
Members of Run to Quit were also held accountable by members of their individual running groups (some were outdoor; some were indoor), and researchers think this had to do with the program's success. "This shows that physical activity can be a successful smoking-cessation aid and that a community-based program might offer that. Because doing it on your own is very difficult," Carly Priebe, lead author of the study and postdoctoral fellow in UBC's school of kinesiology, explained.
Running as a self-esteem boost.
Psychotherapist Nathalie Theodore has another interesting theory as to why this program worked so well. She thinks that picking something difficult and sticking with it provides people with the self-esteem boost they need to successfully kick a bad habit.
"I think running is a perfect example of an activity that's very empowering," she says. "Starting a running program requires a lot of effort and dedication, and people who commit to a regime might soon realize they're capable of doing so much more than they ever imagined. It can be a great boost for self-esteem."
She adds that this program in particular helped people feel more empowered not only physically but mentally. "I think these findings can apply more broadly and that running can help people find the inner strength to make other significant changes in their lives, like leaving a dysfunctional relationship or a dissatisfying career."
Another big reason running worked so well in this case? It's a highly effective way to reduce stress. People often rely on smoking as a way to cope with anxiety and difficult moments, and for many of these people, running may have replaced that. Or as Elizabeth Lombardo, Ph.D., and author of Better Than Perfect: 7 Strategies to Crush Your Inner Critic and Create a Life You Love theorizes, it reduces the stress people feel surrounding giving up a persistent bad habit.
"Running not only helps combat stress but also releases endorphins so your body feels better. This can counter the way your body feels during nicotine withdrawal," she says. "Exercise can help you break other habits, too, because of its effect on your stress system. Exercise helps you feel less stressed psychologically and physically. Because people often return to their bad habits during periods of high stress, keeping it in check can help you stay on track."
What are you waiting for? Lace up those sneakers and hit the pavement.
Interested in how habits can change your life? Here are seven habits of the most mindful people we know.