In-Suite Tarot Readings & Cacao Ceremonies? Here's Why Hotels Are Getting A Lot More Spiritual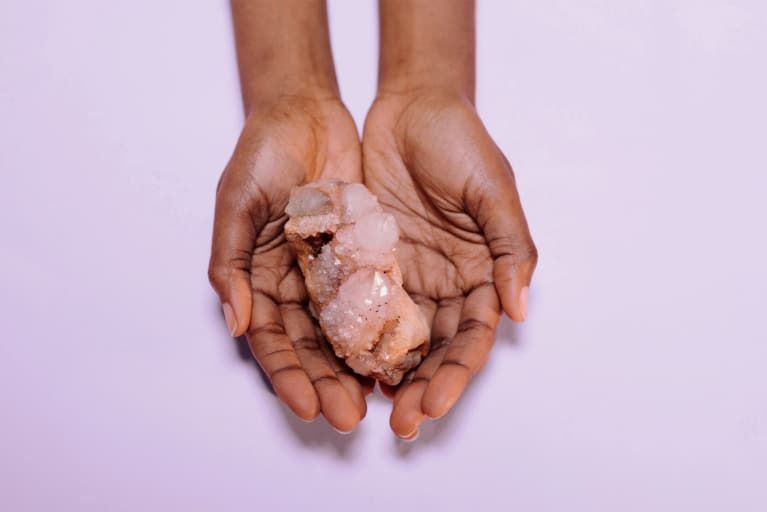 Chances are, you've felt like you've needed a vacation from your vacation at one point or another. In today's fast-paced, ever-connected world, it can be difficult to totally escape the stressors of daily life—even if you're on a beach, cocktail in hand.
A new wave of hotel offerings is here to help travelers of all sorts find some more peace in body and mind.
The rise of in-suite esoteric offerings.
It all began with meditation. A few years ago, meditation and breathwork classes started to extend beyond the Palo Santo–infused circles of yoga retreats and into otherwise traditional hotels. From there, luxe outposts like the Ojai Valley Inn in California and the St. Regis Vommuli Resort in the Maldives started to actually build mindfulness into their designs with dreamy meditation studios and personal relaxation pods.
And nowadays, even brands that cater to a more business-centric clientele are offering guests the opportunity to Zen out. One of which is the Hilton, which has seen a positive response to the yoga and meditation classes offered across select locations. "Many groups are requesting these—especially business travelers," Vildana Kurtović, assistant director of marketing and PR for Conrad New York, a Hilton brand, tells mbg. "There is progressive, global focus on wellness overall. It's something that the majority of our guests care about in various formats."
This universal thirst for mindfulness on the road has paved the way for more esoteric offerings, too. Take the James Hotels' Readers on Room Service program, which mbg first covered earlier this year. It allows guests to set up personal sessions with spiritual healers—from astrologers to hypnotherapists to tarot readers—right in their rooms. Since launching in February, the program has drawn in an unexpectedly broad crowd. "It's truly a mix of people ranging from the businessman looking for a nontraditional mental health break to young women on their bachelorette parties looking for guidance on the next stage in their lives," James LaRusso of Denihan Hospitality tells mbg. It also continues to expand to keep up with increasingly popular modes of spiritual inquiry, like Human Design interpretation.
Over on the west coast, the local The Ritz-Carlton Spa, Los Angeles has embraced the woo-woo with a litany of crystal-infused spa offerings. Now, things like "Seven Chakra Balancing Massage" and "Rose Quartz Hands & Feet treatment" are on the menu, meant to appeal to a growing base of guests looking to embrace some of the earth's grounding energy. "Self-care is no longer an indulgence but rather an essential practice we integrate into our daily routine," says spa director Tamara Ische. "This mentality joined with increased interest in natural remedies is reflected in the demands of luxury travelers."
The next wave of spiritual escape.
And no hotel speaks to the growing population of spiritual seekers like the brand-new Assemblage location in the Financial District. It offers regular sound baths, breathwork sessions, cacao ceremonies, and talks on spirituality in the modern day—all set among a lush backdrop of living walls and spiritual iconography. The first outpost in NoMad doubles as a co-working space that members can join for access to a desk, daily events, an ayurvedic-approved breakfast and lunch buffet, and fully stocked adaptogenic elixir bar. And this new one also opens its doors to weary travelers looking for a total mind-body reset.
"The Assemblage is for everyone, from businessmen to yogis. We are creating a space for anyone who is looking for personal and professional transformation," explains Coco Videla, the brand's head of marketing. As for what inspired the shift from co-working space to hotel, she says it's all about "aiding travelers in feeling like their best selves while experiencing something that may be unfamiliar." The next location is already in the works and set to open doors on Park Avenue South in 2019, and the brand is reportedly fielding lots of requests for expansion, both nationally and internationally.
This trend makes sense when you consider how traveling and deviating from our usual routine can throw us off (hence why so many of us want nothing more than to veg out after time away from home). These spiritual offerings provide a much-needed grounding force, and we bet you're about to see a lot more of them.
Check out the other wellness trends mbg has an eye on this year.