The Home Organization Hack mbg Editors Swear By
mbg Sustainability Editor
By Emma Loewe
mbg Sustainability Editor
Emma Loewe is the Sustainability Editor at mindbodygreen and the author of "The Spirit Almanac: A Modern Guide To Ancient Self Care."
While not a new trend (the debate over whether grouping your texts by color is reading sacrilege has raged on for a few years now) color coding seems to be going through a resurgence of sorts. Blame it on a shift away from minimalism and toward intentionalism or surrounding yourself with an array of objects that evoke memory and passion.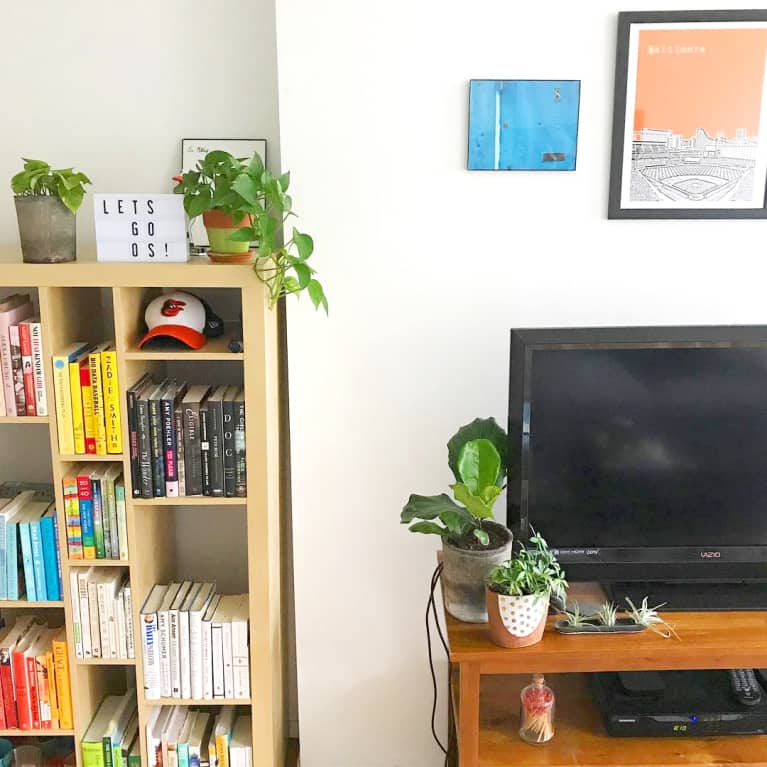 Our beauty editor Kayla equates shaded shelving to a living, breathing rainbow, and who wouldn't want that? Inspired to take the plunge, I took my then-hodgepodge display of books apart and grouped everything by color and shade. And I have to say that it made my space look much more polished, buttoned-up, and organized. Plus, I'm a visual thinker so I've found it really easy to track things down since.
Curious if there was any research to back up this observation, I reached out to Dr. Sally Augustin, a design psychologist who specializes in how our homes affect our moods. She told me that, though she doesn't know of any specific studies on the topic, people who spend time to color-code items such as books may find it makes them feel like they're communicating something important about who they are as a person in doing so.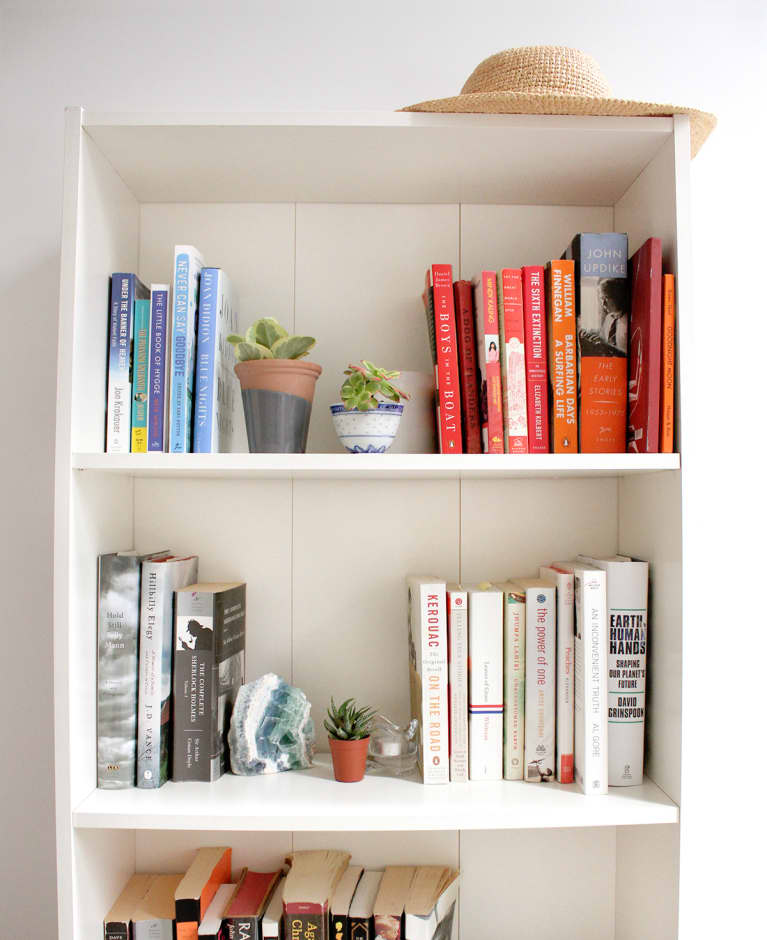 "When we use a space to send a message, it can make us feel more relaxed and comfortable. Color coding may also help people find a certain item more quickly, which cuts down frustration," she explains.
So if you're an avid reader who prides yourself on having an expansive collection, getting more intentional with how you display your stories probably makes sense. And if you want to take it a step further, Augustin recommends placing specific colors around your collection to boost your mood, creativity, and peace.
"Seeing colors that are not very saturated but relatively bright, such as a light sage green, is relaxing while seeing a saturated but less bright color, such as emerald green, is energizing. People should use green shades in the spaces where they would like to boost creativity, while a dusty blue with lots of white in it puts us in just the right mental state to do knowledge work."
If you're looking to organize your shelves so they boost productivity, she recommends dotting them with some greenery too. "Adding a few plants to an office has also been linked to enhanced creative thinking and our performance is better in spaces that have natural light. We will also work well in places where we can cognitively refresh ourselves by looking at nature or other things that effortlessly fascinate us, such as a fish tank."
If you're looking to give your home office or reading nook a refresh, try rearranging your books by color and throwing a houseplant, crystal, or both, into the mix.
Looking to fill up your shelves a bit more? These mbg editor-approved books, houseplants, and buzzy accessories will round out any mindful reader's collection.