Think It's Time To Downsize? This Exercise Will Let You Know For Sure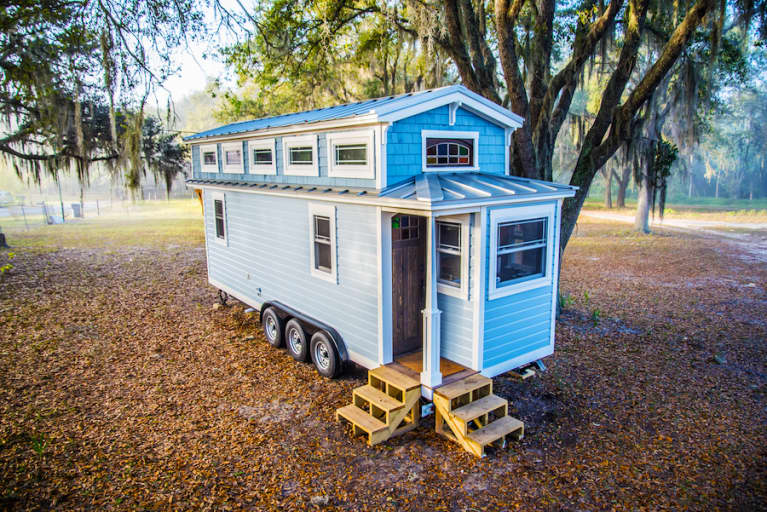 When my partner Tim and I first started considering our tiny journey, we knew it was now or never. We were young, we didn't have kids, and we wanted to travel and live in different places.
We knew we wanted to move in together, but Tim didn't want to have a monthly rent payment and I was wary of the prospect of buying. The idea of being stuck in one location while we paid off a house for the next 30 years was a little bit less than intriguing. Owning a home was definitely something I wanted to do but not at the cost of my freedom. We had talked about tiny homes before, and Tim always agreed that it was a great investment. At first, though, it seemed like a pipe dream, a fantasy.
But then we took our time and really explored whether this was a lifestyle we could take on. We even went so far as to rent a tiny home for a week to see if it was realistic (highly recommend!). Once we realized that some models had all the same amenities of the homes we had grown accustomed to, just on a smaller scale, we were in. Factor in the freedom to travel and the affordability of the lifestyle, and we thought we had it all figured out.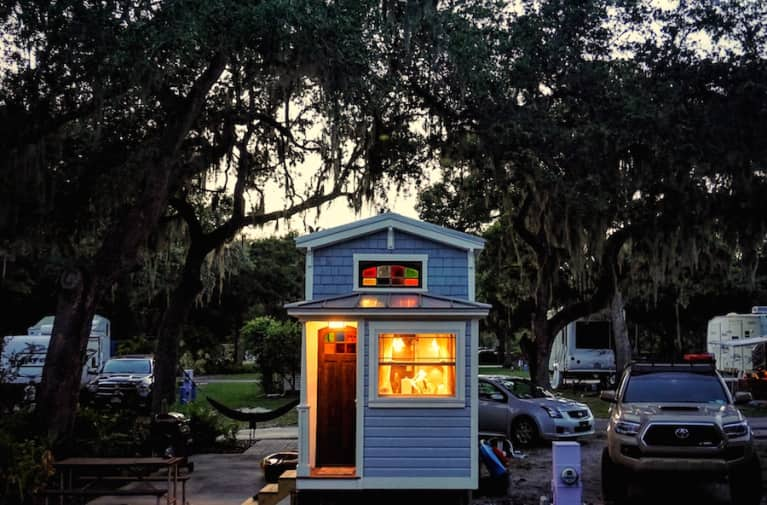 That was until Tim's dad sat us down and asked what we were really looking for with this new lifestyle. At the end of the day, what drove us to want this change? Was it the minimalism? The novelty? The price tag? The financial freedom? (It was.) What he said next really resonated. He told us that if we really wanted a minimalist life, we could have that now, before moving into a teeny-tiny home. We could use less space in our fridge, get rid of clothes we didn't need anymore. "Everything new becomes old," he reminded us. That was a reality check for us, and one that ultimately solidified our game plan. If this was something we genuinely cared about; we needed to go after it full throttle.
We started slimming down our life, starting with our closets. Tim himself got rid of almost 300 shirts! We sold our things that we could on eBay or Craigslist to slowly start chipping away at our possessions. We also started asking ourselves "Is this a need or a want?" before buying anything. Difficult at first, this process eventually became liberating. It changed how we viewed our possessions, and from there we knew we were made for tiny living.
The lesser-known benefits.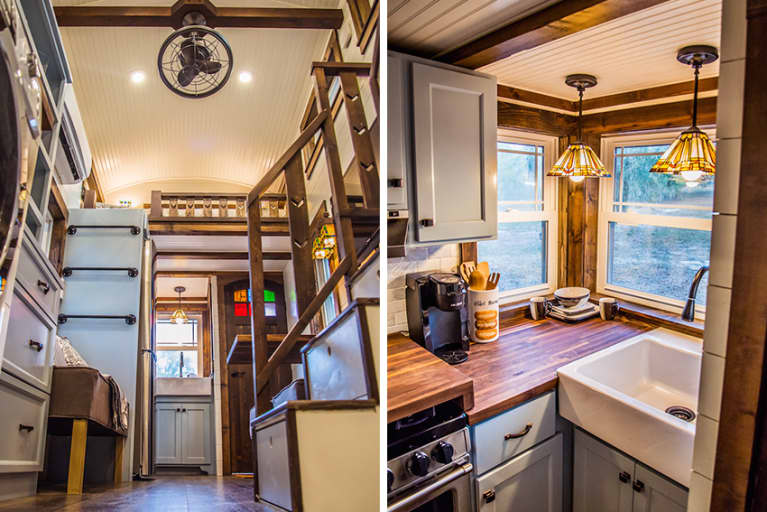 Now, if we bring something into our house, it's second-nature to take something out as well. Beyond imparting us with a minimalist lifestyle, the move has inspired a total mindset shift. We are so much more present, and we live in the moment like never before. Living with less cuts down on distractions and allows us to focus on time with friends and family. We both struggle with anxiety, and being in a smaller space has truly helped with this. Something about knowing exactly where everything is and being able to see all of our surroundings with a glance is such a comfort. There is a place for everything we need, and nothing is unnecessary.
The most important thing we have learned and want to share with others is that this lifestyle doesn't have to turn your world upside down. If you do decide to move into a tinier space, you'll still be you, just without all the excess. We're not weirdos or hippies or gypsies. (Well, everyone's a little weird, right?) We both still work normal 9-to-5 jobs. We still pay bills.
We just happened to have looked at our future and decided that we wanted something different from what society designated "normal." Tiny living is definitely not for everyone, but it was the right decision for us. Maybe someday down the road, when we are ready to start a family, we'll make another change. But for now, 270 square feet is plenty for us.
This piece was co-written by Tim Davidson.
Tempted to sell your stuff and move into a little cabin in the woods? Here's all the tiny home inspo you could ever need and a first-person account of one woman's tiny journey.