The One Thing Every Self-Help Enthusiast Needs To Hear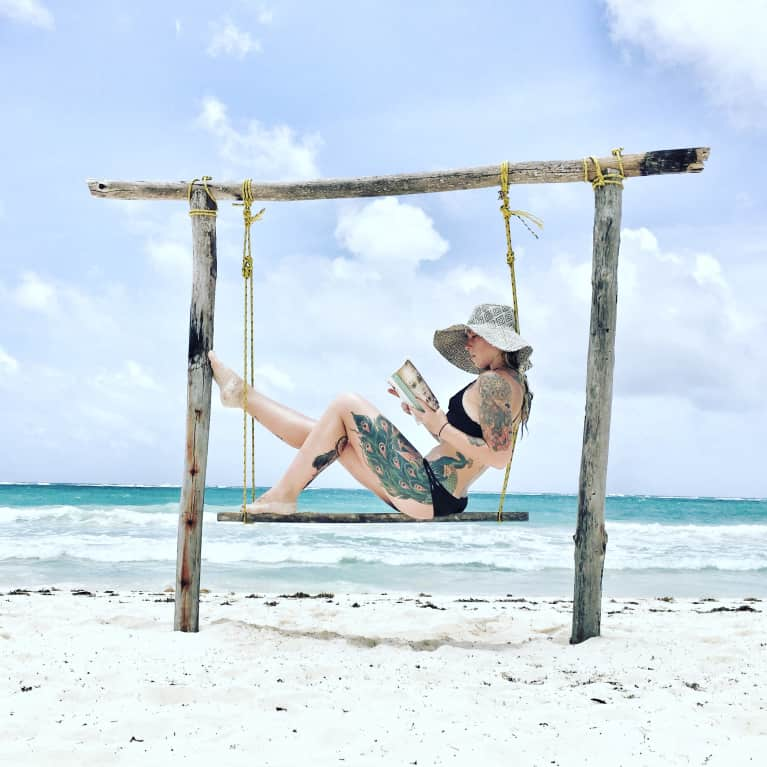 As someone interested in wellness, I prioritize soulful self-care and mindful routines. I usually relax with evening baths, farmers market meals, and meaningful conversation. However, I also let myself veg out on the couch with Netflix once in a while—yes, this counts as self-care too!
If you are someone who balks at the thought of taking a day off from exercise, whose meals can never be "healthy" enough, who sees themselves as a project, who thinks downtime is lost time…this is for you. It's important to differentiate between self-care and self-sabotage. I know because I lived this way for a very long time, too.
Every moment doesn't need to be productive.
A (very good) therapist once suggested I watch some TV to get through a difficult stretch. I thought she was insane. "This is what I'm paying you for?" I kept to myself, but inside I fumed. I resisted this suggestion and described how I felt. I had so much to "work on" that doing something so unproductive would be wasted time. I was between apartments, jobs, and boyfriends while battling a flare-up of the depression that had plagued me since my early teens—I had a life to fix, so surely I couldn't be distracted by a Netflix binge.
However, I was in bad shape and in no position to circumvent my therapist's suggestions. With trepidation—what if I fell into a hole and could not climb out?—I permitted myself a few Sex and the City episodes. I allowed myself to be transported by their stories. I took a break from relentless self-examination for a moment.
In hindsight, I realize that my therapist was suggesting I let myself be distracted. She was pointing out that I was doing what I needed to do—nobody spends every hour of every day "on." She was encouraging me to let myself be entertained and benefit from some distraction. I had to test the idea that even if I stopped trying, just for a short time, I would still be worthy enough to receive health and abundance.
Taking set time to simply be distracted can be especially helpful in these scenarios:
1. You're going through something difficult.
Many of us find ourselves dealing with unpleasant or unexpected circumstances, from grief to soul-searching to change in general, and there are limits to how much we can manage, process, or fix. Remind yourself it is safe to rest your mind.
If TV is your thing, watch with intention. If you prefer to go screenless, indulge in a classic novel or browse the new and noteworthy section at your local bookstore. Let yourself be inspired by the stories that are, in the end, not even that far from our own.
I've noticed that my dark periods—when I've been depressed, stuck, or anxious—are characterized by a hesitancy to share, often resulting in less of the very connection I need. Having a friend over to watch a favorite show is an easy way to be like everyone else at times when you feel alone, a way to spend shared time with loved ones when you'd rather watch or listen than speak. The same holds true for being part of a book club, seeing a movie together, and walking the art galleries: They're all shared experiences that facilitate connection.
While self-improvement is a wonderful thing, true wellness includes proportional amounts of downtime. Don't deny yourself the opportunity to turn off that voice in your head that wants to analyze it all. If you're looking for permission, this is it.
Still feeling anxious? Here are 11 ways to calm your mind and new self-care techniques you haven't heard of yet.