A Supplement To Help You Reach Your 2021 Skin Care Goals
mbg Beauty Director
By Alexandra Engler
mbg Beauty Director
Alexandra Engler is the Beauty Director. Previously she worked at Harper's Bazaar, Marie Claire, SELF, and Cosmopolitan; her byline has appeared in Esquire, Sports Illustrated, and Allure.com.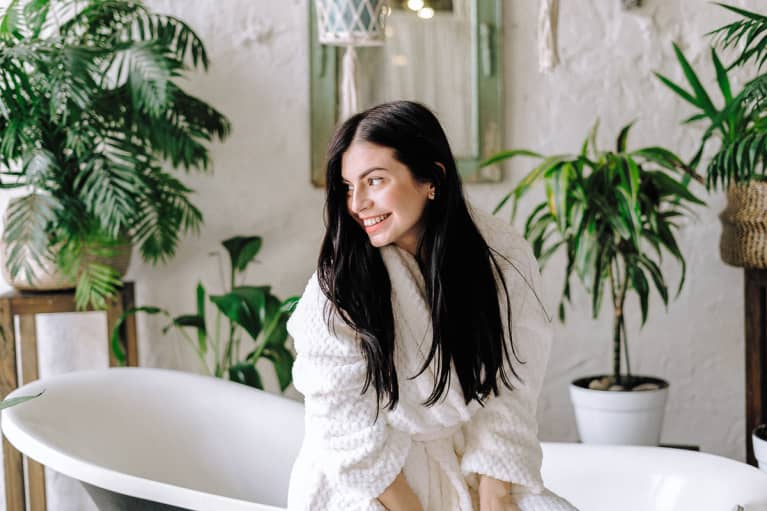 This article was produced to support the mindbodygreen supplements+ line. Our supplements adhere to the highest standards of ingredients and quality. We hope you enjoy these products, for more information
click here
.
I'm sure many of us want to start 2021 off right, skin care included. It's a worthwhile endeavor, investing in your skin. Your skin, after all, has many vital functions that help you look and feel your best: from barrier support and tending to inflammation to acting as an internal signifier of overall health. And you can help your skin in ways big and small.
One way you may be overlooking is internal support. This can mean reducing stress (something that wreaks havoc on skin, triggering inflammation and collagen damage), eating meals with whole foods and a dense and varied nutrient profile (to help feed your skin cells with the tools they need), and getting the right amount of sleep (rest is vital for skin health).
But even on our best days—and no matter how noble our New Year's resolutions are—it can be hard to get everything right. Often, people will reach for supplements to help meet their well-being goals.
If you're looking to help your skin in 2021, right now's a good time to start mindbodygreen's nr+.
How to help your skin in the new year.
Healthy skin requires a holistic approach. So much affects the look and feel of your skin, and thus you must think about all of those factors when tending to it. That's why a smart, well-rounded skin supplement can help your skin perform its best.
To start, one way to encourage skin rejuvenation is through improving cellular energy. Logically it makes sense: Energetic cells are vibrant, healthy cells. One of the most effective ways of encouraging cellular energy is through mindbodygreen's nr+ thanks to its star ingredient, nicotinamide riboside (NR).* NR is a form of vitamin B3 that, when ingested, converts to nicotinamide adenine dinucleotide (NAD+). NAD+ is a coenzyme found in all living cells, and it plays a vital role in energy metabolism and maintaining proper cell functioning.
Levels of NAD+ also happen to decline significantly as we get older, as well as through damage from lifestyle habits, and these declining levels apparently drive the aging process. This is particularly true in the deterioration of our mitochondria—the power plants in our cells that turn our food and oxygen into energy.
Seems that you'd want to keep those mitochondria healthy, no? When you take an NR supplement, research shows that you are better able to support and enhance NAD+ levels in the body, making you look and feel more energetic.* (Don't take our word for it; reviewers say so, too.)
It doesn't stop there, however; nr+ also contains skin-supporting actives like rhodiola, phytoceramides, and astaxanthin.* Rhodiola is a potent adaptogen to neutralize oxidative stress (a common trigger for aging skin that can come from prolonged anxiety, poor diets, bad sleep, and more).* Astaxanthin is an antioxidant that's particularly effective at fighting photodamage, as well as dealing with the free radical damage caused by internal and external aggressors.* And phytoceramides help enhance skin barrier function—one of your skin's most vital roles.*
If you want to get serious about treating your skin well in 2021, you need to look at your skin health holistically. While you need to focus on diet, lifestyle, sleep, and more, supplements can help you optimize overall well-being.*