The One Supplement You Need For Summer Travel
mbg Health Contributor
By Gretchen Lidicker, M.S.
mbg Health Contributor
Gretchen Lidicker earned her master's degree in physiology with a focus on alternative medicine from Georgetown University. She is the author of "CBD Oil Everyday Secrets" and "Magnesium Everyday Secrets."
Medical review by
Marvin Singh, M.D.
Integrative Gastroenterologist
Dr. Marvin Singh is an Integrative Gastroenterologist in San Diego, California. He is trained and board certified in Internal Medicine and Gastroenterology/Hepatology.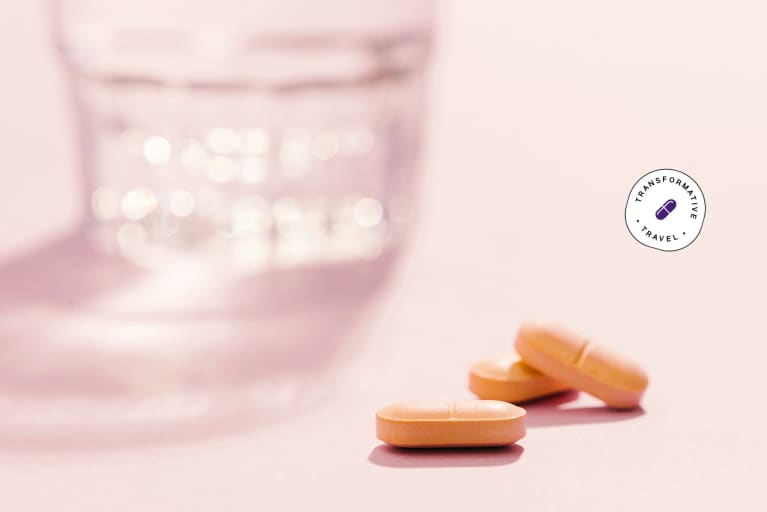 Last updated on December 10, 2019
Summer is officially here! And here at mbg we're all about traveling light and creating space for real transformation. Whether you're jetting off to faraway lands this year or just exploring new pockets of your neighborhood, these next few months are reserved for exploration and play. This week, we'll be sharing our favorite wellness routines that will keep you feeling your best through long days getting lost in new cultures. Today, we're highlighting the one supplement you need next time you board a train, plane, or automobile.
In so many ways, travel can feel like a threat to your health. It can deprive you of sleep, disrupt your digestion, and expose you to more germs than any of us want to think about. It's never fun to come back from a trip feeling bloated, tired, and like you need another vacation just to recover.
That being said, it's also healthy to abandon our finely tuned wellness routines once in a while and embrace a vacation for what it is. For me, that typically means indulging in some gluten (I know, I'm such a party animal), a cappuccino or two, and taking a break from my gym routine in favor of long walks and bike rides.
As with anything in life, it's all about finding the balance between abandonment and structure. I have a whole list of things I bring on vacation to keep my self-care on track, but if I had to choose just ONE thing, it would be magnesium.
Why I never travel without this important mineral.
Magnesium, also known as nature's "relaxation mineral," plays a vital role in over 300 enzymatic reactions in the body and is important for everything from the functioning of your nervous system to the health of your bones. In other words: it's really important to your overall health. On a day-to-day level, magnesium has been shown to help ease menstrual cramps, tame headaches, and promote regular digestion. All of this is even more important when you're traveling, when you're more vulnerable to minor aches, pains, and dysfunctions.
It's even more relevant when you learn that stress, the standard American diet, alcohol, caffeine, and processed foods are thought to deplete the body of magnesium, which can lead to a host of undesirable symptoms. Magnesium is a favorite of top integrative medicine doctors and functional medicine experts for their patients who suffer from chronic stress, anxiety, insomnia, chronic fatigue, thyroid problems, and blood sugar imbalance.
I bring magnesium on vacation for all these reasons and more. It helps me wind down at the end of the day, tackle jet lag, and keeps my digestion regular when I'm not eating as much fiber or getting as much exercise as I do at home.
How to get your daily dose of magnesium on vacation (and at home).
There are a ton of ways to supplement with magnesium, but the first step should always be to increase your intake of foods that are high in magnesium. Luckily, this includes delicious foods like almonds, spinach, legumes, seeds (especially pumpkin seeds), and whole grains, so focusing on those foods as much as you can when you travel is a great idea. Otherwise, whenever you're taking a supplement, it's important to know the recommended dietary allowances (RDAs). For adult men and women, the RDAs for magnesium are 400 mg and 310 mg, and magnesium glycinate and citrate are two highly absorbable forms that you should look for. But keep in mind that magnesium citrate (or oxide) might tend to have more of a laxative effect. Also, there may be certain situations and health conditions where it is not ideal to take a magnesium supplement so be sure to consult with your physician before starting one.
To supplement with magnesium, you can buy a traditional capsule, like Thorne Magnesium Citrate, $13, or convenient travel-size magnesium packets like the Pure Encapsulations Magnesium Easy Sticks, $35.90, and Natural Vitality Unflavored Natural Calm Packets, $24.95. Last but not least, an Epsom salt bath is a great way to get more magnesium into your life. So if you're staying somewhere with a bathtub, make a quick trip to pick up some Dr. Teal's. You might even want to take your Epsom salt bath to the next level with these recipes.
Want to learn more about magnesium? Here are 18 signs that you're deficient. And check out the rest of mbg's travel week coverage here.