The One Skin Care Swap You Need To Make This Summer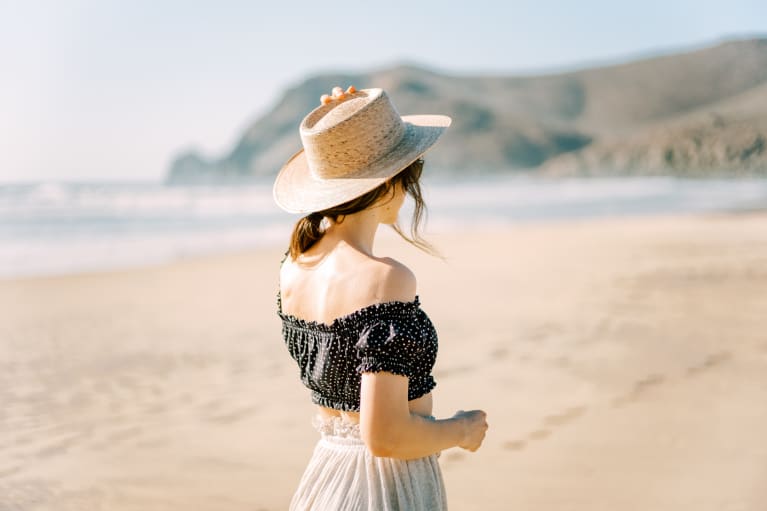 Our editors have independently chosen the products listed on this page. If you purchase something mentioned in this article, we may
earn a small commission
.
When it comes to skin care, fall tends to get all the attention. Once October hits, all you see are articles about what changes you should make in your routine, how to keep your skin hydrated, and so on. But summertime skin care is just as important.
By now, you likely know how important it is to pick a safe sunscreen. (If you need help, here are our tips and picks.) But that's not the only way to take care of your face during the season: According to board-certified dermatologist Whitney Bowe, M.D., you should be mindful of the acids you are using.
"There are certain things you use in your routine that make your skin more photosensitive, meaning your skin burns easier," she says. "During the summer you are likely spending more time outdoors and maybe even in the sun during peak hours, so you really need to tailor your skin care routine to make sure you're not making yourself more susceptible to damage."
The acids that make you more sun-sensitive? AHAs, which include things like malic, mandelic, tartaric, lactic, and glycolic acids. Since these work by breaking down the bonds of dead skin cells on the surface of the skin, and therefore sloughing them off, your skin is more vulnerable to the UVA and UVB rays. Even more frightening: Post-AHA burns increase the risk of permanent skin damage.
Bowe recommends switching to BHAs, like salicylic acid (or, skipping them altogether). BHAs work by breaking down oil, so they won't have the same effect on the skin's surface (it's also why they are great for those with acne).
Many people, however, find salicylic acids too strong for them. My recommendation? Use it in moderation, and find options buffered with hydrating ingredients. You can typically find these formulated as toners or lotions; serums and spot treatments will likely be too irritating, as they are formulated with higher doses of the BHA. (Shop my suggestions below.)
Now, if you are like me, and if the thought of taking your lactic acid serum—or any other AHA serum—out of your routine sounds impossible, just make sure you are taking extra measures to keep your face out of sunlight. That's why you'll find me hiding under a large-brimmed hat all summer long.