The One Self-Empowerment Move Every Woman Should Know, According To A Celebrity Trainer
mbg Contributor
By Leigh Weingus
mbg Contributor
Leigh Weingus is a New York City based freelance journalist writing about health, wellness, feminism, entertainment, personal finance, and more. She received her bachelor's in English and Communication from the University of California, Davis.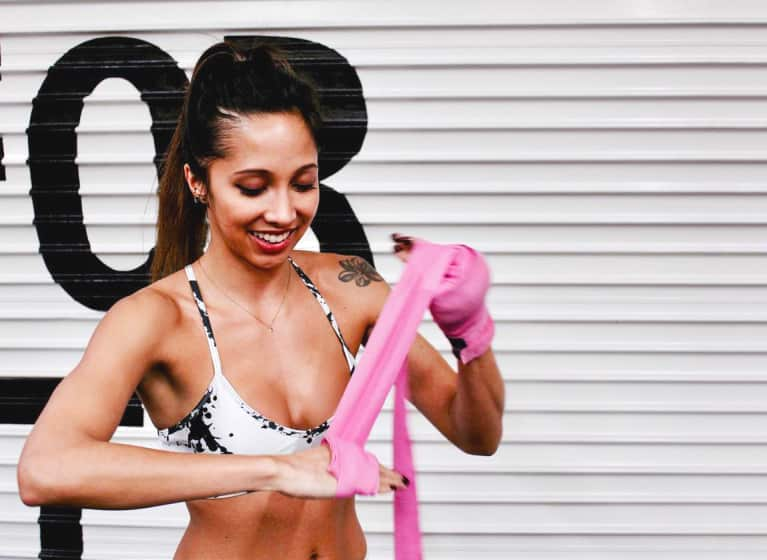 November 22, 2017 — 10:10 AM
Milan Costich is the owner of PREVAIL Boxing in West Hollywood. With a background in martial arts and celebrity clients like Jamie Chung and Amanda Seyfried, Costich is no stranger to helping women feeling empowered. "Learning to physically fight has such an impact on mental strength," he says. "It helps you develop the mentality that you can stick up for yourself. Whether it's fighting for a promotion you want or just sticking up for yourself in a bad situation, it helps hold your own ground."
Costich fell in love with boxing when an injury left him unable to kick, thus forcing him to give up martial arts for a time. In addition to enjoying the challenge of a new sport, Costich fell in love with teaching people how to box because he saw what an amazing impact it had on not only their mood but their self-confidence.
How doing more than you're capable of leads to empowerment.
Although we're living in an age when women are speaking up for themselves more than ever, it's not easy to feel strong and powerful every single day. And Costich is determined to help with that. "We present lots of physical challenges in our workspace," he explains. "Asking people to do more than they think they're capable of, and watching them actually do it—that's where the real growth happens. That's what builds mental strength and belief in oneself. That's when you start to see bigger changes and a growth in overall confidence."
The importance of learning self-defense.
Costich believes everyone should learn self-defense, and that starts with awareness. "Having a heightened awareness of a situation and avoiding putting yourself in bad situations is key," he says. "Male or female, not putting yourself in a position of danger is the most important thing. Boxing and working really hard builds tenacity. When you start sparring, you're not supposed to stop until you get what you're after. I encourage people training with me to keep going until they score and not give up until they get what they want."
As for the more specific moves? "If we're talking practical self-defense move, it's hard to go wrong when you learn how to either deliver a strike to the nose or a shot to the groin."
The meditative nature of boxing.
One the main reasons Costich is such a fan of boxing is because he believes it's one of the most meditative forms of physical activity out there. "Boxing really requires you to be present the whole time, even if it's something you've done over and over," he says. "We're constantly pushing our community to improve by 1 percent every class. We're constantly challenging them with new details, little ways to make everything better. Just that little push is enough to keep people extremely present."
Interested in learning more about boxing? Here's why it's the new moving meditation.