The One Self-Care Topic No One Wants To Talk About
mbg Contributor
By Krysten Peck
mbg Contributor
Krysten Peck is a freelance writer specializing in arts, wellness, brands, and visual storytelling. She received a bachelor's degree from Dickinson College.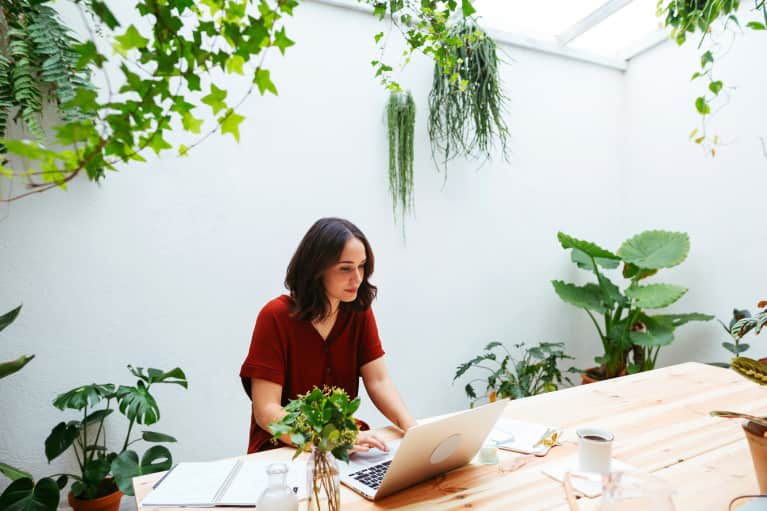 April 10, 2018 — 19:09 PM
Today's Equal Pay Day, and we're talking about the role of money and in the world of wellness. For many, self-care practices seem to revolve around spending, but no one seems to want to discuss the messy details around finances—especially millennials. What if we shifted self-care to invite space for financial well-being and openness? The first step in closing the wage gap is creating awareness.
Self-care seems to have evolved as a concept synonymous with face masks and other arguably indulgent luxuries like baths and juice cleanses—but what about the cost of keeping consistent self-care routines in rotation? Could poor money habits actually be undoing all the good work?
There can be a lot of stress that comes along with personal finances, especially when literacy around the subject seems to be inaccessible, difficult to implement, and just downright overwhelming. Never mind that for many, emotions are inextricably tethered to the state of our finances, which can leave you feeling drained and lost in the sea of information and decision-making.
According to a study on personal finance published in the Handbook of Consumer Finance Research, financial wellness can be defined as "a state of being financially happy, healthy and free from worry." With such strong ties to our overall well-being, shouldn't our financial practices be integrated into our overall wellness practice? What would it look like if we prioritized financial well-being as a component of self-care?
The possibilities of exploring these connections in an open, inclusive, and mindful environment prompted the Money Mindfulness event hosted by Financial Gym, which offers one-on-one personal financial training and MNDFL, a meditation community in New York City—two of the city's go-to resources for expanding the roles of personal investment and self-care in our wellness practices.
The evening of mindful meditation and money talk attracted a small group of nearly all women for an intimate sharing and exchange of goals, fears, stresses, and ambitions as they relate to their financial journeys. Jess, a teacher at MNDFL studios, opened the night with a guided meditation, intended to invite participants to set their intentions on making mindful choices about their finances.
Here are a few take-aways from the event to help you transform your relationship with money and your approach to taking your financial wellness into your own hands.
Set an intention with your money goals.
The workshop opened up with a meditation exercise led by MNDFL instructor Jessica Angima. When we approach our finances with an elevated sense of meaning and purpose, we allow for more ease and less stress in the process, explained Jessica. For Jessica, applying mindfulness as an actionable tool in holding ourselves accountable for financial well-being and prosperity is critical in establishing a sense of ease with money.
She encouraged us to choose a word or mantra that represented our intentions in handling our personal finances. Another way to curb unhelpful financial habits? Take a moment to think before your next purchase, says, Jessica. "The next time you get the impulse to buy that $5 latte, take a moment to notice your emotional state. Why are you craving this latte? Is this placating a restlessness or boredom in your day? How does spending this money affect your weekly budget?" As for using mindfulness as a tool, Jessica says, "Cultivating mindfulness in this way can help us to better understand our spending habits and create more effective patterns."
Coming to terms with your finances means getting real with your current numbers and goals—and what more effective way to do this than in front of strangers doing the same? We were split up into categories and assigned conversation topics guaranteed to break the ice and help us jump right into chatting about money. My group's assigned topic targeted the balance of our respective checking accounts. Somehow, by the end of the chat, we all agreed that the sheer act of baring the most intimate details of your finances lifted the weight of stress and liberated us from expectations. Nervous about candid money chatter? Try opening up to a friend or two about your financial state and future goals.
Part of democratizing the conversation around personal finance has to do with stripping away the shame and taboo associated with money. After the first woman took a plunge and opened up about her financial journey, many others followed suit, which initiated an exchange of advice, lessons learned, and other personal wins or struggles. This sort of vulnerability was electrifying to witness—enough to mobilize a group of strangers to continue the conversation.
When we recognize our efforts and situations as unique to our individual circumstances, we can begin to transform our relationship to money and cultivate a more compassionate and holistic mindset.
Stressed or anxious about finances? Here's how financial wellness might help combat anxiety.