Let's face it: Your morning skin-care routine can (and often does) turn into a race against the clock. So why not let your routine the night before do the heavy lifting for you while you sleep? Which raises the question: Does the effort you invest in your nighttime routine count?
To help you streamline the process, here are some easy-as-pie tips for achieving overnight radiance:
Get your beauty sleep.
The term "beauty sleep" is not too far from the truth. Sleep allows the skin to rejuvenate by stopping facial expressions and relaxing facial muscles. Lying down for an extended period of time also combusts the attack of gravity on the skin. Getting rest also helps to de-stress the body, remove toxins, and improve mood—all of which can help your complexion and facial appearance.
Keep calm.
Stress can be hugely aging, says ayurvedic skin care formulator Shrankhla Holecek. "The skin is your first layer of defense and is often the first organ to react to stress," she says. How to keep it happy? "Try herbs like ashwagandha and holy basil that reduce cortisol while you're sleeping and soothe the adrenal glands."
Get a lift.
The average head weighs around 12 pounds—a lot of pressure to be putting on your face every night. Sleep with your head elevated on two pillows, or put the headrest area of your bed on 2- to 4-inch pieces of wood. Gravity helps lymph and blood flow so fluid won't accumulate, Holecek says.
Honey cleansing.
Double down on the magical skin-clearing properties of honey by washing your face with it at night. Apply a layer of honey all over your face, rinse or wipe off with a washcloth, and be amazed at how great your skin immediately looks. Honey will not only moisturize your skin but also kill blackhead- and zit-causing bacteria.

Feed your skin.
Natural foods chef and health coach Danielle Shine recommends eating this super-skin-food salad for dinner. "This recipe combines protein, healthy fats, and antioxidant-rich vegetables, which are all essential for keeping your skin moisturized and radiant from the inside out. One cup of blueberries contains almost a quarter of our daily vitamin C needs, which plays a crucial role in skin formation and collagen synthesis and supports prevention of UV radiation damage (the primary factor in skin photoaging, which causes wrinkles, dryness, and thickening of skin). Dandelion greens are rich in antioxidants, which help prevent aging by reducing the appearance of fine lines, dark spots, and wrinkles around the eyes and lips—dandelion can also help tone and firm sagging, unbalanced facial skin. I love white quinoa too, as it's such a packed protein powerhouse, housing all the essential amino acids, which is quite rare for a plant source. It's also gluten-free, non-GMO, mostly grown organically, and it's not a grain (it's a seed)."
Blueberry Pomegranate Superfood Salad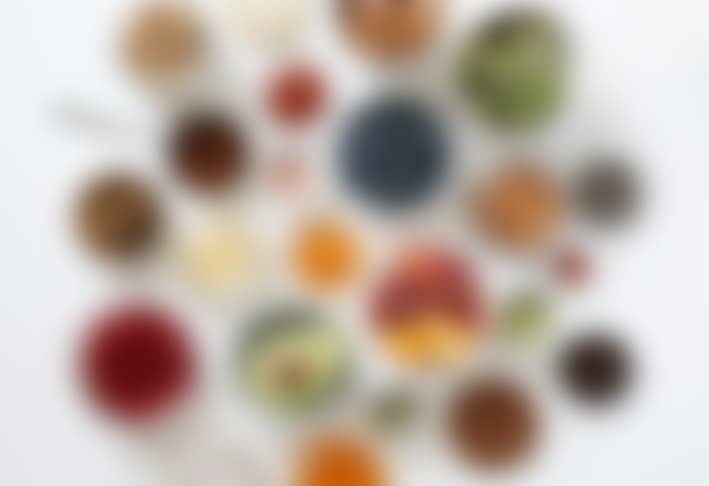 Ingredients
1½ packed cups organic dandelion greens, finely shredded in food processor
½ cup organic blueberries, fresh or frozen and defrosted
1 cup cooked organic white quinoa, cooled before adding
¾ cup raw beetroot, grated
¾ cup raw carrot (purple is optimal), grated
½ cup pomegranate seeds
¼ cup hemp hearts
¼ cup black nigella satvia seeds
¼ cup organic sunflower seeds (activated is optimal for better digestion)
⅓ cup Flaxseed Lemon Vinaigrette (recipe below)
Flaxseed Lemon Vinaigrette
3 tablespoons organic, cold-pressed flaxseed oil
2 tablespoons fresh lemon juice
1 tablespoons fresh parsley, finely chopped
2 teaspoons Manuka honey
1 teaspoon lemon zest, finely grated
1 teaspoon organic black peppercorn
½ teaspoon Celtic sea salt
¼ teaspoon turmeric powder
Preparation
Combine all salad ingredients in a big bowl and toss to combine well.
Combine all vinaigrette ingredients in a glass jar with an airtight lid. Seal the lid well and shake vigorously until vinaigrette emulsifies. Serve over salad immediately. Note: Store leftover vinaigrette in the fridge and shake well each time before serving. This vinaigrette pairs well with so many dishes.
Looking to get even more glowing and gorgeous? Here are 7 Hormone-Balancing Foods For Glowing Skin to get radiant from the inside out, and 4 Yoga Poses That Will Give Your Skin A Gorgeous Glow.