Science Says Girls Are The Key To Reducing Global Warming. Here's How
mbg Sustainability Editor
By Emma Loewe
mbg Sustainability Editor
Emma Loewe is the Sustainability Editor at mindbodygreen and the author of "The Spirit Almanac: A Modern Guide To Ancient Self Care."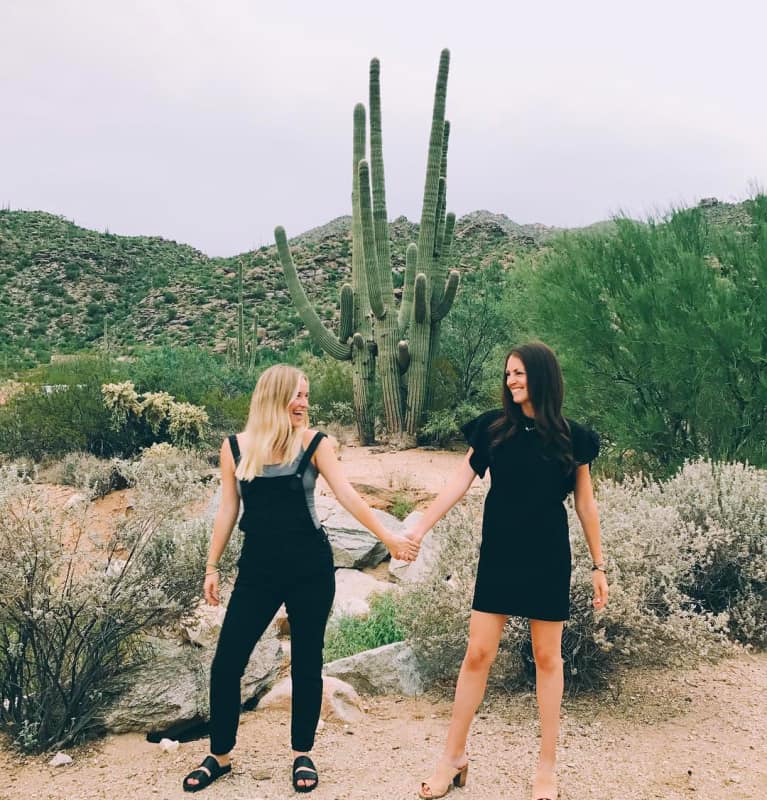 If an "overheard at revitalize" list was to emerge, it would include a nutritionist and microbiologist joking about the intricacies of the microbiome, cookbook author and functional medicine doctor formulating the perfect ayurvedic diet, and a Hollywood actress and food editor hashing out how to eat for all-day energy on set. And that's just in one hour.
Needless to say, when you bring 300 people from all walks of wellness together, fascinating conversations and collaborations arrive in droves. When we caught up with some of the weekend's notable attendees on the most thought-provoking ideas they are taking home, each response was tied together by a common thread: this notion that everyone in health—no matter their profession or expertise—can use their individual expertise to help heal the planet at large.
Why a commitment to health is a commitment to the world.
The intersectionality of personal and planetary health rang true throughout the entire weekend, but it was first touched on by Hill Harper as he explored this year's theme of "You. We. All" in a deeply moving opening address. "The remedy is we and all, but it starts with you," Harper told the crowd as he explored how we all hold our own "magic key"—the dynamic potential to make a difference in larger-than-life tragedy and injustice. In reframing disasters like the Flint, Michigan, water crisis, the events of Charlottesville, and the melting icebergs of Antarctica as issues of personal power, Harper implored attendees to find something they are passionate about and go out into the world using this fire to help others.
"When I interviewed mbg founders Jason and Colleen on my podcast a few months ago, they mentioned to me that they were excited about going in the direction of making a global change with the themes on mbg, versus singular, individual, health-focused changes," Jordan Younger of The Balanced Blonde, reflects on the weekend's programming. "Of course both are amazing, and a healthy, happy person is most likely to make a change in the world. I always devour the wellness-focused content, but this went above and beyond. I was extremely impressed with the messages and the impact mindbodygreen is making on the world. It inspired me to the moon and back."
Melissa Hartwig, founder of the Whole30 Program, mirrors the sentiment, saying she left revitalize invigorated by the reminder of her capacity to ignite big change. "This year's revitalize was the most impactful experience I've had all year. I discovered that moments when I allowed myself to be the most vulnerable and open, and the more I focused on my community and not my personal goals were exactly when I connected with the right people, lessons, and opportunities to help me further both. And I can't wait to see what happens when I take that lesson with me back into the real world."
The single moment that has everyone talking.
In addition to the general take-away that embracing personal power is the first step to changing the world, attendees left ignited by one idea in particular: Educating women and girls is the sixth most effective way to reverse global warming. When combined with improved family planning, it ranks as the No. 1 solution in Hawken's climate epic, Drawdown, a list of 100 proven ways to reduce greenhouse gases in the environment. That's because giving girls access to a proper education means that they'll have a better understanding of the problems that our planet faces, and shape their lives accordingly. This, combined with better access to contraceptives, can lead to fewer and healthier children and thus cut down on humanity's global carbon footprint.
"One of the most surprising things I learned is that the No. 6 solution to solving global warming is educating girls, and how inspiring is that?" SoulCycle CEO Melanie Whelan recounts. "It gives us something tangible to focus on: not only the direct impact around family planning but also another macro opportunity to solve in advancing the agenda of global gender equality." Famous foodies Kelly Leveque, and Julie Piatt agree, naming that take-away as equal parts surprising and mobilizing. "I love supporting women and girls to live authentic lives and do what they love. With two young girls of my own, this was very meaningful for me," Piatt says. "I was shocked to hear that the education, independence, and empowerment of women was the No. 1 way to have a positive effect on climate change," Leveque echoes.
Hawken's other take-aways also resonated with the crowd, including the fact that eight of the top 20 climate solutions relate to the food we eat. "The conversation about climate change from Paul was incredible and inspiring; I can see the synergies in what we share at Nutrition Stripped can also help our environment—plant-rich foods, reducing food waste, providing education, etc.," says nutritionist McKel Hill. Beyond wellness, Hawken's remarks on how other countries are taking action against climate change also had people talking. "[I was interested to learn] that building with wood can help reverse global climate change," says aromatherapist Leigh Winters. "Wood doesn't burn; it chars. What a difference building with wood will make considering that 50,000 skyscrapers are being built in China over the next 30 years." It's no wonder that Paul Hawken took home mbg's Lifetime Achievement Award this year.
We speak for everyone when we say thank you, Paul, for reminding us that human beings hold the capacity to save the planet, and providing a framework to help us do so.
Missed Hawken's big speech? You can still check out the whole thing! And learn more about the man behind Drawdown here.