The Anti-Stress, Anti-Insomnia Outdoor Workout You Can't Skip This Winter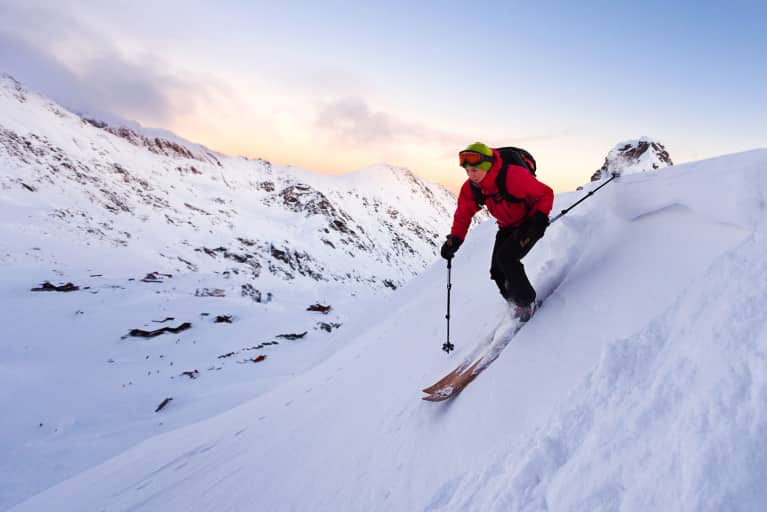 Many people think of skiing as an extreme, high-intensity activity. It definitely can be, and there are millions of GoPro videos out there to support that notion. However, I find that skiing actually has many relaxing benefits—and I'm not referring to après-ski at the spa. Whether you're a shredder or a beginner, here are four ways that a day on the slopes can clear your brain and help you reset.
1. Let the mountains shift your perspective.
Mountains are awe-inspiring. For centuries they've represented the sublime, but also terror and apprehension, in art and literature. That combination of beauty and fear takes you out of the everyday and puts other concerns or stressors in your life in perspective. As you ride up the chairlift and look around, no matter where you're skiing, you will begin to feel small and your worries will feel even smaller. You'll realize how much else is out there, how much is unknown. By embracing that feeling and shifting your perspective, you'll find that the tense, anxious feeling we all experience, especially in our myopic city lives, starts to fade away.
2. Allow nature's cues to guide you.
Once you're out on the mountain, take a deep breath of fresh mountain air. Whenever I'm outside in winter I always think of that cold, crisp air by the German term, frische Luft. I lived with a German family one winter and they were huge proponents of frische Luft. It was the cure for a cold or whatever else ailed you. If you weren't feeling well, it was due to a lack of frische Luft and you should open windows in the winter to take in that cure.
Some might be skeptical of this remedy, but I believe there's something to it. There are numerous studies and articles outlining the benefits of fresh air, and even specifically mountain air. This is due in part to generally cleaner air and less pollution but also some specific factors. Researchers in Japan found that being around pine trees decreased hostility, depression, and stress, in particular, as a result of their scent.
Plus, if nothing else, after a day on the slopes, you get a healthy dose of vitamin-D exposure for combating seasonal affective disorder and boosting your mood. So the next time you're against a ski trip because you don't like the cold, turn that negativity around and think of the benefits of getting out of your overheated office and into the mountains.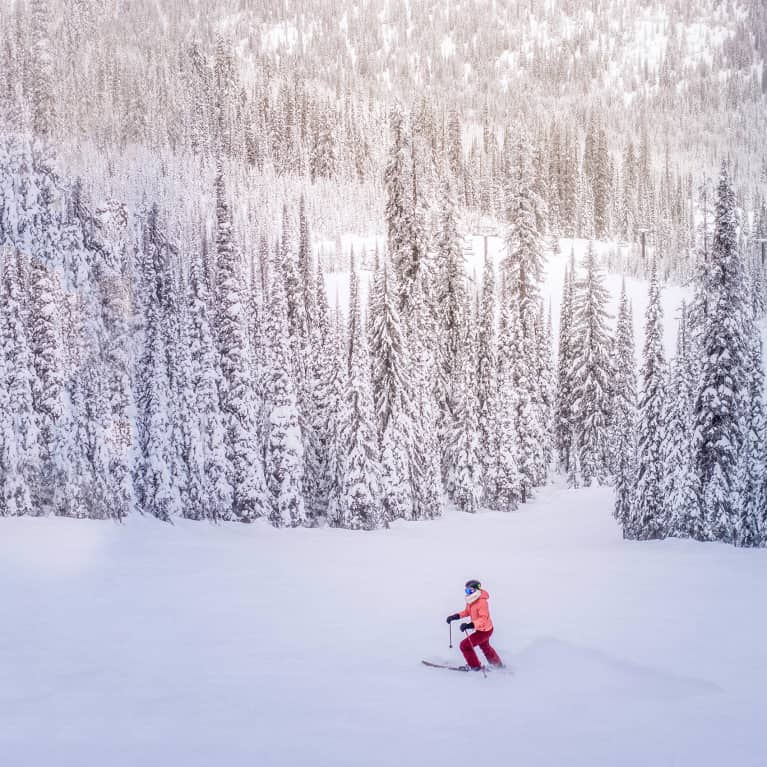 Going down the slopes isolated with your helmet and goggles on, turn your focus to the moment. Start with the sound of the ski edge whooshing through the snow or the sensation of floating on powder. Then bring your awareness to every little move your body is making to navigate the terrain. This feeling, sensing the position of different body parts and the effort to move them, is known as proprioception. Proprioception is key to achieving the balance and coordination needed to ski well. Think about it, you can't have your mind racing with all the things you're stressed about while at the same time flying down a mountain without crashing. You have to stay focused on the act of skiing.
That ability to turn inward and connect mind and body is critical to feeling grounded, which is a great reminder that connecting mind with movement has a calming, empowering effect.
Nothing's more rewarding than the feeling of well-earned exhaustion after a day out on the slopes in the fresh mountain air. Skiing is a full-body endeavor. Think also about how you're doing that physical activity at altitude. So after treating yourself to a hearty, nourishing meal, a deep, restorative sleep comes easily and is the perfect close to a day of mental and physical rejuvenation.
My last tip to make sure you truly make the most of your relaxing mountain respite is to always remember to wear sunscreen out there. Nothing will cause stress levels to rise again like a vicious goggle burn!
Aching to visit the mountains? Here's how the snow-capped mountains healed this professional snowboarder's broken heart.