New Study Finds Benefits Of Mediterranean Diet For Kidney Function
mbg Editorial Assistant
By Christina Coughlin
mbg Editorial Assistant
Christina Coughlin is an editorial assistant at mindbodygreen. She graduated from Georgetown University in 2019 with a degree in psychology and music.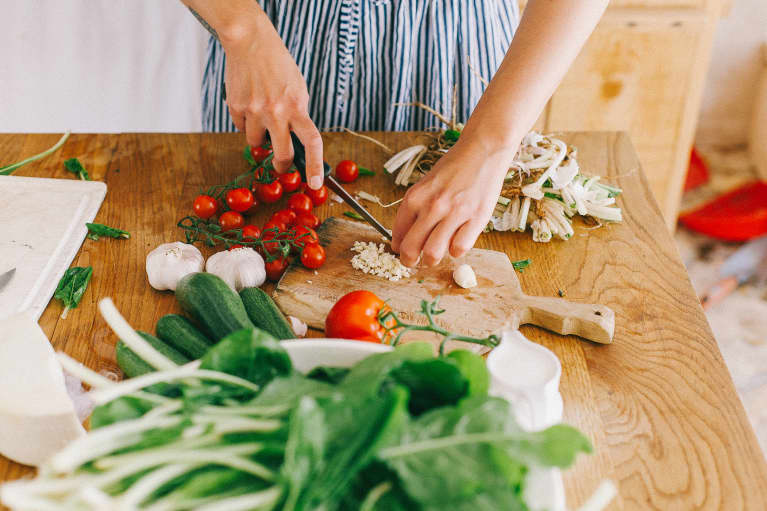 January 7, 2020 — 4:21 AM
With the Mediterranean diet being named the top diet for overall health in this year's ranking from U.S. News & World Report, it seems like there's nothing this diet can't do.
The Mediterranean diet typically consists of fruits, veggies, olive oil, and fish and has been in existence for over 50 years. It's emphasized as a heart-healthy eating plan but now is known for helping with blood sugar balance, inflammation, mood, memory, and more.
According to new research, the diet may also be able to assist with kidney function in transplant patients. While kidney survival rates have increased post-transplant over the years, more than one-third of transplant patients still lose kidney function within 10 years of the surgery.
Researchers decided to study how diet affects the kidneys' ability to preserve themselves over time and specifically focused on the Mediterranean diet as a way to promote preservation.
A 9-point scale to follow the Mediterranean diet.
Researchers studied over 600 patients who had received a kidney transplant within the past year and surveyed each person about their diet. Each patient filled out a form, and the researchers measured adherence to a typical Mediterranean diet using a nine-point scale.
The researchers followed up with participants after five years to see how the kidneys were functioning after the transplant. Within the nine-point scale that researchers created based on the Mediterranean diet, every two points higher a person had on their score correlated to a 32% lower risk of kidney failure.
The authors of the study also suggest that the timing of kidney transplant is important. According to the study, "These findings suggest that adopting a Mediterranean diet may benefit kidney graft survival after kidney transplantation, particularly in individuals with higher protein excretion and patients transplanted more recently."
Researchers want further studies to be conducted to investigate the effects of diet on kidney health as a whole, hoping that their results can pave the way to create better treatment options for patients suffering from kidney failure.
For now, check out our guide to the Mediterranean diet if you're looking to start the year with the best diet for overall health, heart health, blood sugar balance, and more!